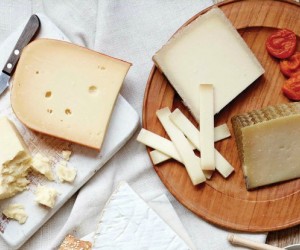 Grand Central's Most Kid-Friendly Restaurants
Whether you're catching a train, taking in the neighborhood sights, or simply exploring Grand Central Terminal with your kids, hunger will inevitably beckon. You can find plenty of high-end options in the vicinity for the business set, but unearthing fun and easy kid-friendly eats can be more of a challenge. No worries—we've rounded up several great options for dining with kids, from fun and fancy to cheap and easy.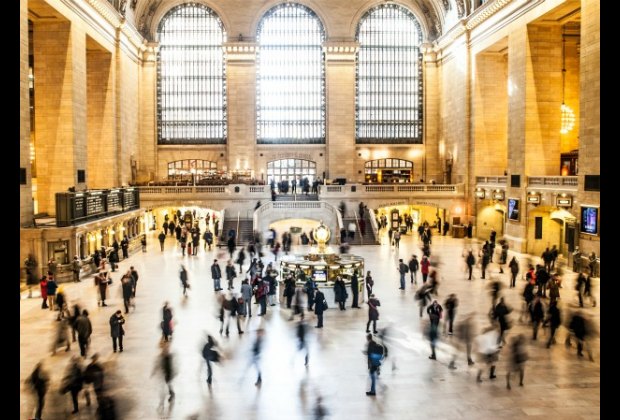 You'll find a delicious food court with myriad options for a family just below Grand Central's main concourse. Photo via StockSnap.io.
Grand Central Dining Concourse
Grand Central Terminal (lower level), 89 East 42nd Street, at Park Avenue
This is not your typical food court. Though a bit frenzied, especially during peak times, you'll find dozens of cuisine options ranging from staples like pizza, chicken, and hot dogs to more eclectic cuisine including Indian, Mexican, and Japanese. You'll even find several full-service restaurants with menus, waiters, and generally fast and efficient service, which is great when dining with kids. Little ones will be entertained by the constant buzz of activity, and everyone can eat what they want! Favorites include Mendy's and Shake Shack. For sweets, indulge at Magnolia Bakery.
RELATED: NYC Family-Friendly Restaurant Guide

Pershing Square
90 East 42nd Street, at Park Avenue
This frenetic, cavernous space sits directly opposite Grand Central on 42nd Street, which makes it easy to get to when lugging strollers and suitcases. Yes, it's packed, but the pancakes are definitely worth the wait. Lunchtime faves include a Maine lobster roll. A sure-to-please kids' menu includes standbys like chicken tenders, grilled cheese, and organic hot dogs. The restaurant has high chairs available, and staff will help you stow your stroller.
Xi'an Famous Foods
24 West 45th Street, between Fifth and Sixth Avenues
Yes, it's a chain. Yes, it's crowded. But hot, slurpy, handmade noodles? Yes, please! Squish on in, because this decidedly delicious Chinese regional offers quick fixes that are fresh and cheap. For the grown-ups, try the cumin lamb noodles and the pork burger. For the kids, consider the Concubine's chicken noodles (sans chili sauce, of course). In this tight space, there are no high chairs available and no room for strollers, so consider this option for older kids. Check the real-time store traffic meter, updated every 10 minutes, on the restaurant's website to gauge traffic before you go.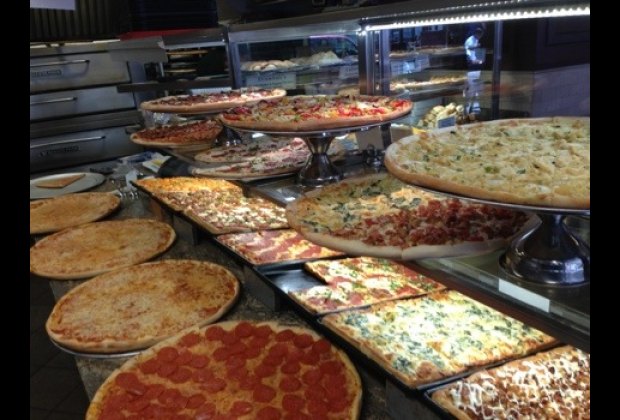 Pizza is a kid and adult favorite. Find a proper NYC slice and handmade Italian sandwiches at Previti. Photo courtesy of the venue.
Previti Pizza
123 East 41st Street, between Lexington and Park Avenues
Nabbing a decent slice isn't an easy feat in this part of town, but the family-run Previti, tucked just a few blocks from Grand Central Terminal, offers up crisp pies and handmade Italian sandwiches, as well as pizza by the slice. Try the artichoke and spinach pizza, the roast beef with Burgundy au jus sandwich, or one of the eatery's signature focaccia pies. Go online to order ahead, whether you plan to stay or take out. Previti also offers high chairs and stroller parking for patrons.
Salvation Taco
145 East 39th Street, between Third and Lexington Avenues
The colorful decor of Salvation Taco will draw in the kids. The board games and ping pong table in back will keep them there. As the menu leans toward a more refined palate, this place might be best for older kids. Start with some chips and guacamole. If they don't fill up on that, opt for a steak and egg burrito at brunch or masa pancakes with pineapple compote. Empanadas and chicken wings are also fun any time of day.
Bill's Bar & Burgers
45 Rockefeller Plaza, between 49th and 50th Streets
Fast, casual, and roomy, the Rock Center outpost of this New York chain is a bit of a walk from Grand Central but worth it if you want hot, fresh, and delicious burgers in a roomy, comfortable, and kid-friendly space. The mainstay here, of course, is the huge and varied burger list—from the Fat Cat to the BBQ and bacon—and craft beers. For the kids, Bill's keeps it classic with hot dogs, corn dogs, and burgers, along with a grilled cheese for the meatless. High chairs are available, as is stroller parking.
The Kati Roll Company
49 West 39th Street, between Fifth and Sixth Avenues
The ultimate in portability, these Indian sandwich wraps—made with flat parathas folded lovingly around delicately spiced fillings—are fast, cheap, delicious, and travel well. The restaurant itself dubs them Indian burritos. With more than a dozen filling options from potato and egg to chicken tikka and shrimp masala, there's something for everyone here. Caffeinate with authentic masala chai or cool off your palate with the undeniably yummy mango lassi, a handy drink-meets-dessert that your kids will crave long after the meal is over. This is a smaller dining spot with no high chairs or stroller parking.
RELATED: Times Square with Kids: Beyond the Usual Tourist Fare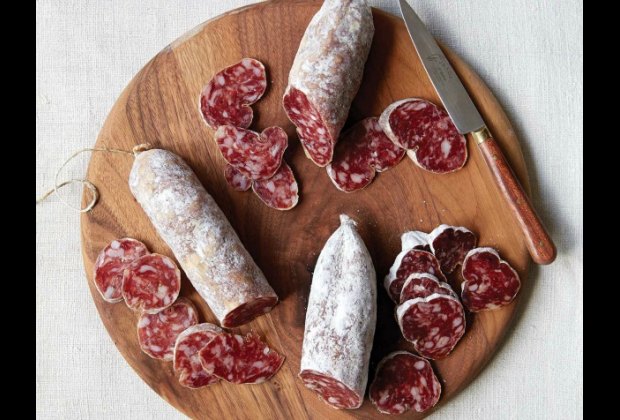 Build your own sandwich at Murray's with simple charcuterie and delicious cheeses. This photo and top image courtesy of Murray's.
Murray's Cheese at Grand Central Market
Grand Central Terminal (main concourse), at 43rd Street and Lexington Avenue
Bustling and beautiful, Grand Central Market is the perfect place to pack up a picnic to take with you on the train. At the heart of it is the esteemed and unique Murray's Cheese, a New York institution and rightly so. Grab a baguette, some sliced salami, and a brick of your favorite aged cheddar or a soft brie for a magnificent lunch the whole family can share. There is no seating here, though you can always head down to the lower concourse to pull up a chair in the dining hall.
A version of this article was first published in 2015, but it has since been updated.