Why Seeing the Radio City Rockettes in the Christmas Spectacular is a Holiday Favorite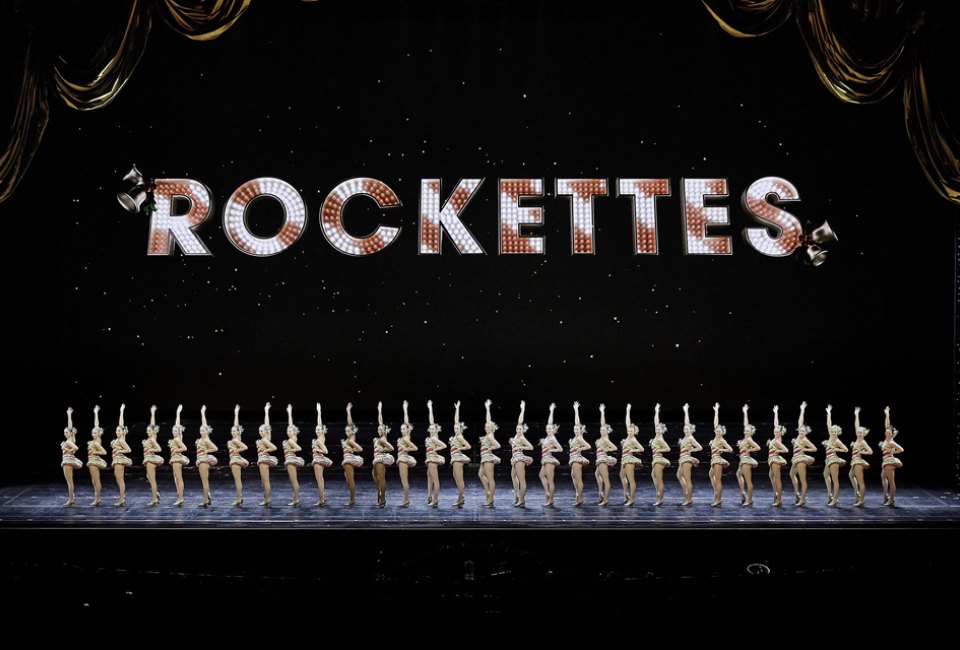 12/2/22
- By
Jody Mercier
I may be partial in my thinking that there's no more magical place to spend the holidays than NYC, and a trip to Radio City Music Hall to see the Christmas Spectacular Starring the Radio City Rockettes has been a mainstay of my family's seasonal celebrations for more than a decade. There's something special about stepping under that trademark glowing red-and-blue marquee and into the dazzling, dance-fueled production that fills me with Christmas spirit instantly.
The long-running, high-kicking, show-stopping production has wowed audiences since its debut in 1933, and the chance to see the toe-tapping, precision-dancing Radio City Rockettes should be on every family's holiday NYC bucket list. Read on for my take on the crowd-pleaser and find more holiday must-do's in our Guide to the Holidays and Christmas in NYC for Kids.
Subscribe to our newsletters to get stories like this delivered directly to your inbox.
Why the Radio City Rockettes Make Our Christmas Bucket List
Locals and visitors alike are no strangers to showstopping productions and the Radio City Rockettes have staged enough chorus lines to earn their starring role in our holiday plans. Somehow, the production manages to strike a balance that all at once pulls at your heartstrings with holiday nostalgia and also leaves you wondering how it can keep reinventing itself year after year to fill Radio City Music Hall for multiple shows daily all season long.
RELATED: Rockefeller Center at the Holidays: 17 Fun Things To Do with Kids

No matter how many times I've seen the Parade of the Wooden Soldier, the precise choreography is still a sight to behold. Photo courtesy of the production
Classic favorite numbers—like the Parade of the Wooden Soldiers—marry seamlessly with new additions. The 2022 show's new number, Dance of the Frost Fairies, is a nod to tech that draws audience members old and young in as a collection of fairy drones flits above the audience while fairy-wing-laden Rockettes orchestrate the beauty of winter's first snow on stage.
Even the Art Deco beauty of Radio City Music Hall itself takes a starring turn in the Christmas Spectacular Starring the Radio City Rockettes with its soaring, arched ceilings serving as an audiovisual screen that makes it seem as if you're completely immersed in some scenes. A chorus that mounts several song-and-dance Broadway-style numbers is practically guaranteed to leave you humming Christmas carols when the curtains crash down after the grand finale, and the Living Nativity is a showstopper on its own with its live menagerie of animals and a glittering parade of the Three Kings.
Through it all, audiences are transported to the North Pole and back, surrounded by cotton-candy-colored costumes, dazzling divas, and too many dancing Santas to count before ending amid a flurry of snowflakes that leave you ready to face the holiday crowds waiting outside. Altogether, it's an enchanting, magical holiday scene that stretches out for a mere 90 minutes—not too long for a wiggly toddler, yet just long enough to feel like a special all-ages outing. My son was 2 when we saw the show for the first time; he's on the brink of heading to college and still enjoys an annual viewing to kick off the holiday season. A trip to see the Radio City Rockettes is a perfect jumping-off point to celebrate NYC's Christmas magic with out-of-towners. Couple a showing with a visit to the Rockefeller Center Christmas tree, and the holiday windows and light show at Saks.
RELATED: 50 Things To Do in Midtown Manhattan with Kids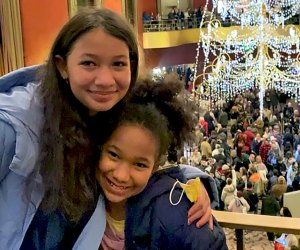 A photo in front of the dazzling Swarovski crystal Christmas tree strung high above Radio City's Grand Lobby is an annual tradition for my kids. Photo by author
How to Save Money on Rockettes Tickets
Ready to add a trip to the Christmas Spectacular Starring the Radio City Rockettes to your holiday must-do's? Book your tickets online here to receive 20 percent off select seats and performances with code PROMO20. If you know you want to make this an annual outing, I suggest signing up for the Rockettes email list to get notifications as soon as tickets go on sale.
Places featured in this article:
Click Here to Sign Up!
i