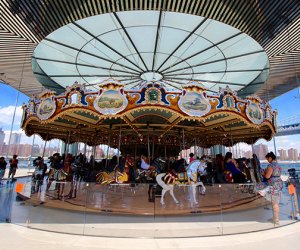 Dumbo with Kids: 50 Fun Things to Do for Families
The Brooklyn waterfront neighborhood of Dumbo is a draw for both visiting tourists and locals eager to enjoy the water and city views, family-friendly restaurants, shops, and plenty of outdoor activities. Located between the famous Manhattan Bridge (Down Under the Manhattan Bridge Overpass) and Brooklyn Bridge, this neighborhood offers stunning views of lower Manhattan, cobblestone streets, and experiences varied enough to keep the whole family entertained.

The neighborhood's crown jewel is Brooklyn Bridge Park—a stunning waterfront park that boasts lovely walking paths, playgrounds, roller skating, kayaking, swimming, and an impressive sports complex at Pier 5—but this eclectic area also offers an abundance of delicious eats, scores of beautiful shops, indoor play spaces for kids, and so much more. Read on for 50 things to see, do, and explore with kids in Dumbo.
1. Enjoy a ride on the gorgeous antique Jane's Carousel (almost 100 years old)!
2. Check out powerHouse Arena's cool children's book section.
3. Pack a picnic, a ball to kick, and hit the various grassy spots near Pier I or across from the carousel.
4. Take a selfie with the splashy new Dumbo sign just installed along the waterfront path near One Jay Street and watch as it changes colors.
5. Chow down on a some of Brooklyn's best pizza at newcomer Love & Dough, Juliana's, or tourist-magnet Grimaldi's (if you feel like standing in line).
6. Make a visit to the Brooklyn Ice Cream Factory a priority—the flavors are basic, but really can't be beat.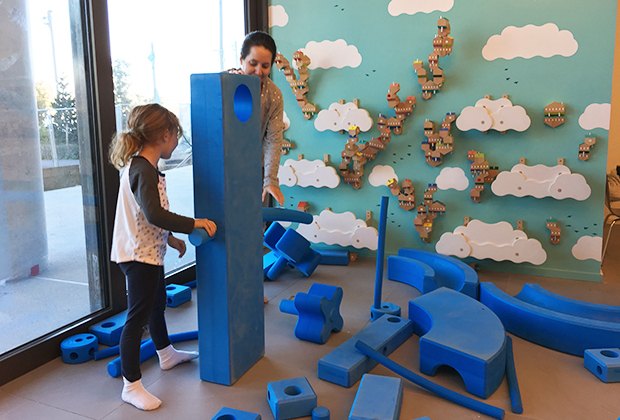 Build a masterpiece with the oversize foam blocks at Spark. Photo by Rose Gordon Sala.
7. Visit Spark, the newly opened Brooklyn Children's Museum annex, for drop-in playtime (FREE on Thursdays).
8. Head to Bargemusic for fantastic live music (in warmer months, the Saturday concerts are free!).
9. Pick up a great birthday gift (and some pretty cool duds) at Half Pint.
10. Meander through the quaint Max Family Garden at the Empire Fulton Ferry landing, right on the waterfront.
11. Have scrumptious pancakes and egg toast at AlMar (cash only!).
12. Join the masses for a glorious walk—or bike with confident riders—over the famed Brooklyn Bridge.
13. Spend a rainy day indoors at Recess, which is loaded with cool climbing structures for kids.
14. Learn a thing or two about the local ecology and sustainability at the awesome Environmental Education Center.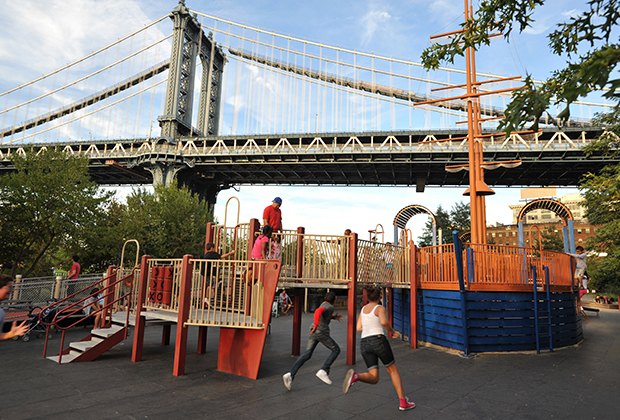 Main Street Playground. Photo by Julienne Schaer/courtesy of BBP.
15. Visit the Main Street Playground for a romp before heading to Melt for the best ice cream sandwich this side of the East River.
16. Pull up a seat and a box of cookies or mini cupcakes at One Girl Cookies while you people watch.
17. Skip rocks at the Main Street Park's beach, also known as Pebble Beach.
18. Buy a cute Brooklyn kids T-shirt at Two Kids and a Dog (we love the name!).
19. Warm up with hot chocolate and more treats at high-end chocolatier Jacques Torres.
20. Watch the pups rumble in the dog park at Adams and Plymouth Streets.
21. Join the Dumbo Halloween parade that marches to the Archway and then trick-or-treat at local shops.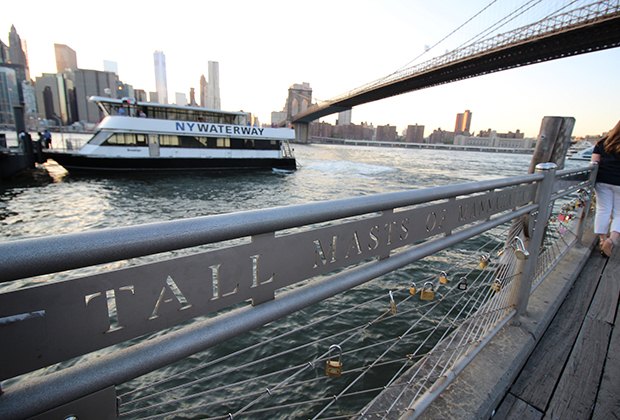 Take a ferry ride from Dumbo. Photo by Shinya Suzuki via Flickr.
22. Hop on a Water Taxi to downtown Manhattan for superb views or on the less expensive East River Ferry.
23. Experience hands-on arts programs at Pier Kids by the Brooklyn Bridge Park Conservancy.
24. Stroll through the DUMBO Flea under the historic Manhattan Bridge Archway for yummy eats, neat finds, and the best people watching.
25. Spend an afternoon butterfly watching at Brooklyn Bridge Park—binoculars and handy guide round out the experience.
26. Celebrate fall at Brooklyn Bridge Park's annual Harvest Festival.
27. Catch one of the occasional family-friendly shows at St. Ann's Warehouse.
28. Peruse 99 Plymouth (adjacent to Jane's Carousel), which showcases the work of local artists.
29. Check out an exhibit at the funky LAND Studio & Gallery.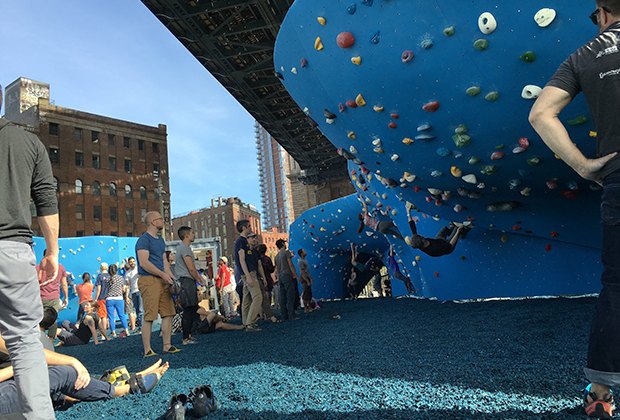 The outdoor Dumbo Boulders opened in spring 2016 and was an immediate hit. Photo by Rose Gordon Sala.
30. Partake in some family outdoor rock climbing at the seasonal Dumbo Boulders.
31. Indulge your budding ecologist through Brooklyn Bridge Park's free Seining the River Wild sessions.
32. Explore the less crowded John Street portion of the waterfront path for spectacular views of both bridges.
33. Bring tots to the hidden, and thus quieter, Pier 1 Playground.
34. Learn fencing from an Olympian at the Brooklyn Bridge Fencing Club.
35. Browse high-end baby and maternity clothes at Egg by Susan Lazar.
36. Fuel up with a delicious cup of Joe at the Brooklyn Roasting Company, which comes with a free steamed maple milk for the kiddos.
37. Walk the entire mile-long waterfront from Dumbo to Pier 6, playground haven.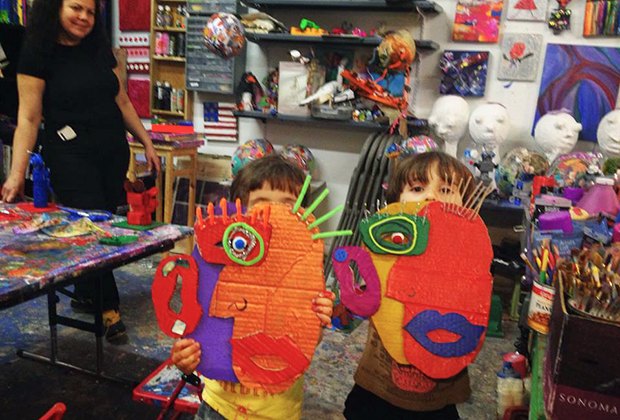 Kids can let that inner artist out at Creative Wild Art Studio. Photo courtesy of the studio.
38. Take an art class or join art camp on school holidays at the Creatively Wild Art Studio.
39. Stop for lunch at Brooklyn Bridge Park's permanent food kiosks, like Luke's Lobsters and No. 7 Sub.
40. Or track the Dumbo food trucks via Twitter for inexpensive, but delicious eats on the go.
41. Check out the fabulous kids and teen yoga classes at Abhaya Yoga.
42. Join a Dumbo Kids Art Walk hosted by local Air Gallery.
43. Order a birthday cake and pick up a baguette for dinner or pastries for breakfast at Almondine Bakery.
44. Ring in the winter solstice with the annual Make Music New York event, Bell by Bell.
45. Look up at the subway trains as they rumble by directly overhead on the Manhattan Bridge.
46. Have a leisurely brunch in the backyard garden at Mexican hot spot, Gran/Eléctricia.
47. Walk a little further into the Brooklyn Heights side of Brooklyn Bridge Park to find the seasonal roller skating rink, pop-up pool, and kayaking at Pier 2.
48. Rent Citi Bikes by the hour with the big kids to zoom through the park and into another nabe like Red Hook or Williamsburg.
49. Kids will dig the annual Photoville exhibits displayed in massive shipping containers.
50. If you haven't found what you are looking for, check out the robust calendar of events at Brooklyn Bridge Park. So many are free and family-friendly!
Dumbo is accessible via the A, C, or F subways lines and, of course, by foot over the Brooklyn Bridge.
Top image: Jane's Carousel. Photo by Shinya Suzuki via Flickr.