Pier 2 Uplands Debuts at Brooklyn Bridge Park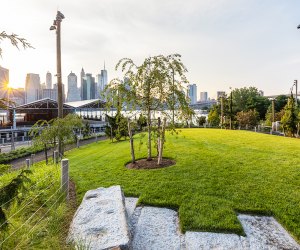 The opening expands the park's green space east of Pier 2, adding a 6,300-square-foot lawn and almost 1,300 new trees and shrubs. A berm was added to keep the nearby sounds of the city at bay.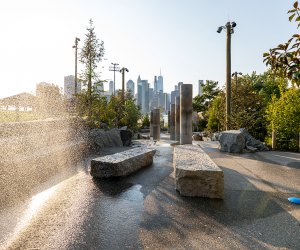 A brand new sprayground welcomes visitors to the Pier 2 Uplands.
A new tiered water play area is fashioned from pier remnants cut away during the construction of Pier 3. Its multiple levels feature sprinklers and sprayers at different heights and plenty of room to run around. An underground retention tank catches the run-off from the sprinklers and reuses it for irrigation of the newly planted landscaping.
Debuting about a decade after the opening of Brooklyn Bridge Park, The Uplands brings the park's construction to 95 percent complete. The park, which spans 1.3 miles of waterfront along the East River, offers plenty of opportunities for recreation and relaxation, plus stunning views of the Manhattan skyline.
The Pier 2 Uplands are open daily from 8am to 10pm.
Photos courtesy of Alexa Hoyer/Brooklyn Bridge Park