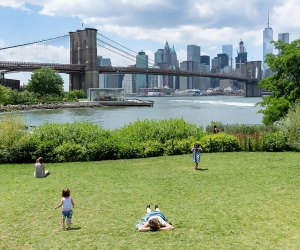 Brooklyn Bridge Park: 35 Top Things to Do with Kids
There is no shortage of warm weather family activities in Brooklyn, but I find myself continuously making the trip to Brooklyn Bridge Park throughout the spring and summer months. Spanning 1.3 miles along the East River, Brooklyn Bridge Park is an 85-acre waterfront space promising recreation, sustainability, and environmental exploration. Where else can you fish, roller skate, kayak, barbecue, hit some of the city's most innovative playzones, catch the ferry to Governors Island, see FREE outdoor movies and concerts, explore a sensory labyrinth or an environmental education center, and get a free dose of cool public art? Plus, the Lower Manhattan skyline views never fail to impress.
We've rounded up our favorite things to do to help you explore the park with your little ones, including some of the exciting new offerings in one of the city's most fascinating parks.
The southern half of the park contains six refurbished piers, each offering something special. Pier 1 has lawns and extraordinary views of Manhattan. Pier 2 offers basketball and handball courts, a fitness center, roller skating, play areas and kayaking. Pier 3 features peaceful, gorgeous green spaces. Pier 4 has a lovely sandy beach. Pier 5 boasts sports fields, fishing, a playground, hibachi-style barbecue and bike paths. Pier 6 is where you'll find expansive playground areas featuring sand, water, swings, and climbing, the ferry to Governors Island, volleyball courts, and a dog run.
Remember, these are just the highlights—check the park's website for all its offerings, including upcoming events, as well as closures, and new openings.
OUR LATEST VIDEOS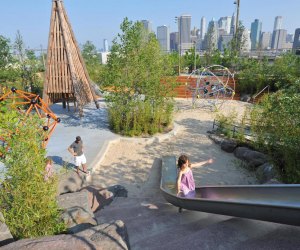 Check out the super long and fast slides at Slide Mountain. Photo by Julienne Schaer for the park
1. Take in the skyline from the top of Slide Mountain at Pier 6 and zoom down together—it's worth it for you too, Mom or Dad. The entire playground is phenomenal.
2. Ride a bike. The Greenway, a designated bikeway, travels from Pier 1 to Pier 6. The views are gorgeous and the terrain is excellent for new riders. Rent them here.
3. Go fish at one of the new fishing clinics for kids and adults this summer at Pier 5.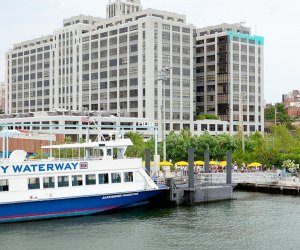 It's easy to jump on the ferry to Governors Island from Pier 6. Photo by Etienne Frossard for the park
4. Hop on the summer ferry (check the schedule here) from Pier 6 to spend the day on Governors Island, complete with new attractions and old favorites. The car-less isle has playgrounds, a 57-foot slide, and a tree house. Must-sees include glamping accommodations, a zip line, kayaking dock, and more.
5. Grab a pair of binoculars and go butterfly watching. Butterflies are so abundant in the park (thanks to pollinator-friendly planting strategies) that a guide is available for download.
6. Leave your wallet at home to enjoy the FREE family events and programming happening year-round from art, to kiddie concerts, outdoor summer movies, walking tours, free kayaking, and plenty of other sports and exercise sessions.
7. Download the park's plant guide and plan a colorful family scavenger hunt for the best blooms!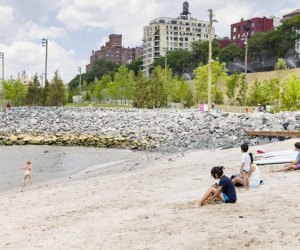 This little gem of a beach is a nice place to relax after a bike ride or stroll. Photo by Etienne Frossard
8. Take off your socks and shoes and bury your toes in the sandy beach at Pier 4. Swimming and wading are not permitted, but you can launch non-motorized boats.
9. Scale the mega outdoor climbing wall at Dumbo Boulders.
10. Spend a rainy day at the Brooklyn Children's Museum's Dumbo outpost, Spark, which is accessible from the park at John Street.
11. It took us months of exploring Brooklyn Bridge Park before realizing there was often live music happening right under our noses at Bargemusic. Check out the FREE Saturday concerts during warmer months.
12. Take a dance class with Moving Together, a program hosting classes for adults and children of all ages.
13. Take in a Shakespeare production on the Brooklyn waterfront. This summer, New York Classical Theatre will present Oscar Wilde's masterpiece The Importance of Being Earnest.
14. Support 80 vendors and score vintage items, unique gifts, and snacks at the Brooklyn Flea. The Flea is now in Dumbo right off the park's northern end on Sundays, April through October.
15. Skip rocks at Pebble Beach. We like to get a box of treats at One Girl Cookies and stand between the Manhattan and Brooklyn Bridges, testing our abilities and taking in the views.

Cool off in the WaterLab, one of the city's top FREE splash pads. Photo by Julienne Schaer for the park
16. Splash and climb around the WaterLab sprinkler playground at Pier 6.
17. Learn about local ecology and sustainability at the awesome Environmental Education Center. Kids will love the touch tank, where they can handle local starfish, shells, plants, and rocks.
18. Join children's librarians from the Brooklyn Heights Library for Summer Reading Storytime each Wednesday in the park.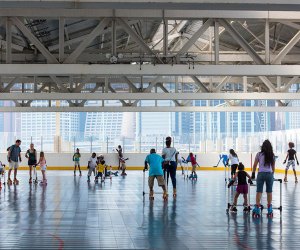 Rent some skates and skate to the music at the Pier 2 rink. Photo by Julienne Schaer for the park
19. Roller skate at Pier 2, while gazing at the Manhattan skyline. Skate rental is available on-site. Check the schedule for free admission times.
20. Hit Sandbox Village at Pier 6, a massive destination sandbox for the preschooler crowd, to build sand castles and play hide-and-seek in the faux log cabins.
21. Barbecue on one of Pier 5's hibachi-style grills and feast at one of the picnic tables. Get there early to grab a spot. Toddlers will love the adjacent tot playground.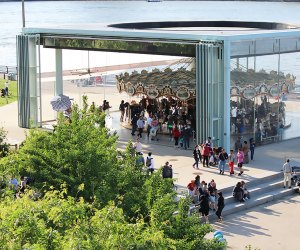 Take a ride on Jane's Carousel. Photo by Shinya Suzuki via Flickr
22. Join in our tradition: a ride on Jane's Carousel (check hours here) followed by a pizza picnic, a la Juliana's Pizza.
23. Satisfy your pet envy by watching the dogs romp at the Pier 6 Flatbush Avenue-adjacent dog run, or the more scenic Main Street run.
24. Climb the granite terrace at Pier 3 for a better view, or borrow a book from the nearby book cart while you lounge in the grass. Let the kids enjoy the new garden labyrinth.
25. Kayak on the East River from Pier 2 for FREE in the summer months. Little kids can ride with a parent.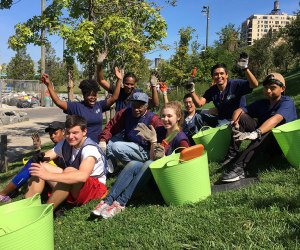 Keep the park beautiful and clean by volunteering with the Green Team. Photo courtesy of the park
26. Beautify the park. Volunteer with the Green Team to learn about gardening and give back to the park that gives so much to all of us.
27. Brush up on your borough history with a stop into the Brooklyn Historical Society's Dumbo outpost right off of the park. Students are FREE.
28. Hop on the NYC Ferry from Pier 1 to visit lower Manhattan.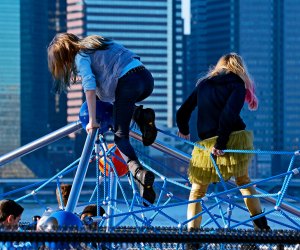 Climb to new heights and enjoy the view of Manhattan from the Pier 5 playground. Photo courtesy of the park
29. Pick a playground, any playground. Main Street Playground was our go-to spot until my daughter discovered the magic of Swing Valley.
30. Pump some iron at the Pier 2 fitness area (yes, they have a section for kids!) before stuffing yourselves with the best salted caramel ice cream this side of the East River at Ample Hills. It's all about balance, right?
31. Look up. The Green Roofs at Piers 1, 5, and 6 are a great way to learn about sustainability. They keep buildings cool in summer, warm in winter, and add a much-needed element of Mother Nature to our concrete jungle.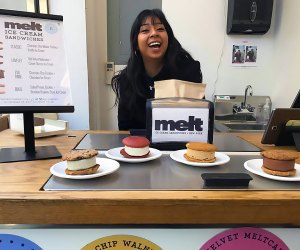 Take a break from all the activities and refuel with a homemade ice cream sandwich at Melt. Photo courtesy of Melt.
32. Grab a homemade ice cream sandwich from Melt, which now has a permanent location on Front Street. I highly recommend trying the "Evil Twin."
33. What is summer without a lobster roll? Introduce kids to the taste of the sea at Luke's Lobster shack in the park.
34. Capture your fun day at the park with a family selfie in front of the traveling DUMBO reflector sign or stand in awe of the new Bridge Over Tree walkway.
35. Pull up a blanket and picnic to catch one of the park's FREE summer movies.
Bathrooms can be found from one end of Brooklyn Bridge Park to the other (a major bonus for little ones). We like the ones at Fornino at Pier 6, the new bathrooms at the boathouse, and those at the other end of the park in the Environmental Education Building.
Hungry? Concession stands abound in warm weather and family-friendly restaurants are never far. Also worth noting: shade can be found everywhere. For more to see and explore in the neighborhood, check out our Dumbo Neighborhood Guide.
A version of this post was published in 2018; it is updated annually. Additional reporting by Mariko Zapf.