Adams Street Library Debuts in Dumbo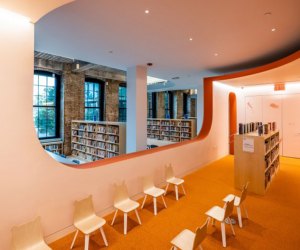 Brooklyn families have a brand new space to browse and check out books, read, and gather. The Brooklyn Public Library recently celebrated the opening of its 60th branch on Adams Street in Dumbo. The Adams Street Library is the first new branch in nearly four decades and the first library serving Dumbo, Vinegar Hill, and the Farragut Houses.
With 15-foot windows throughout the interior, the library is light, airy and offers stunning views of the Manhattan skyline, and the Brooklyn and Manhattan bridges.

The Adams Street Library may be housed in a historical building, but it's got a decidedly modern feel.
Laid out over 6,000 square feet of public space, you'll find not only books and library resources, but also meeting rooms for community events at the Adams Street Library
RELATED: Welcome Week Invites Visitors Back to NYPL With Free Programming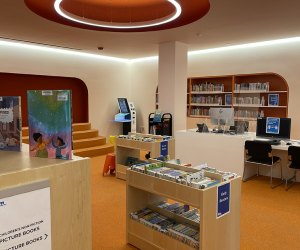 Kids can explore the bright children's section, sit on the amphitheater-style steps, and peer out the large windows while they read.
At the heart of the library is the children's section, painted in bright orange with whimsical furnishings, murals, and designs. The entire area is elevated so children can look out the windows while reading and browsing.
There's also a mini-amphitheater with steps where programs like children's story time will take place. For now, children's programming is being held outside under the cover of the Dumbo Archway. When designing the entrance to the children's section, the architect pictured velvet curtains parting in a theater when a performance is about to begin, re-creating this look to evoke a sense of wonder and excitement.
RELATED: Midtown Gets Spectacular New NYPL Branch With Rooftop Reading Room

The Adams Street Library marries old and new architecture and provides plenty of open space for families to explore.
Additional kid-friendly features include a large space near the circulation desk for strollers. There's a ramp behind the children's section near the bathrooms for kids to walk through and small desks and chairs for little ones. There's also a separate space for teens, part of a larger Brooklyn Public Library initiative to provide safe spaces for teens.
The Adams Street Library is open Monday, Wednesdays, and Fridays, 10am-6pm; Tuesdays, 1pm-8pm; Thursdays, 10am-8pm; and Saturdays, 10am-5pm. It is closed Sundays.
Photos by the author