The Adventures of Tortoise & Hare The Next Generation
The Sheen Center

The Very Hungry Caterpillar Show
DR2 Theatre

NYC Easter Brunch Cruise 2023
Event Cruises NYC
Sign up for our free newsletters.
Drive-In Movie Theaters in and Around NYC for Outdoor Movie Nights With Kids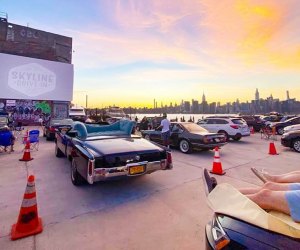 5/13/22
- By
Laurie Rein
Drive-in movie theaters made a comeback during the pandemic, and we're hoping that this retro form of family movie night is here to stay. While there is one drive-in movie theater in New York City, there are plenty more old-fashioned drive-in movie theaters in the Hudson Valley, New Jersey, and Connecticut where local families can enjoy a night out.
While Brooklyn's Skyline Drive-In is still going strong, we're still on the hunt for the pop-up drive-in movies that have been popular the past couple of summers. Bookmark this post; we'll keep updating it and our Family Activity Calendar as we find more pop-up drive-in movies near NYC. Find more seasonal fun in our Guide to Summer Fun for NYC Families.