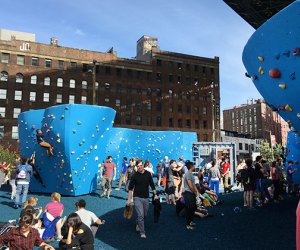 Dumbo Boulders: Climbing Brooklyn's Giant New Wall with Kids
When we heard a 12-foot high outdoor climbing wall had landed on the waterfront in Brooklyn Bridge Park, my tree-climbing, monkey-bar-swinging son had to give it a try. As longtime Brooklynites, we've been taking advantage of the ever-expanding Brooklyn Bridge Park and great Dumbo eats for years. The addition of Dumbo Boulders offers yet another great reason to visit the neighborhood.
Dumbo Boulders is a 7,800-square-foot space owned by Brooklyn Bridge Park and operated by The Cliffs, a Long Island City indoor climbing facility. Dumbo Boulders opened for the 2018 season on Saturday, May 12. It's open seven days a week, but is weather dependent, so check its Facebook page or call ahead.

The facility is divided into two undulating, fiberglass climbing walls: one gentler wall for kids ages 6 and up (including adults); the other wall is reserved for climbers ages 14 and older. A soft layer of rubber "mulch" (made out of recycled and shredded tires) carpets the ground. The plastic holds (little grippy bits that allow climbers to scale the walls) are color-coded from purple to blue to indicate different levels of climbing difficulty. There are no ropes or harnesses—with shorter climbing walls, bouldering is all about the free climb. It sits directly under the Manhattan Bridge, which means the constant train traffic above can be deafening, though you do get used to it.
RELATED: 8 Rock Climbing Walls for NYC Kids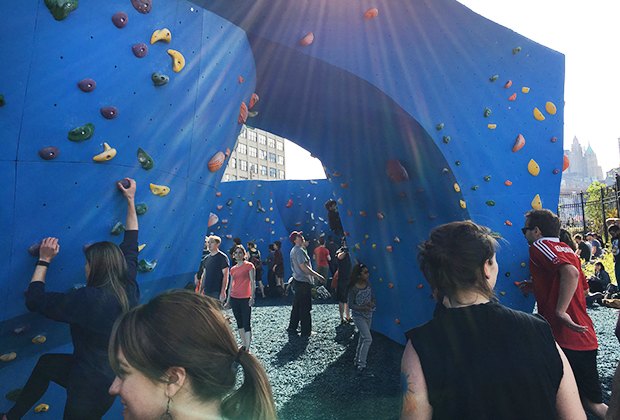 Sunny weekend weather brings out the crowds at the new climbing wall!
On the sunny, late Saturday afternoon of our visit, the bright blue climbing walls were crowded, but there was barely a line to sign in. Indeed, in the two weeks since opening, 3,000 guests have visited Dumbo Boulders, according to its director, Ron Rodriguez. Saturdays are predictably busy with approximately 600 climbers coming through the gates. Best time to visit? Rodriguez says weekdays are much quieter, with only about 200 guests, on average.

While climbing shoes are included in the day pass, we were happy to hear that our sneakers would work too (shoes just need to be closed-toe, flexible and have grip). After filling out a waiver and receiving a friendly, brief orientation—no running, no walking underneath other climbers, parents must keep an eye on their kids at all times—my 9-year-old son was free to climb.
RELATED: Dumbo Kids Neighborhood Guide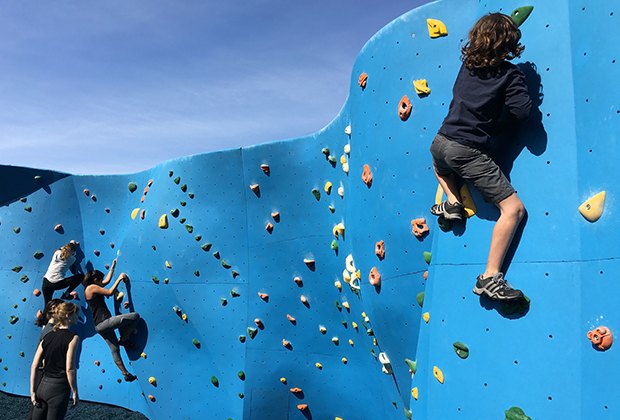 Climbing is a serious workout, but your kid might have no trouble reaching the top, over and over again.
Ignoring the color-coded circuits, he happily heaved, clambered and pulled his way up the walls a dozen times, following a dozen different routes of his own choosing. Dumbo Boulders staff milled about, reminding children not to wander under climbing guests and generally (but nicely) ensuring safety rules. Parents are expected to spot their own kids at all times. Rodriguez noted staff is not supposed to "babysit" young climbers. And while kids as young as age 4 might be able to climb, and you're welcome to bring them to give it a try, the Dumbo Boulders team told us that age 6 is usually a better starting point.
My son loved the ease of being able to climb without having to wait for rope and harness adjustments. There's no taking turns, really. Just find a spot at the wall and go. The "easier" wall was large enough to keep the climbing interesting for him, because there were so many nooks, sections and pathways to pick from. Even though it was quite sunny, we were able to find plenty of shady spots to climb and to hang out for a rest. Of note: climbers may rent chalk to keep hands dry and improve grip. As first-timers, we didn't think to rent chalk and my son's hands were quite raw later that night.

While we took plenty of water breaks, food is not allowed on the premises, nor are glass containers. For a snack or meal breaks, Rodriguez suggests families visit the picnic tables just a few steps away beneath an archway of the bridge. The closest restrooms (with changing tables) are next door at the recently opened Environmental Education Center.

Would we visit again? Absolutely. In fact, my son said, "I'd even be interested in doing some camp here. It was that much fun." On our way out, we stopped by the adjacent Main Street Playground for a quick run around the ship, and for post-climb refueling, Shake Shack, of course.

Dumbo Boulders offers a summer camp and private and group lessons. As a seasonal facility, it will remain open until mid-November.

No harness gear means you can just find a spot at the wall and go.
Tips for Your Visit with Kids
Wear closed-toe shoes and comfortable clothing.

Fill out the Dumbo Boulders waiver from home to save time.

Bring water; food is not permitted at the facility.

Don't forget sunscreen; there are shady nooks but this venue can get very sunny.

Important note: this spot is not great for kids (or adults) who are sensitive to noise. With trains zooming across the bridge directly above the climbing walls, the noise level can be deafening.

Call before heading out. It closes for rainy or wet conditions to avoid a too slippery wall.
Dumbo Boulders is located at 99 Plymouth Street in Brooklyn Bridge Park (we walked straight toward the waterfront directly beneath the Manhattan Bridge, known as the Main Street section of the park). It's also a fairly straight shot down from the F line's York Street stop. Enter at Adams Street (next to the dog run). Hours are Monday-Friday, 12-8pm; weekends, 9am-8pm.
Top photo: Two sets of walls offer 5,000-square-feet of climbing surface at the new Dumbo Boulders. All photos by Rose Gordon Sala.
This article was first published in May 2016.