Where to Eat With Kids in Dumbo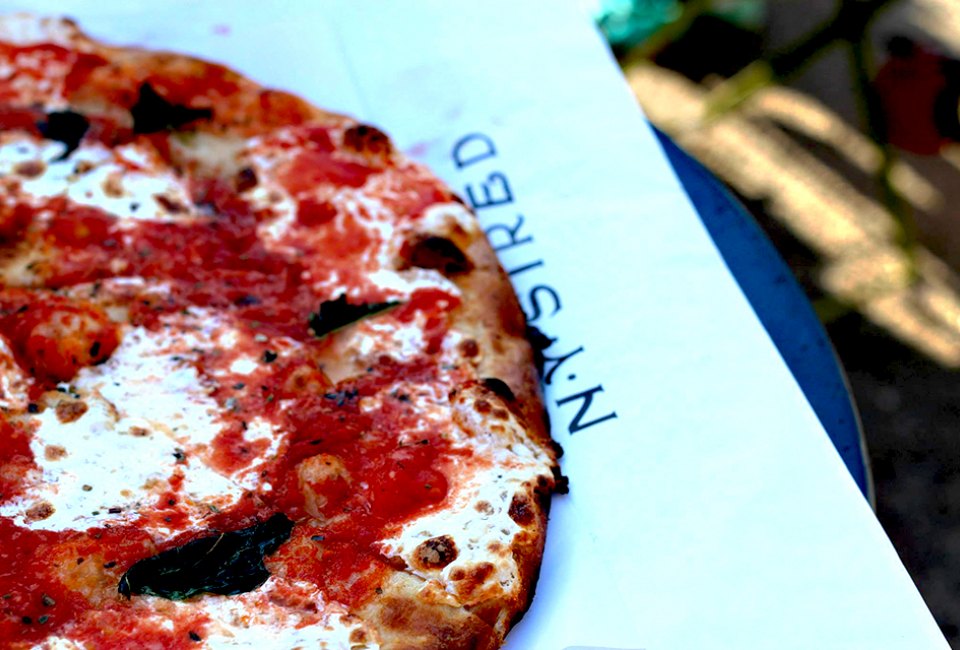 7/16/19
- By
Mariko Zapf
Cool and hip Dumbo is one of our favorite neighborhoods in Brooklyn, where international families and old-time New Yorkers come together. And one thing this eclectic population does well is eat.
While there is a vibrant late-night scene in this bustling enclave, it is also increasingly home to children and their families and restaurants that like serving them. Dining with kids in Dumbo means scrumptious food, often with breathtaking, one-of-a kind views of Manhattan. Our favorite eateries fall into three essential-to-life-with-children categories: pizza, lunch or brunch, and dessert.
So whether you're visiting the nabe to check out all that Brooklyn Bridge Park has to offer (like a carousel, destination-worthy playgrounds, and wide-open green spaces), or you're a recent transplant to the hood, you'll want to try out these family-friendly places to eat in Dumbo.
All of these restaurants have highchairs and changing tables, except for the dessert shops and a few other noted exceptions.
Pizza in Dumbo
Front Street Pizza
80 Front Street at Washington Street
When life dictates the need for an inexpensive and delicious slice, Front Street is our go-to spot. Kids love the straight-up cheese slices, while mom and dad can indulge in the eggplant pie. Front Street Pizza also serves salads, heroes, yummy calzones, and gluten-free pasta and pizza options. You can easily grab slices to go and head to one of the nearby green spaces. Note: The bathroom is large, but has no changing table.

Grimaldi's Pizzeria
1 Front Street at Old Fulton Street
Be prepared to wait on very long lines to sample this famous coal-brick-oven pizzeria, which also has outposts in Manhattan and Queens. Grimaldi's only serves full pies, doesn't take reservations and only accepts cash. When you do get your pizza, be prepared to eat outside as indoor seating is thin.
RELATED: 50 Fun Things to Do in Dumbo With Kids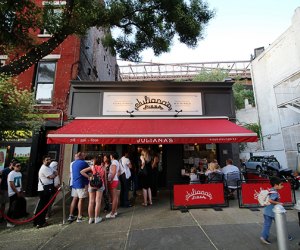 Juliana's Pizza frequently attracts crowds. Try to grab a seat or head to the nearby waterfront for a patch of grass in Brooklyn Bridge Park. Photo by Shinya Suzuki via Flickr.
Juliana's Pizza
19 Old Fulton Street between Front and Water Streets
When our family has a commitment-free spring or summer afternoon, we head to Juliana's and feast on the Margherita pizza. Made by the Grimaldi family, who sold their original restaurant and name, the food reflects their passion for pizza culture. Dining in is a great option: Kids will love the jukebox and the people-watching, whether alfresco or indoors. When you're done, a ride on Jane's Carousel is a must.
Love & Dough
57B Pearl Street at Water Street
A 2016 newcomer to the Dumbo pizza scene that offers delicious food and rustic charm, Love & Dough specializes in Neapolitan style, thin-crust, brick-oven pizza. Whether you are a vegetarian or not, the Vegetariana pizza with beets, eggplant and mushrooms is out of the norm and yummy. Don't overlook the Pizza Nutella, conveniently served in thin slices. Note: No changing table in the restroom.
Lunch and Brunch With Kids in Dumbo
AlMar
111 Front Street
AlMar is a beautiful old-world Italian restaurant with tasty food and one of the best Sunday brunches in town. Homemade pancakes, egg toast—it's all yummy. The staff is lovely at this popular restaurant, which also has an excellent dinner menu. Note: Cash only and no changing table.
Seamore's
66 Water Street
This sustainable seafood spot is a family go-to for weekend brunch. The staff is always welcoming of children and there are highchairs galore. Grown-ups will love diving into the poke bowl, while little ones munch on sweet potato fries and fish sticks.
RELATED: Brooklyn Bridge Park: 30 Things to Do With Kids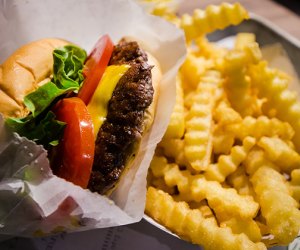 There's a reason the cheeseburger and fries at Shake Shack are so popular. Photo by m01229 via Flickr.
Shake Shack
1 Old Fulton Street at Water Street
Let's be honest: Most kids love burgers. Shake Shack burgers and fries are a favorite and the space is large enough to handle strollers and busy bodies. The staff is warm, welcoming and ready to accommodate. And the frozen custard is not to be missed.
Superfine
126 Front Street between Pearl and Jay Streets
This eatery serves an array of sandwiches and dishes, from steak au poivre to pizza and calamari. We love going for lunch as the dishes are always surprising. The staff is bubbly and loves kids. Superfine has a robust bar scene, complete with pool tables, so go early. Note: Brunch is only available on Sunday and there is no changing table.
Time Out Market New York
55 Water Street
A recent addition to New York's booming food hall scene, the bi-level waterfront Time Out Market food hall offers something for everyone from picky eaters to omnivores, in a cool space overlooking Jane's Carousel and the park. You'll find ramen, sandwiches, burgers, pasta, pizza, tacos, baked goods, and more—meaning everybody in your family can get what they want.



Grab a cool drink or snack at the locally-founded Lizzmonade. Photo by Evan Eagleson for Lizzmonade.
Brooklyn Bridge Park
If you're wandering the vibrant waterfront and don't want to grab restaurant takeout, there are excellent seasonal concession stands throughout Brooklyn Bridge Park serving all sorts of goodies, including NYC-founded Luke's Lobster (the owner hails from Maine; he knows his lobster and shrimp and crab); Lizzmonade for something cool and fizzy; and Pilot, one of America's most prized wooden schooners, for summer snacks. Toward the Pier 6 playgrounds, you'll find Ample Hills Creamery (the salted caramel is otherworldly) and Fornino (pizza and sandwiches with outdoor and indoor seating—and a bathroom).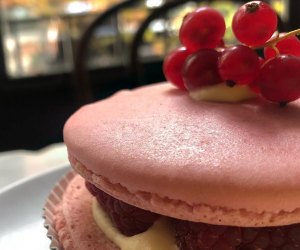 Treats are just as beautiful as they are delicious at Almondine. Photo courtesy of Almondine
Sweet Treats in Dumbo
Almondine
85 Water Street
Almondine is a tiny cafe that has such delicious treats. The selection is smaller at the end of the day. Pop in for an early lunch and feast on vegetarian sandwiches and quiche before enjoying the decadent treats. The pain au chocolat might be the best on this side of the East River, as are the almond croissants. Almondine staff are friendly but are not equipped to handle strollers, diaper changes or those in need of high chairs.
Ample Hills Creamery Fire Boat House
1 Water Street
Located in the same building as the late, much-loved Brooklyn Ice Cream Factory, homegrown superstar ice cream purveyors Ample Hills offer their patented mix of clever flavors and friendly service. Even if you've had Ample Hills ice cream at one of their other locations, this spot is special: Ample Hills is named for a line in Walt Whitman's Crossing Brooklyn Ferry, which was inspired by the view from this very spot.

Have some ice cream with your chocolate at Jacques Torres. Photo courtesy of the shop.
Jacques Torres Chocolate
66 Water Street between Main and Old Dock Streets
Yes, this is the original location of a not-to-be-missed high-end chocolatier. Enjoy amazing straight-up chocolate, chocolate-coated Cheerios and incredible hot chocolate (think allspice, cinnamon and ground ancho chili peppers). But this is also our favorite spot for ice cream in the summer. Jacques Torres has small marble-topped tables and all items are available to go and can be consumed at the waterfront around the corner.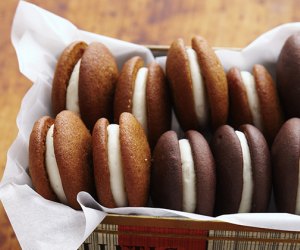 Delectable whoopie pies from One Girl Cookies. Photo courtesy of One Girl.
One Girl Cookies
33 Main Street at Water Street
This popular local bakery and cafe has made an indelible impression on the neighborhood. Minutes from the waterfront, it offers tea and beautiful assortments of cookies perfectly sized for little ones, even the famous whoopie pies. Parents will enjoy the espresso or even a glass of wine. The restroom is clean and there is plenty of space for strollers.
A version of this post was published in 2016; it has been updated for 2019. Katie Nave Freeman contributed additional reporting.