Prospect Park in Brooklyn: 25 Best Things to Do with Kids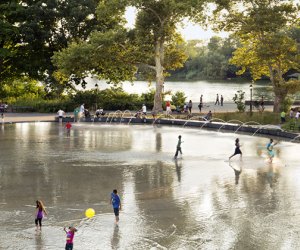 7/30/18
- By
Mariko Zapf
Prospect Park, a 585-acre oasis adjacent to Park Slope in Brooklyn, is home to the borough's only forest, plus bird life galore, roller skating, biking, picnicking, sledding...You name it, Prospect Park's got it. When people ask if we have a backyard, my nature-loving son immediately exclaims, "Yes, it's called Prospect Park!" For kids growing up in Brooklyn, it truly feels like an extension of home, a haven that satisfies our need for fresh air and fun, year-round.
Prospect Park was designed by Frederick Olmsted and Calvert Vaux, the same duo who designed Manhattan's Central Park, and many consider Prospect Park their crowning achievement. Whether you want to hike, skate, boat, catch a concert, learn about nature, or just hit an awesome playground or splash pad for a few hours, Prospect Park welcomes you with green space aplenty.
Though the park offers countless activities and experiences all year long, this curated list of the top 25 things to do in Prospect Park with children showcases our true favorites.
1. Getting together with friends and family for all-day picnics is our favorite way to spend time in Prospect Park. On summer weekends, it's fun to pack up a barbecue and join the dozens of families enjoying time together in the grass.
2. Wander through the lovely Ravine in the center of Prospect Park. You will find 150 acres of woodlands, babbling brooks, birds, and little creatures scurrying through this gorgeous forest.
3. Visit one of Prospect Park's seven shady, action-packed playgrounds, which in our family's humble opinion are some of the best in the city. The park's newest play space, the Zucker Natural Play Area, offers logs to climb, stumps to leap over, and a water feature.
4. On summer Saturdays, catch a magical storytelling hour at Imagination Playground on the park's east side (no relation to the Imagination Playground at South Street Seaport), then spend the afternoon splashing in the playground's cute water features. These summer story performances, supported by the Ezra Jack Keats Foundation, are a Brooklyn kid tradition.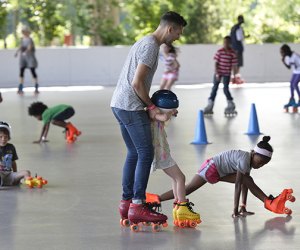 Slide into roller skating at the LeFrak Center. Photo by Paul Martinka/courtesy of Prospect Park Alliance.
5. The LeFrak Center at Lakeside is undeniably one of the greatest additions to Prospect Park—the food at Bluestone Cafe is surprisingly good, and the view of the lake from the rooftop terrace is lovely.
6. Speaking of LeFrak, the Splash Pad at Lakeside boasts 21 water jets to get you soaked on steamy NYC summer days. Did we mention that it's FREE?
7. You can roller skate your heart out at the modern rink right next door to the splash pad, or in colder months enjoy the connected indoor and outdoor ice skating rinks.
RELATED: Kid-Friendly Park Slope Restaurants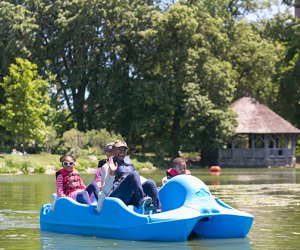 Pedal a boat across the lake and you might just forget you're still in the city. Photo courtesy of Prospect Park Alliance.
8. When boating arrived on Prospect Park Lake near LeFrak Center, my son went bananas. Rent kayaks or pedal boats (singles or doubles; little guys can sit on your lap) by the hour or day.
9. Sign up for youth or adult tennis lessons at the park's tennis courts.
10. Horseback riding is a beautiful way to experience the park with older children. Lessons and pony rides are also available for all ages through Kensington Stables located right outside the park.
11. Grab a pole and head to the lake for a bit of fishing. For best results, catch one of the frequent fishing clinics on summer weekends.
12. Ride a bike around the park's 3.3 mile outer loop and get a great feel of the park. If you don't don't own a bike or don't want to schlep one, you can rent one at the park instead.
13. When the snow starts to fall, hit one of Prospect Park's many sledding hills. The steepest and the longest hills are located near the Picnic House.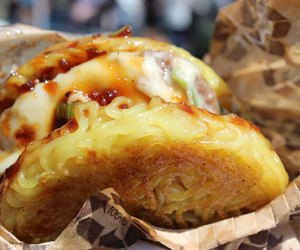 Don't miss the one-of-a-kind ramen burger at Smorgasburg. Photo by Shinya Suzuki via Flickr.
14. The Brooklyn-grown foodie paradise of Smorgasburg, where 100 vendors convene every Sunday (seasonally) offering delicious food, provides a well-deserved break from home cooking.
15. Hit the local greenmarket year-round for fresh veggies, fruit, fish, baked goods, and meats and dairy.
16. The 1905-built Beaux Arts style Boathouse is one of our go-to spots when the park feels too busy. Run around the bridge and path surrounding the historic landmark, check out the famed Camperdown Elm tree with its gravity-defying branches, and watch the ducks and turtles in the peaceful Lullwater.
17. Stop by Drummers Grove on Sunday afternoons for rhythms that will captivate the whole family. Find the weekly drum circle in the southeast corner of the park, between Parkside Avenue and Lincoln Road.
18. Catch a show at the BRIC Celebrate Brooklyn! Festival concert series in the Prospect Park Bandshell. Sit outside the fence, enjoy a dinner picnic, and don't feel guilty if you can only stay an hour. The beloved summer series includes lots of family-friendly options every year, including outdoor children's films and kid-friendly concerts.
19. Find the 19th-century Quaker cemetery hidden along the Nethermead on the park's Central Drive. While visitors are not allowed, a peek through the gates at the cemetery is an intriguing glimpse into the park's past.
20. Visit the 200 year-old Lefferts Historic House, built by a Dutch family in the 18th-century farming village of Flatbush. This living history museum with a working garden offers family-friendly traditional activities like butter churning and candle making, and there's a water pump, traditional tools, and a buggy for hands-on exploration of a piece of Brooklyn history.
21. We love carousels and have been visiting the gorgeous antique carousel in Prospect Park for nearly a decade. It doesn't get old! (Tip: It's free on Thursdays in August.)
22. Prospect Park is home to over 200 species of birds. Head to the center of the park (for best viewing) with your own binoculars, or join a birding tour with the Audubon Center.
23. See the baboons, sea lions, and many more animals at the Prospect Park Zoo, which is manageable enough in size for seeing with toddlers in tow.
24. Watch the irresistible fun at Dog Beach, where Brooklyn's dogs gather to romp, splash, spook ducks, and generally live their best lives.
25. Step into the lovely Audubon Center, which runs a host of amazing nature programs, and houses a now-famous turtle, snake, and other live animals. The staff is always welcoming and eager to share what they know.
You can reach Prospect Park via a number of subway lines, including the 2/3, F/G, and B/Q. There are entrances from all sides, including at Grand Army Plaza, Ninth Street, 15th Street, Parkside Avenue, and Lincoln Road, to name a few. Bathrooms are located throughout the park, including at the Picnic House, and port-o-potties are available in warmer months (we cannot vouch for their cleanliness, sadly). Whether you are a native New Yorker or a visitor to our fine city, Prospect Park is a must-see destination.
A version of this article was originally published in July 2010; it has since been updated.