The Adventures of Tortoise & Hare The Next Generation
The Sheen Center

The Very Hungry Caterpillar Show
DR2 Theatre

NYC Easter Brunch Cruise 2023
Event Cruises NYC
Sign up for our free newsletters.
Prospect Park's New LeFrak Center at Lakeside: Ice Skating, Roller Skating & Water Play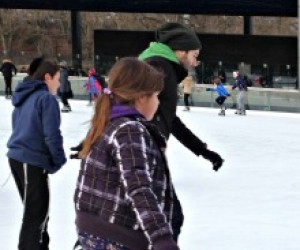 1/12/14
- By
Stephanie Ogozalek
This season has been a great one for ice-skating in New York City with four new outdoor rinks opening to the public. But the long-awaited LeFrak Center at Lakeside in Prospect Park is definitely the big new destination in winter... and beyond. The state-of-the-art, $74 million complex features two rinks (one open-air, the other covered), a cafe, restrooms and a green roof with incredible views. The massive project also restored Prospect Park's southeast corner to the original vision of its designers Frederic Olmsted and Vaux.

But what makes Lakeside even more exciting is that it's a year-round attraction. When the ice melts, it will become a summer hot spot, with roller skating and a water play area. My family and I recently visited the LeFrak Center at Lakeside and we definitely think it was well worth the wait. Judging from the crowds we encountered, so does most of Brooklyn! Here's everything you need to know before you visit Lakeside in Prospect Park.
The LeFrak Center at Lakeside is a sleek modern development of connected buildings that blends into the Prospect Park landscape. In winter, its two rinks offer 32,000 square feet of ice-skating. One rink is covered, the other is open-air, and although they're connected, they can be easily separated by a sliding wall.

Like most outdoor ice-skating rink in New York City, Lakeside offers skate and helmet rentals, skate sharpening, and bag check or lockers to store your gear while you glide. It also hosts skating and hockey lessons, as well as birthday parties.

My family and I visited Lakeside during school break and the place was pretty much overrun. They even ran out of rental skates, which resulted in a long line of grumpy patrons waiting. The important tips we learned from our visit:
Bring your own skates or prepare to wait to rent a pair. There's often a long line to rent but if you have your own, you go right in. That said...
Visit on a weekday or early in the morning to avoid the crowds Lakeside is already super-popular, and the hordes descend on weekends and holidays.
Bring your own snacks While the Bluestone Cafe has finally opened, the concession stand is still MIA. Bluestone serves high-quality and high-priced seasonal fare and offers indoor and outdoor rink-side seating. But if you're just looking to give the kids a quick snack, you'll be out of luck unless you bring your own.
Be prepared to pay for bag check Bags aren't allowed on the ice and you need a place to stash your shoes. And note: We've heard that there's a three-hour time limit on locker rentals so you may end up paying more than once.
In summer, Lakeside transforms into a hot recreation destination with a roller rink and a water play area. Check out the artist rendering in our slide show above, it looks pretty cool. Visitors can also rent pedal boats for rides on the Lake.

The Lakeside renovation also reinvigorates the southeast corner of Prospect Park. Originally, this area had what designers Frederick Olmsted and Calvert Vaux called a Concourse for Pedestrians, which was demolished in 1960 by urban planner Robert Moses to make way for Wollman Rink. This section now boasts an expanded promenade alongside the Lake with boulder-lined paths and plantings of native trees and aquatic vegetation, plus a man-made five-acre isle called Music Island that serves as a bird sanctuary. You can see it all from the Lakeside green roof, which offers majestic views of that part of the park.

LeFrak Center at Lakeside is located at 171 East Drive in Prospect Park, near the Parkside/Ocean Avenue or Lincoln Road/Ocean Avenue entrances. It's open for ice-skating through March: $6 on weekdays, $8 on weekends, $6 for skate rental. In summer, Lakeside transforms into a roller rink and a water play area.

Read about other things to do in Prospect Park.