Prospect Park Zoo: Best Things to Do at the Brooklyn Zoo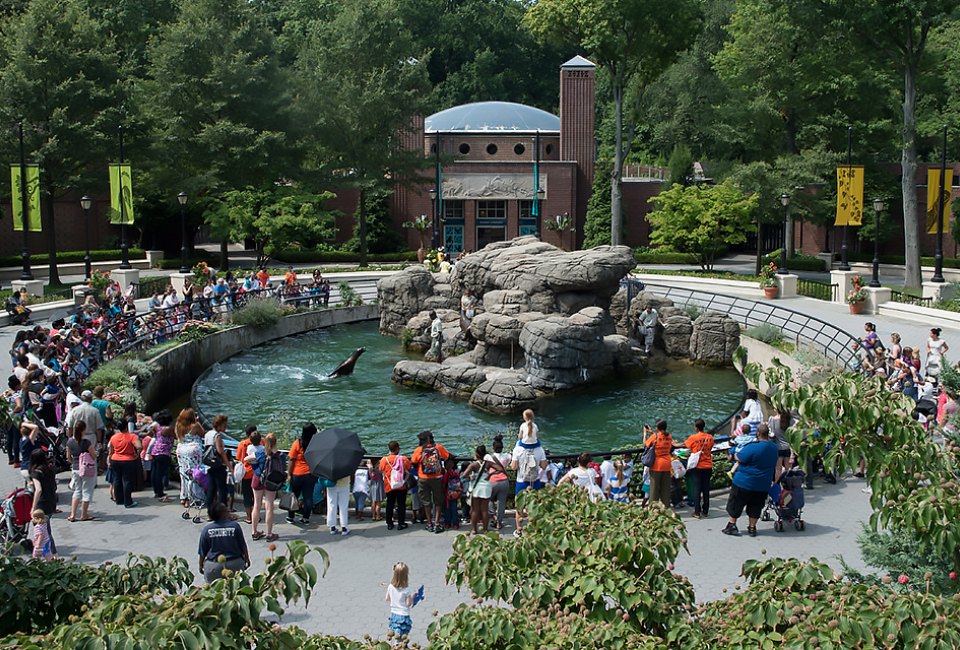 5/17/18
- By
Louise Finnell
Peppered with playgrounds, woods, and large open spaces for kids to roam free, Prospect Park is a pastoral escape smack dab in the middle of Brooklyn. The park is more than just green space: The Brooklyn Botanic Garden, Lefferts Historic House, and the Prospect Park Carousel are great places to visit for families. Need one more reason to love Prospect Park? How about a perfectly kid-friendly zoo, just the right size and pace for younger children?
The Prospect Park Zoo is much smaller than its northern counterpart, the Bronx Zoo, which means it's just right for pint-sized animal lovers. The whole interior is comfortably walkable in a few hours, so you can see everything before nap time. We've got tips for visiting with kids, including the best entry points, what to see, and the best times to visit.
When you first enter Prospect Park Zoo from the Children's Corner entrance inside the park, a beautifully landscaped path flanked by steely sculptures of various creatures awaits. My 2-year-old loves trying to figure out what they are, and has come up with some very creative guesses (dragons and dinosaurs, to name a few).

The sea lion show and feeding is a highlight of the zoo.
From the Children's Corner, walk straight ahead to the aptly named Sea Lion Court—the central hub of the zoo. You may hear these impressive sea creatures bellowing before you see them. From here, you can get anywhere. Food, bathrooms, and all the buildings are easily visible and accessible. Make sure to check your map for a schedule of sea lion shows; they are definitely worth waiting for. The shows get busy, and for good reason—the adorable creatures are always entertaining. Try to arrive a few minutes prior to get a good spot along the railings, so kids can see the animals close-up.
RELATED: Our Favorite Toddler Playgrounds in Brooklyn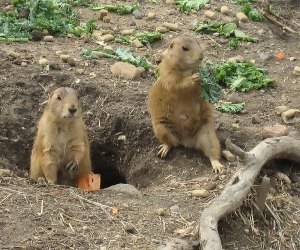 Take your time to wander down the Discovery Trail to see the prairie dogs and more. Photo by Wally Gobetz via Flickr
We usually enter near the carousel and make a left onto the Discovery Trail. This meandering path takes you through a sweetly curated collection of activities. There are tunnels that children can peer out of like prairie dogs, a spider web made of ropes to climb on, and dozens of ducks to feed. If you have a child who can walk, ditch your stroller at the start of this area. It's tough to get a stroller across the rough terrain, and your child will want to dart around looking at everything (at least mine did!).
Make sure you bring quarters to feed the ducks; 50 cents gets you a handful of feed. This was one of the highlights for my toddler. It was a great tactile experience, and it's fun to identify the different varieties of ducks swimming around. Plus you get to throw food, which we all know toddlers love.
RELATED: 30 Fun Things to Do with Preschoolers in Brooklyn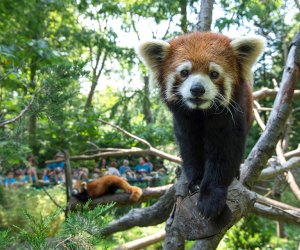 If you're into totally adorable animals visit the red pandas to get your dose of wild cuteness. Photo Julie Larsen Maher for WCS
We tend to spend the most time on the Discovery Trail. There is an element of surprise and excitement when following the winding trail—kids love to guess what's coming up around the next corner. Keep walking and you'll pass red pandas, an adorable river otter, emus, tufted deer, sprightly black-tailed prairie dogs, and dingoes. Be patient as some of the animals are hard to spot right away. The trail also takes you through the aviary, which is the last stop on the trail before you end up at the Sea Lion Court at the center of the zoo. There are benches here and there so that kids can take a rest or have a snack.

It's a special experience to have farm animals eat from your hand.
Save some quarters for feeding the farm animals. From the Sea Lion Court, you can venture into the "Barn and Garden" area. This area has alpacas, Juliana pigs and Cotswold sheep that will all eagerly eat from your hands. There are sanitizing stations for little hands once the animals have had their fill.
If you get hungry, head to the gift shop for some snacks. You'll find a limited selection of prepackaged sandwiches, drinks, and grab-and-go snacks. Of course, there's also an adorable selection of gifts your children will try to trick you into buying. There is ample outdoor seating, along with swaths of grass for picnicking.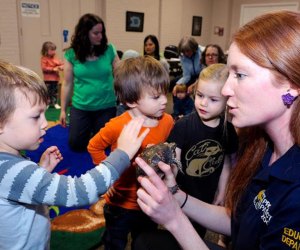 The Discovery Center offers hands-on activities and experiences. Photo by Julie Larsen Maher for WCS
Another bonus? Prospect Park Zoo is open year-round. The zoo's indoor exhibitions are a great destination on winter days. The pallas cat in the Animal Lifestyles building is an exciting stop. The Vietnamese mossy frog and poison dart frog are housed in the Hall of Animals in case your kids are more into green and slimy than warm and fuzzy. The baboon enclosure is visible from inside through floor-to-ceiling windows. This is a great stop for little kids because the baboons are easy to spot and really fun to watch. The Discovery Center offers interactive experiences for children on weekends from 11am to 3pm. It's also not a bad place to throw a kid's birthday party!
The unexpected highlight of any trip to the zoo is the peacocks that freely roam the grounds. Loud, beautiful, and bold, these birds are a source of endless fascination for kids. Just be careful you don't leave snacks around—the peacocks will not miss an opportunity to try a pretzel or a cookie.
The Prospect Park Zoo sits in the Northeast section of the park, facing Flatbush Avenue, between the neighborhoods of Crown Heights and Prospect Lefferts Gardens. If you are bringing a stroller, I'd recommend entering the zoo from either the East Drive or Children's Corner (right near the Carousel) entrances. The Flatbush Avenue entrance opens right up to the Sea Lion Court but has many stairs that might be tough for little legs and definitely tricky with a stroller in tow. Check out its full list of animals and attractions.
Photos by the author unless otherwise noted
Places featured in this article:
t Click Here to Sign Up!