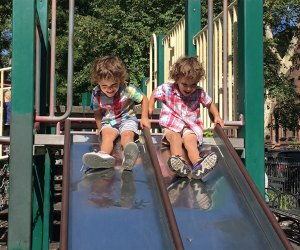 Our Favorite Toddler Playgrounds in Brooklyn
It's no secret that Brooklyn is one of the most family-friendly boroughs in New York City. More young families are discovering the rich culture and kid-friendly perks like indoor play cafes that make it a great place to raise your family. It's the reason why these days, strollers outnumber the hipsters in most Brooklyn neighborhoods. And one of the best ways to enjoy the beautiful tree-lined blocks is to go for a walk with your tot in tow to visit some of the amazing playgrounds in the area.
We've already ranked the best playgrounds in Prospect Park and the top playgrounds for your big kids in Brooklyn, but now we're putting together a list of some of our favorite playgrounds sized for toddlers.
Hanging out in the park is a fun and free way to let your little one burn off a little steam and work on those walking, scooting, and climbing skills. But if you're the parent of a toddler, you don't want to have to worry that your toddler will get trampled by big kids while exploring the park. These playgrounds offer either separate tot lots or specific playground equipment that is geared toward little kids, including bucket swings, more mellow slides, and even convenient access to public restrooms.
Underhill Playground — Prospect Heights
Underhill Avenue between Prospect Place and Park Place
This playground is a favorite destination for tots in Prospect Heights. A separate toddler play area includes slides and climbing equipment that are the perfect size for little ones. And once they've checked out all playground equipment, kids will love playing with tricycles and assorted ride-on toys left behind by area parents.
RELATED: Best Brooklyn Play Spaces with Drop-In Hours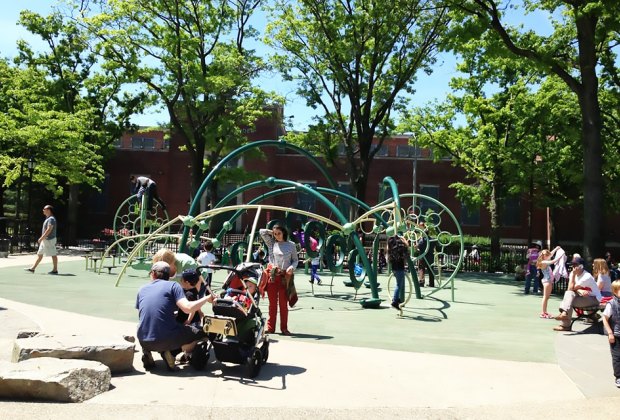 J.J. Byrne has an amazing spray park in the summer. Photo courtesy of NYC Parks
J.J. Byrne Playground — Park Slope
5th Avenue between 3rd and 4th Streets
J.J. Byrne Playground is a toddler hangout in the heart of Park Slope. In addition to a variety of pint-sized playground equipment (including swings, slides, and rails), there are colorful farm animal structures that are sure to spark your toddler's imagination. Little ones will enjoy running through the spray showers in the summer, too. And if the trip to the playground doesn't tire them out, you can take in a few of the shops and restaurants along bustling 5th Avenue.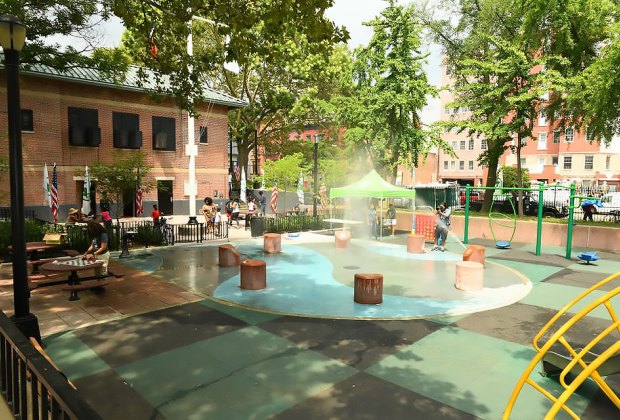 This recently renovated Clinton Hill playground has a little something for everyone—and bathrooms! Photo courtesy of NYC Parks
Crispus Attucks Playground — Clinton Hill
Fulton Street at Classon Avenue
The playground, which sits on the border of Clinton Hill and Bedford-Stuyvesant, was recently renovated, complete with new garden-inspired playground equipment, spray showers, and wheelchair accessible ramps. Space for toddlers is separated from older kids. And if you need a potty break, there are public restrooms on site.
Slope Park Playground — South Slope
6th Avenue between 18th and 19th Streets
This South Slope playground is small enough that you don't have to worry about keeping track of your toddler but full of toddler-sized climbing structures for them to enjoy. Public restrooms are available.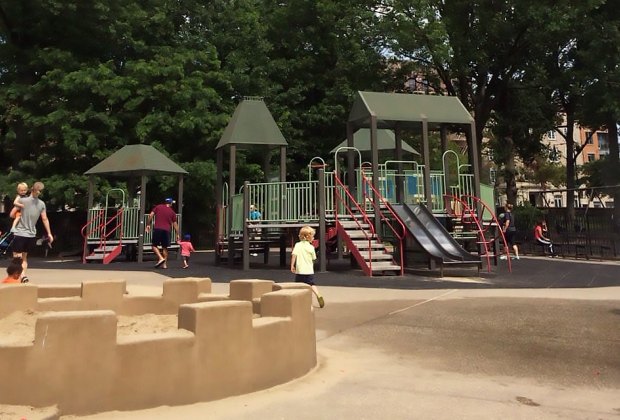 Check out this musically-inspired playground in Prospect Park. Photo courtesy of NYC Parks
Harmony Playground — Park Slope
Prospect Park West at 10th Street
As the name implies, Harmony Playground is a musically-inspired playground located inside Prospect Park at 10th Street. Some of the park's best features are the toddler swings and mini jungle-gym. And if they get too dirty after playing in the sandbox, rinse your little ones off in the playground's spray showers.
Garfield Tot Lot — Park Slope
Prospect Park West between Garfield Pl and 1st Street
For parents of toddlers, the Garfield Tot Lot is the place to be on a warm day. In this section of Prospect Park, all the playground equipment is designed specifically for the under 5 set. The mini jungle gym with low rails is perfect for new walkers who want to get in a little practice. When they're ready for a snack break, there is plenty of seating available. The only downside is the lack of available restrooms.
Fort Greene Playground — Fort Greene
Myrtle Avenue and St. Edwards Place
Downhill from Fort Greene Park's Prison Ship Martyrs monument, you'll find Fort Greene Playground. One of the best features of this hidden neighborhood gem is the toddler play space with jungle gym and swings, which is separated from the larger play structure geared toward older kids The area includes spray showers, perfect for cooling off on hot days. Another perk of playing on this side of the park rather than the Dekalb Avenue side is having convenient access to the park's bathrooms.
Carroll Park — Carroll Gardens
Court Street between Carroll Street and President Street
At Carroll Park in Carroll Gardens, the self-contained toddler play space is closed off from the rest of the park, so you don't have to worry about your little ones getting lost among the older kids. There are bucket swings, a double slide, and a wobbly bridge the kids always seem to enjoy. The park has lots of open space, which is perfect for scooting and running, too. There's a very mellow spray shower section between the two playgrounds in the summer, bathrooms, and the park hosts a number of family events. If you want to upload a photo or search for a kid-friendly place to have lunch after you play, take advantage of the park's free Wi-Fi hotspots.
RELATED: Best Carousels in New York City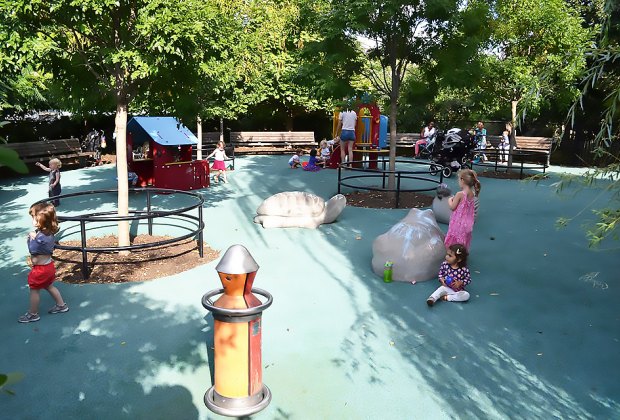 This Brooklyn Bridge Park playground is built for pint-size kiddos and there is plenty of shade! Photo by Julienne Schaer for NYCgo
Brooklyn Bridge Park - Pier 1 Playground — Dumbo
Families with toddlers flock to the Pier 1 Playground at Brooklyn Bridge Park, one of the playgrounds specifically designed for little kids. They'll love all of the animal-shaped climbing structures. And you can keep cool while you watch, as it also happens to be one of the shadiest spots in the park. There's another tot lot in Brooklyn Bridge Park at Pier 5, adjacent to the sports fields and right next to Ample Hills Creamery, but it gets full sun and is therefore nearly unusable in the summer months. There are no public restrooms inside this playground, but there are public restrooms available nearby on both sides of the pier.