25 Best Things to Do in Prospect Heights, Brooklyn with Kids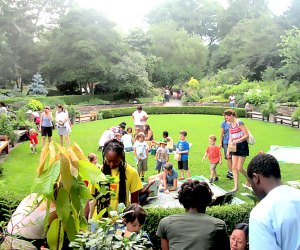 Prospect Heights is a small Brooklyn neighborhood that's in the middle of all the action. Nestled between Crown Heights, Boerum Hill, and Fort Greene, it's brownstone Brooklyn at its best, with tree-lined streets, eateries galore, and a mix of longtime residents and new transplants. Much like the rest of the borough, the community has seen its fair share of gentrification; however, it remains quite diverse, and is a wonderful place for families to live or visit.
An array of kid-friendly cafes, bars, restaurants and shops line Vanderbilt Avenue, and Washington Avenue is another thriving commercial strip. The southern periphery of Prospect Heights features some of Brooklyn's most famous landmarks: the Brooklyn Museum and the Brooklyn Botanic Garden (also covered in our Crown Heights guide), along with the central branch of the Brooklyn Public Library and the northern edge of Prospect Park. Meanwhile, Barclays Center (also covered in our Fort Greene guide) is located in its northwestern corner.
For the purposes of this piece, our geographical boundaries are Flatbush Avenue to the west and Washington Avenue to the east, Atlantic Avenue to the north and Eastern Parkway to the south. Here are the top 25 things to do in Prospect Heights with kids.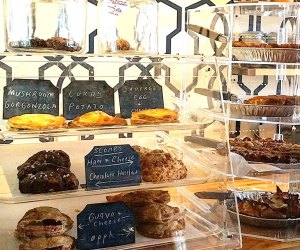 The Daly Pie not only has pie, but plenty of other goodies as well. Photo courtesy of the Daly Pie
1. Start your day with a slice of pie at Daly Pie.
2. Or if bagels are more your style, grab an Instagram-worthy rainbow bagel at Olde Brooklyn Bagel Shoppe.
3. Enjoy FREE storytime, a cozy children's room, and top-notch family music performances at the central branch of the Brooklyn Public Library.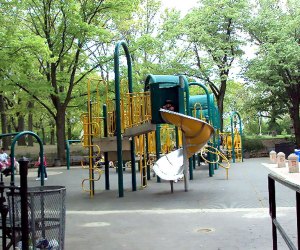 Green space and a playground makes for a great day at Mount Prospect Park. Photo courtesy of NYC Parks
4. Discover Mount Prospect Park, an under-the-radar treasure between the library and the Brooklyn Botanic Garden, featuring a huge playground and the second-highest point in Brooklyn.
5. Explore the Brooklyn Botanic Garden, an oasis that's open year-round, featuring amazing blooms and kids' programming. Bonus: Admission is FREE on Tuesdays and all winter weekdays.
6. Enjoy a family sing-along and dance party each weekday morning at Dean Street Cafe, and stay for a grilled cheese lunch afterward.
RELATED: Prospect Park in Brooklyn: 25 Things to Do with Kids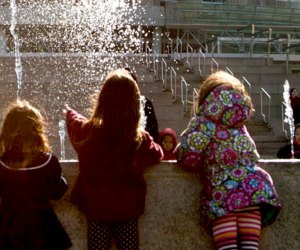 Kids will love playing outside and inside the Brooklyn Museum. Photo courtesy of the Brooklyn Museum
7. Score FREE admission to the world-class Brooklyn Museum on the first Saturday evening of the month, and enjoy a variety of special activities and entertainment for all ages.
8. Find your peace with a Yoga for Tots (ages 2–5) or Baby & Me class at Prospect Heights Yoga.
9. Sink your teeth into a sweet treat at Little Cupcake Bakeshop—we're partial to the Brooklyn Blackout or the Black and White.
10. Wander through the northern section of Prospect Park where you'll find trails and green space aplenty.
11. Peruse an incredible selection of secondhand tomes at Unnameable Books, one of our favorite used bookshops in the city.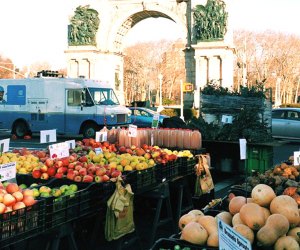 The Grand Army Plaza Greenmarket is a local haunt and also a weekend destination. Photo courtesy of the Greenmarket
12. Shop for fresh, local produce at the year-round Grand Army Plaza Greenmarket on Saturday mornings. There's a delicious selection of baked goods, cheese, fish, and meat, and you can drop off your composting.
13. Eat like a local at neighborhood favorite Joyce Bakeshop, where scrumptious baked goods are made on-site and the menu changes daily.
14. Let the kids burn off some steam at Underhill Playground, which is sure to please children of all ages.
RELATED: 30 Top Things to Do in Brooklyn with Toddlers and Preschoolers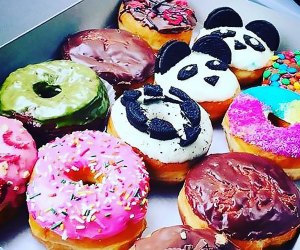 The doughnuts are out of this world at Doughnut Plant. Photo courtesy of Doughnut Plant
15. Indulge in one of NYC's best treats at Doughnut Plant—yes, it is worthy of the hype.
16. See what's playing at Barclays Center, from the Nets to Marvel Universe Live, there's often something kid-friendly happening (and plenty of dining options before and after).
17. Let your tweens and teens play pool, ping-pong, air hockey, or other games at Ocean's 8 at Brownstone Billiards (on the Park Slope border), which welcomes kids and their adult chaperones until 9pm daily.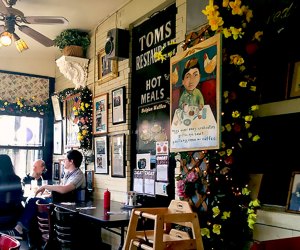 Tom's serves up traditional New York dishes, including egg creams! Photo courtesy of Tom's Restaurant
18. Go back in time at the legendary Tom's Restaurant, an authentic old New York soda fountain that's been around since 1936!
19. Pick up a new chess set or challenge your kid to a few games at New York Chess and Games, which also hosts children's classes and camps.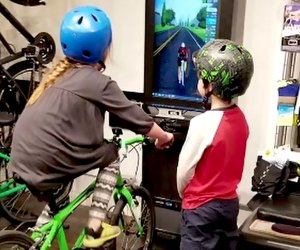 Kids can kick the winter blues with a session on Zwift at Bicycle Habitat. Photo courtesy of Bicycle Habitat
20. Rent a ride from Bicycle Habitat and explore the nabe on wheels in warmer weather, or hop on the shop's ride simulator, Zwift.
21. Scarf down delicious thin-crust pizza at Ogliastro Pizza Bar, where you can sit in a charming backyard that has a wooden bridge for kids to explore.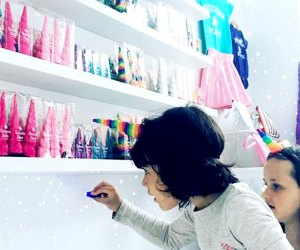 Step into the magical world of unicorns at Brooklyn Owl. Photo courtesy of Brooklyn Owl
22. Wear a unicorn horn and gaze into a magic talking mirror at Brooklyn's enchanted unicorn store, Brooklyn Owl, on Flatbush.
23. Wander through Grand Army Plaza to admire the giant sprays of water at Bailey Fountain, and maybe toss in a penny for good luck.
24. Enjoy a sweet end to your day at Ample Hills Creamery where the kids can power the ice cream bike in the window while you wait for your exotic, homemade scoops.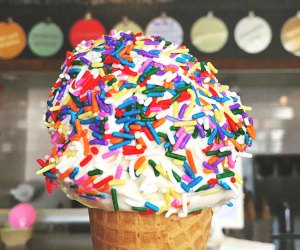 You won't be disappointed in this indulgent organic ice cream. Photo Courtesy of Blue Marble
25. Or maybe you're more of a Blue Marble Ice Cream type of family—well there's one in Prospect Heights, too!
Additional reporting by Sara F.
Top photo of the Fragrance Garden at Brooklyn Botanic Gardens. Photo courtesy of the gardens