Brooklyn Has a Unicorn Store Full of Rainbow Horns and Magic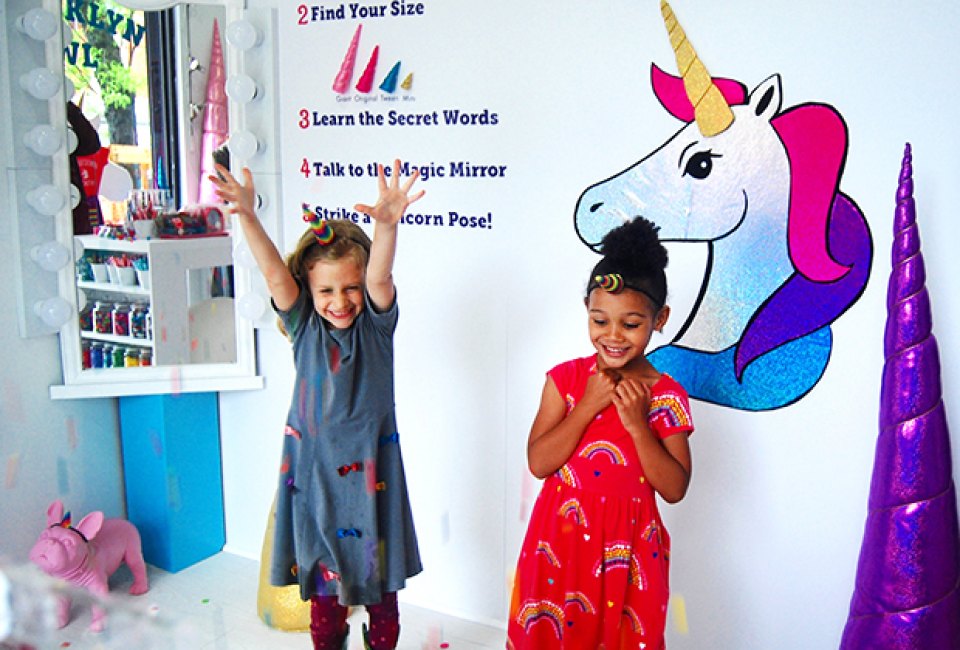 5/11/17
- By
Sara F
Imagine a magical wonderland where your child can pretend to be a mythical creature, hunt for hidden messages on the walls, gaze into a magic talking mirror, and throw rainbow confetti into the air just because.
This place doesn't just exist in your 4-year-old's dreams. It opened this month on Flatbush Avenue in Brooklyn, on the border of Park Slope and Prospect Heights.
Brooklyn Owl isn't just a retail shop—it offers a magical unicorn experience, for free. When you enter the store, your child selects a unicorn horn to try on (which come in four sizes and many colors and finishes, from sparkly to matte), with no pressure to buy. Yes, really. If you don't want to purchase one, that's OK. The shop will offer your kid a sticker instead when they return their loaner horn.
Store owner Annie Bruce has been handcrafting kids' accessories for several years, selling them on Etsy and in local shops, under the name Brooklyn Owl (hence the non-unicorn moniker). But when she made unicorn horns for her daughter's birthday party a few years ago, she discovered a business opportunity.
The shop is about more than fashion and party accessories, though. Kids can use a handheld black light to uncover secret messages on the walls. When my 4-year-old daughter and her 5-year-old friend did it, they found "I can do anything" under a row of unicorn horns. There's also "Do the impossible," and other empowering phrases.
RELATED: 30 Top Things to Do in Brooklyn with Preschoolers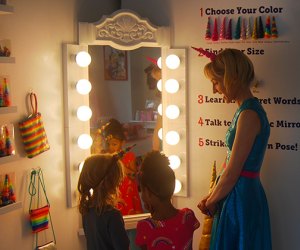 The store is full of interactive fun, including this mirror that "talks back."
Then, your child gets a magic mirror session. They talk to it; it talks back.
"Wonderful! You are now a unicorn. Your sparkly magic shall brighten the days of all who see you," says one of its messages.
Get your camera ready at this point, because it's confetti time: Kids finish off their magical experience by tossing a handful of nickel-sized rainbow felt circles into the air (which is usually followed by them scooping it all up and releasing the confetti again and again).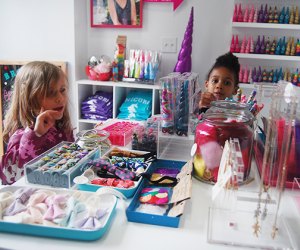 There are plenty of sweet accessories on sale besides the unicorn horns.
If you do wish to shop, the store carries unicorn-themed clothing, jewelry, hair accessories, sparkly bags, party favors, and rainbow candies in addition to its vast variety of horns. There's also a make-your-own confetti station where you can pick your own colors and mix up a box to take home.
"Unicorn horns help people feel special and different," Bruce says. "It sparks their imagination, and it gets them excited and motivated to access that itch that we all have inside to make-believe and to have fun."
She said she and her husband wanted to create not just a retail shop but an experience for families. "One of the reasons why I love this city is you can do so many wonderful things," Bruce says. "And we are excited to have a spot where we can offer something to parents that is more than just a store but a location to interact with their kids."
Got a tip about something new opening for kids or families in your NYC neighborhood? Let us know at nyc@mommypoppins.com.
Top photo: There's no charge to pose in the unicorn attire. Give it back and get a sticker. All photos by the author.
Places featured in this article:

Sign up for our free
newsletters.
Mommy Poppins is a family activity website that helps people find things to do with kids.
©
2023
MommyPoppins. All Rights Reserved.
mp-prod4-v4.32.99
Click Here to Sign Up!
i