Family Restaurants Near Barclays Center for Post-Show Kid Eats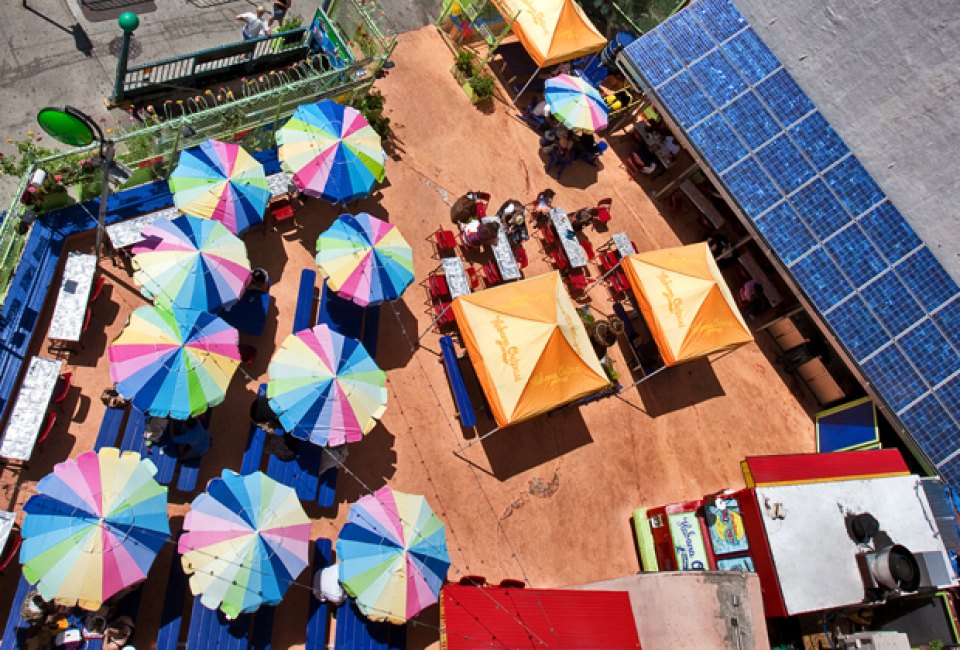 9/6/17
- By
Sara F
When you're heading to an event at the Barclays Center with the kids, you have one of two options: Get in quickly and fill them up with sometimes-pricey, always dependable vendor food, or... plan ahead and leave time to hit one of the kid-friendly restaurants in the neighborhood after the show, concert, or game. Opened in 2012, it's home to the Brooklyn Nets, New York Islanders, and often hosts the circus, headliners like Katy Perry, and Disney on Ice.
Fort Greene has recently turned into a foodie destination, bringing in all sorts of specialty food shops (Doughnut Plant, anyone?), food halls, and myriad culinary hot spots, from southern barbecue to custom ramen. So take advantage of the trip and the area: Grab your kids and grab a table at our favorite places around the arena.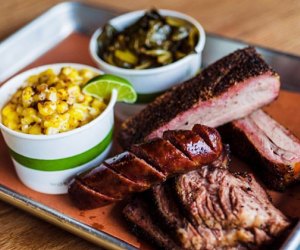 Brisket for grown-ups and mac-and-cheese and cornbread for kids at Morgan's Brooklyn Barbecue!
Morgan's Brooklyn Barbecue
267 Flatbush Avenue
This is the place to go for brisket, ribs, chicken, catfish—whatever southern delight you're craving. Kids will love its mac and cheese, fries, and cornbread, and the most adventurous little eaters can try variations like cheeseburger mac or chili cheese fries.
Shake Shack
170 Flatbush Avenue
Burgers, fries, and shakes. What more could kids want? Answer: chicken and hot dogs, too. You know how good it is. Just go.
Patsy's Pizzeria
450 Dean Street
This pizza chain has been a longtime favorite in Manhattan, but only recently came to the neighborhood. The 16-inch pies are fired in a coal oven, and you'll also find other Italian delights on the menu, like lasagna, chicken parm, and garlic bread.
RELATED: 35 Things to Do with Kids in Fort Greene and Clinton Hill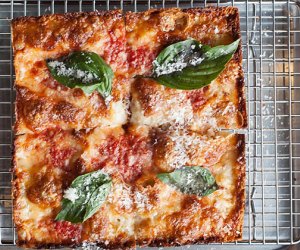 Enjoy pizza, spaghetti, and more kid favorites, plus a game room at Atlantic Social.
Atlantic Social
673 Atlantic Avenue
This newcomer to the area is the answer to the question, "How will we keep the kids entertained while we eat?" There's a game room here, with a foosball table and other arcade fun, where they can go while you have some peace. The menu is full of kid favorites like mac and cheese, pizza, spaghetti, and fries.
Bergen Dean Sandwich Shop
64 Sixth Avenue
Your kids can get their PB&J fix while you enjoy something more adult, like a porchetta or BBQ chicken sandwich.
RELATED: Gotham Market: Families Flock to New Food Hall in Brooklyn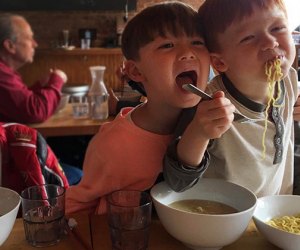 Chuko Ramen makes a delicious (and authentic) bowl of noodles for parents and kids alike. Photo by jiwon26 via Instagram
Chuko Ramen
565 Vanderbilt Avenue
Kids like noodles, and Chuko has them. Adults will enjoy all the ramen options, with add-ins including chicken, pork, vegetable, or kimchi, while the kiddos can have the plain "kids noodle and broth," or, if they must, just buttered noodles.
67 Burger
234 Flatbush Avenue between Sixth Avenue and Bergen Street
If Shake Shack isn't your thing, fulfill your craving for a burger, fries, and milkshake here. The kids' menu includes selections like grilled cheese, sliders, and hot dogs, and all dishes come with delicious curly fries.
Smoke Joint

87 South Elliot Place between Fulton Street and South Portland Avenue
Smoky, ultra-tender meat is the main attraction at this casual restaurant, but there are lots of other options on the menu to tempt picky palates such as spicy fries, mac and cheese, barbecue beans, and cornbread.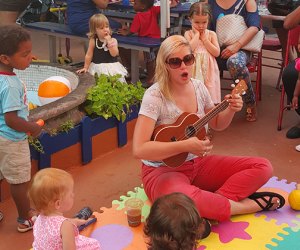 Outdoor eatery Habana Outpost makes grown-up drinks and eats, but offers tot entertainment.
Habana Outpost
757 Fulton Street at South Portland Street
Open seasonally from April through October, this self-described eco-eatery specializes in Cuban and Mexican cuisine, but also offers ubiquitous kid-friendly staples like hot dogs, burgers, and fries. There's a spacious courtyard, which frequently hosts free family events like the Sunday night movie series, the Tuesday Baby Breakfast, when the space is transformed into a "toddler wonderland" with a water table, and weekend art projects for kids.
Junior's
386 Flatbush Avenue Extension at Dekalb Avenue
Yes, it's true that this historic restaurant has become a bit of a tourist trap thanks to its world-famous cheesecake. But it's still a fun spot, with a huge menu of diner-type food, including a separate kid's menu.
Top photo: Habana Outpost. Photos are courtesy of the restaurants unless otherwise noted.
A version of this article first published in 2013, but it has since been revised and updated.