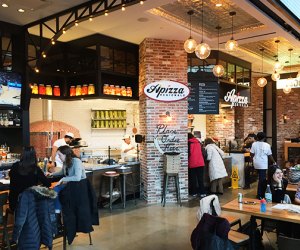 Gotham Market: Families Flock to New Food Hall in Brooklyn
Food halls are multiplying in NYC—that's for certain. The masterminds behind Manhattan's Gotham West Market opened Gotham Market at the Ashland in late January, and there are two more new food halls arriving in Brooklyn later this year (DeKalb Market Hall and another at Building 77 in the redeveloped Navy Yard). Based on the number of parents and kids you'll spot through the giant glass windows, it's safe to say this one has already received a warm reception.
Housed on the ground floor of one of the neighborhood's new luxury apartment buildings, the 16,000-square-foot space can accommodate about 400 people seated at assorted tables and bars—with some outdoor seating too—and boasts eight oh-so-delicious dining options. There is both table service and counter ordering offered.
It's barely a block from BAM, and just a couple away from Barclays and from Fort Greene Park, making it a great post- or pre-show stop, or just another family-friendly dining option where you don't have to worry about the ruckus your kid might make while eating.
RELATED: Dine-In Movie Theaters for Family Brunch or Dinner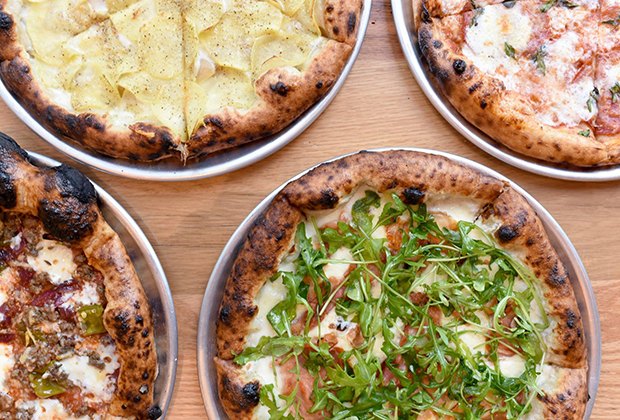 Brick-oven pizzas from Apizza Regionale will appease all.
Dinosaur Bar-B-Que diehards young and old will be delighted to know John Stage is the genius behind most of the stalls, serving up rotisserie and fried chicken at Flip Bird, Neapolitan-style pizzas at Apizza Regionale, craft beers and housemade cocktails at Bar Granger, and breakfast favorites at Egg @ the Bird (coming soon). Rounding out Stage's contribution to the primary dining area is a rotating pop-up vendor space that as of March 2017 belonged to Crown Heights' Crabby Shack, but will feature a new Brooklyn-based business every four months.
Meanwhile, families looking for table service can head to Mason Jar, which specializes in beer, bourbon, and barbeque, and has full lunch and dinner menus, as well as a to-go window that serves the communal dining space. They can also opt for the most restaurant-like of the bunch, Boqueria, which offers a full-service dining experience complete with tapas and a long drink list. It screams "date night spot" compared with the casual vibe of the other destinations.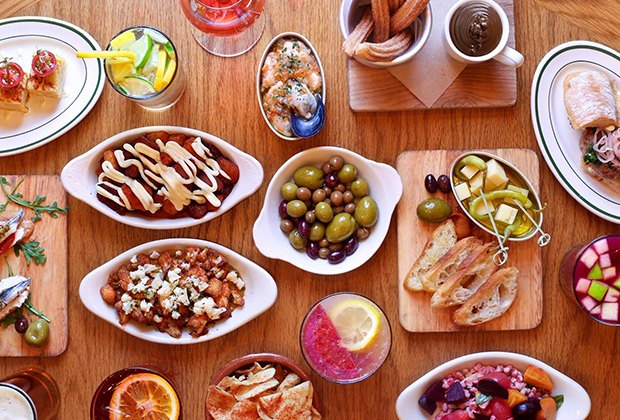 Enjoy tapas, drinks, and table service at Boqueria.
My husband and I met a couple of friends, including two very pregnant and hungry pals, at Gotham Market on a Saturday afternoon, with our newly walking 1-year-old in tow. As we entered on the Mason Jar side, I spotted a ramp down to the communal dining space, and happily rolled past a number of families and a baby-filled mommy meet-up. The hall was full but not jam-packed, and we quickly snagged a table in the primary dining area that fit all seven of us. There wasn't a ton of room in which to squeeze our open stroller, but we were able to fold, stash, and keep an eye on it.
We were quickly greeted by a manager who asked if we were first-timers and gave us the lay of the land with a smile, explaining we could order from any of the stalls and would receive buzzers that would vibrate when our food was ready. She said they are still testing some level of table service in the communal space and would do their best to bring orders directly to us if possible. My daughter teetered around, and waved at the mixed crowd of babies, toddlers, parents, and twentysomethings. She soon encountered another new walker, and the two of them had a blast hobbling around together.
RELATED: 5 Brooklyn Cafes with Dedicated Kid Play Areas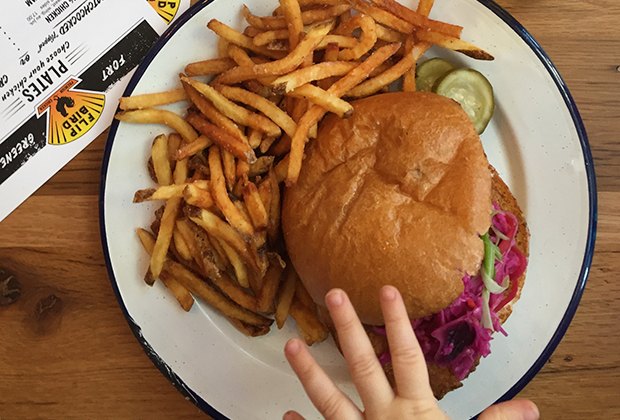 Kid-friendly eats include burgers, pizzas, Southern-style noshes, and yes, french fries! Photo by the author.
Meanwhile, I learned there are only about four highchairs for the entire food hall—it's a race to secure one—and my husband learned the hard way that there isn't a changing table in the men's bathroom. The women's room is outfitted with one, and there appears to be a family bathroom that was closed during our visit but should meet any diaper-changing needs. Crisis averted.
Our buzzers started going off one by one, and our table soon was covered in a range of lunch options—a classic pizza, a couple of fancy fried chicken sandwiches, some go-to Southern sides, a crab roll, fresh salads, and piles of French fries. While picky eaters might have trouble finding something truly "simple," and vegetarians like me are limited, it's hard to imagine most kids and adults couldn't find something they were excited to eat. And while some pricing did feel steep and certain dishes stood out more than others, we were all happy and stuffed when we wrapped up the meal. We sat around chatting, comfortable, and unrushed, while a few friends finished up beers and my daughter snatched whatever remaining fries she could.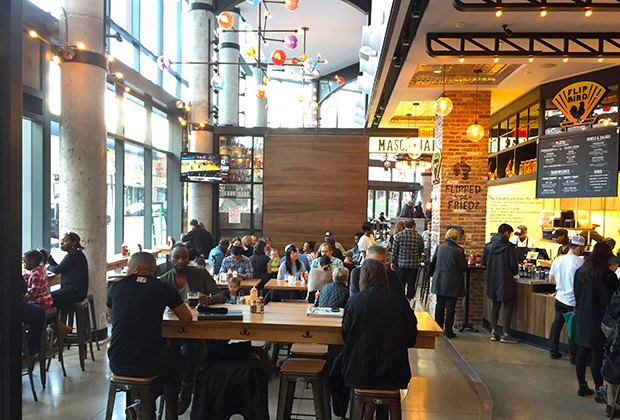 Seating is offered for 400, though we wish there were a couple more high chairs. Photo by the author.
As we packed our belongings, the manager returned to see what we thought of our visit. I apologized for the mess. "Oh, that's no problem at all," she said, waving at my daughter. "That's just a sign that you had a really good time." If that's not kid-friendly, I don't know what is.
Gotham Market at the Ashland is located 590 Fulton Street at Ashland Place in Brooklyn. It is open daily from 11am until "late."
Top photo of the market by the author. All other images courtesy Gotham Market at The Ashland.