20 Birthday Party Spots for Brooklyn Toddlers and Preschoolers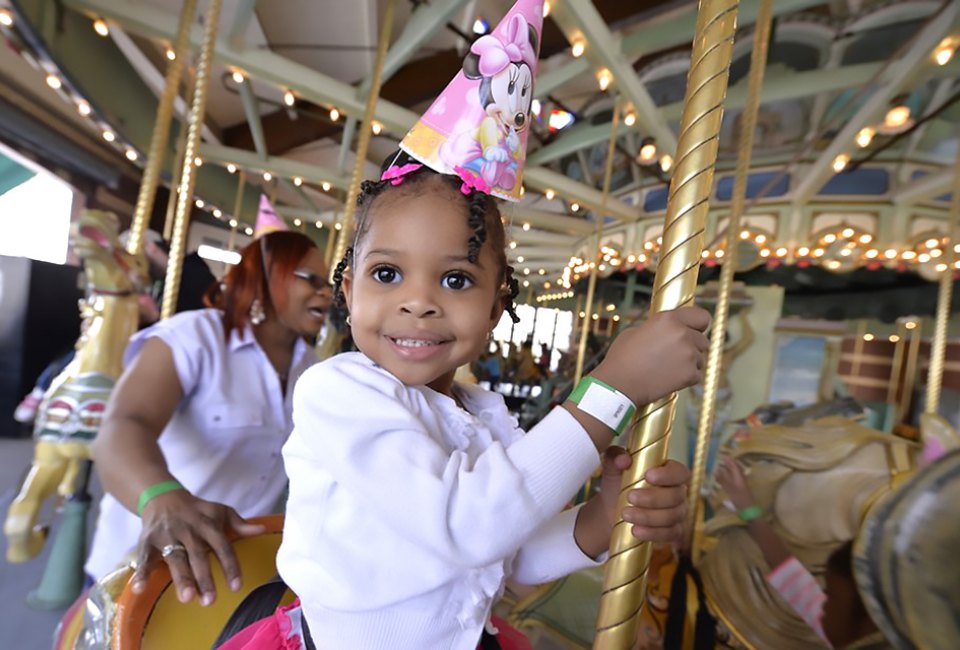 2/22/19
- By
Louise Finnell
Your toddler is another year older, which means it's time to throw a birthday party! Entertaining the under-age-5 crowd, plus a small army of their closest friends (and parents), can be tricky. Lucky for us, the borough of Brooklyn is filled with party places to please even the most diverse pack of enthusiastic toddlers and preschoolers.
Animals, arts and crafts—even just tumbling around for a few hours—are all options at these creative venues across Brooklyn. Read on for our list of favorites, and find even more birthday party inspiration in our NYC Party Guide.

Choose from a variety of birthday party themes at Recess D.U.M.B.O. Photo courtesy of Recess D.U.M.B.O.
1. Get your tiny guests running, crawling, and climbing at Recess D.U.M.B.O. The packages here include exclusive access to the inventive play space and are offered at a variety of price points. Birthday party classics such as like face painting, balloon animals, a bouncy house, or a magician are available to add on.
2. For the animal lover, Prospect Park Zoo offers educational and fun party options for kids of all ages. Up-close animal encounters are on the agenda, as well as free zoo admission so kids can explore beyond the private party room.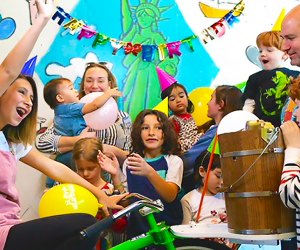 Hop on the ice cream churning bicycle at a birthday party at Ample Hills. Photo courtesy of Ample Hills
3. I have yet to meet a toddler who doesn't love ice cream. The Brooklyn-founded Ample Hills encourages party guests to indulge their sugar rush, and kids can make their own ice cream with its cream-churning bicycle.
4. Get your feet wet at the New York Aquarium. The city's only aquarium, located at Coney Island, offers party packages, including games, crafts, and a meet-and-greet with a live animal. Make sure to book early—it's a popular venue, as you can imagine.
5. Spanish or English? The choice is yours at Juguemos A Cantar. This preschool will throw a fiesta in the language of your choice that includes jewelry making, crafts, or instrument making.
RELATED: 14 Brooklyn Gym Party Spots for Kids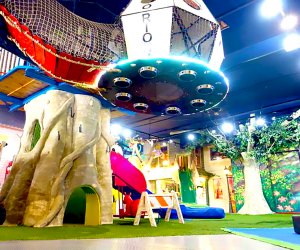 Exclusive use of this amazing play space for their birthday party will wow your toddler. Photo courtesy of Twinkle
6. Watch your toddlers eyes light up as you walk into Twinkle. A giant tree house, slides, a sandbox, a grocery store, and a beauty parlor for pretend play... there isn't enough time in the day for kids to explore everything at this imaginative play space, which is yours alone for the duration of your child's birthday party.
7. No matter what party option you choose, your toddler and their friends will leave Power Play happy and exhausted. Ball pits, slides, and basketball are just a few of the things kids can get busy doing at this Gowanus play space.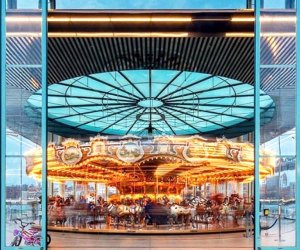 Set in Dumbo's Brooklyn Bridge Park, Jane's Carousel is a gorgeous and fun setting for a birthday party. Photo courtesy of Jane's Carousel
8. If you're thinking of a carousel, you actually have multiple options: Nestled in Prospect Park is the picturesque, historic (and oh-so-Instagrammable) Prospect Park Carousel. Or Jane's Carousel in DUMBO, set on the water, is also available for parties.

A train lover will be over the moon with a birthday party at the New York Transit Museum. Photo courtesy of the New York Transit Museum
9. The New York Transit Museum has long been a favorite of Brooklyn parents. Toddlers can drive buses, ride trains, and get busy learning about transportation all across the city. Bonus: the museum appeals to all ages.
10. Aviator Sports and Event Center has packages for ages 2 and up in its multi-use facility. Though toddlers are a little young for ice skating or rock climbing, its Tiny Tykes package is perfect for your pint-sized guest of honor and friends.
RELATED: 22 Brooklyn Drop-In Play Spaces and Kiddie Gyms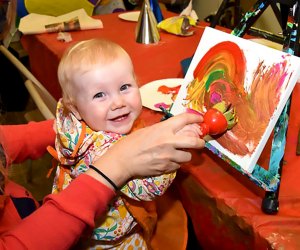 Toddlers will keep busy creating art at a birthday party at Art Fun Studio. Photo courtesy of Art Fun Studio
11. Toddlers can get their hands dirty with a party at Art Fun Studio in Bay Ridge. Kids start with a brush and a blank canvas and the rest is up to them. Unlike lots of craft parties, this one is especially great for children ages 1–4. There are also adult tables, ceramic figurines, and other older-kid friendly activities to keep siblings and guests busy.
12. Another artsy option is Private Picassos. Kids can explore their artistic expression with options ranging from cupcake decoration, watercolor exploration, and faux stained glass. They will even come to you, if you'd prefer to party at home rather than at its Park Slope studio (Bonus: cleanup is included!).

The bouncy houses are ALWAYS a hit with this age group at PLAY Greenpoint. Photo courtesy the play space
13. In a sunny storefront in North Brooklyn, PLAY Greenpoint is a great destination to celebrate your little one. It offers a long list of creative themed birthday party options that can be customized to your child's interests. Drop in to scout the space during open play seven days a week.
14. Located in Sunset Park, Brooklyn, Running Kids offers a party package for the high-energy set with every imaginable physical activity (ball pit, slides, climbing bridge, etc.). Check out its Facebook page for photos of past parties.
15. Namaste, friends. Monkey Do! Yoga offers party packages for toddlers that include cake by Baked, pizza by Cotto Bene, and activities in its Gowanus studio. There is also the option to forego structured activities so that kids can run, jump, and play with its tunnels, blocks, and toys.
16. For a birthday party with something for parents, check out Good Day Play Cafe (now open in South Park Slope!) They offer strong, delicious coffee, snacks and a relaxing and clean play area for kids. Try their Hinoki cypress wood cube pit for a cleaner alternative to sand, slide into their ball pit or do some imaginative play in their marketplace. Give them a call for party packages and options.
17. Brooklyn Arts Exchange has been a neighborhood favorite for more than 25 years—and for good reason. Not only do they offer quality kids classes, they throw a fantastic party, as well. Each party is tailor made to be age-appropriate for the group, and can be as full service or as DIY as you want.
18. If you have a warmer weather birthday, contact Norman and Jules for a celebration in their gorgeous outdoor play area. Don't forget to leave a little extra time to browse their gorgeous selection of toys on your way to the garden.
19. Whether your toddler is into yoga, dance, music or disco, Park Slope's Hootenanny Art House has something that is sure to please. 40 minutes of specialized activity followed by free-play with their gymnastic blocks and topped off with cake!
20. For active kids ages 2 and up, schedule your party at BounceU in Bay Ridge. Venture from room to room climbing, bouncing and playing. Finish up the party with pizza and cake in a private party room. This is a great option for bigger groups, and appeals to a large span of ages, which is nice for parents with multiple kids in tow. Bonus: there's parking on-site!

A version of this story was published in 2018; it is updated yearly.