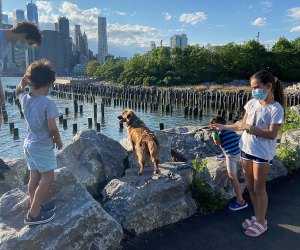 25+ Things to Do With Kids in Brooklyn Heights
Affectionately known as America's first suburb, Brooklyn Heights is a historic enclave with lots of kid-friendly things to do, see, and eat. The classic architecture and warm neighborhood vibe attract young families to the area, and the beautiful waterfront parks—notably the Promenade and Brooklyn Bridge Park—make Brooklyn Heights well worth a visit.
While so many parts of Brooklyn seem to be rapidly modernizing and changing, Brooklyn Heights has managed to maintain much of its original historic charm. The Brooklyn Heights Historic District is one of the first designated historic districts in the city and includes homes that have been around since the 1820s. Here are the best places to eat, shop, play, and learn with kids in Brooklyn Heights.
Editor's note: While we are trying to promote safer activities that occur outdoors or with social distancing guidelines in place, please keep your family and others safe by always wearing a mask and practicing social distancing. If you arrive at a venue that appears too crowded, try using the "nearby" search feature on our Event Calendar to find something else to do. Please plan your outings in advance, as many venues require timed-entry tickets or reservations to limit crowd size.
Kid-Friendly Eats in Brooklyn Heights
1. Pancakes for dinner? Yes, please! Even the pickiest eaters should be able to find something they love at Clark's Restaurant. The neighborhood staple serves traditional diner fare all day long.
2. Cool off with a cup or cone of delicious ice cream, frozen yogurt, or sorbet at Emack & Bolio's ice cream shop. With flavors like Chocolate Addiction, Space Cake, and S'moreo, you're guaranteed a sweet time.
RELATED: 30 Best Things to Do in Brooklyn with Preschoolers

Table 87 serves coal-fired pizza by the pie or slice.
3. At Table 87 Pizza, you can order delicious coal-oven pizza by the pie or slice.
4. Another ooey-gooey-cheesy option: Dellaroccos of Brooklyn, which serves traditional Neopolitan fare and delicious pizzas, including gluten-free pies!

The drinks are as generous as the menu at Grand Canyon Restaurant.
5. A neighborhood staple since 1983, Grand Canyon Restaurant is a diner-style eatery well known for its burgers, but its phone-book-size menu includes a wide variety of choices for breakfast, lunch, and dinner.
6. Chow down on traditional Italian fare at Noodle Pudding. The portions are large enough that you can share. But leave your credit card at home: This place is cash only.
RELATED: Brooklyn Restaurants with Kid-Friendly Backyards and Patios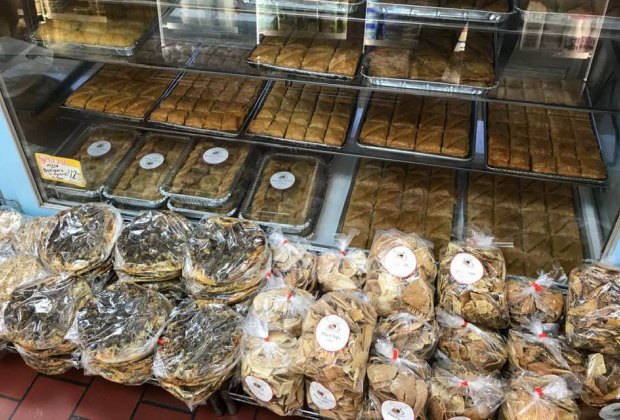 Grab a scrumptious sweet treat at Damascus Bakery and stock up on delicious savory items too! The chicken fatayer and falafel sandwich to-go are our favorites!
7. Whether you're looking for strudels, pitas, or rugelach, you'll love the homemade goods at Damascus Bread & Pastry Shop on Atlantic Avenue, where they've been baking great bread for more than 80 years.
8. Enjoy a taste of old-school Brooklyn at legendary delicatessen Lassen & Hennigs, which opened back in 1949.
9. End your day in Brooklyn Bridge Park with a trip to Odd Fellows Ice Cream at Pier 5, where you can cool off with unexpected flavors from the Brooklyn-born brand.
RELATED: Brooklyn Drop-In Play Spaces and Kiddie Gyms

Visit the adorable cats at the Brooklyn Cat Cafe. Photo courtesy of the venue
Indoor Destinations to Explore in Brooklyn Heights
10. The Brooklyn Cat Cafe offers the chance to hang out and play with the adorable cats and kittens. Book your reservations online to ensure you can visit given social distancing requirements.
11. Enroll your tots in movement, art, or cooking classes at New York Kids Club's Brooklyn Heights Child Enrichment Center.
12. At Karen's School of Fashion, kids ages 8 and up can learn the art of fashion illustration, pattern making, and more.
13. Get moving at The Little Gym. Its unique class offerings let your kids use gymnastics, dance, and sports skills to put all of their energy to good use.
24. From fitness to art, the Dodge YMCA has a full slate of classes and programs for the entire family.
RELATED: Best Brooklyn Bridge Park Playgrounds (Ranked!)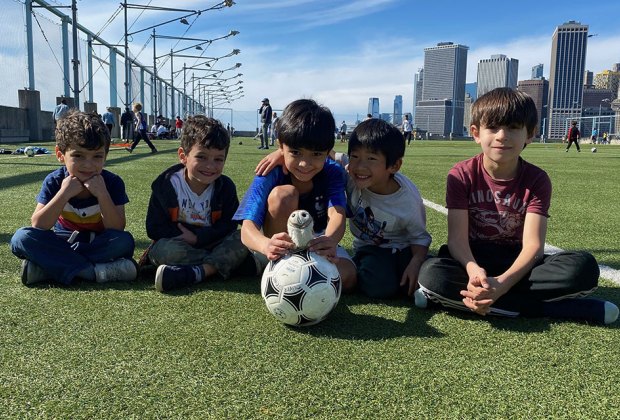 You'll find some of Brooklyn's best green spaces in Brooklyn Bridge Park, like the newly redone soccer field at Pier 5.
Outdoor Places to Play in Brooklyn Heights
15. If the weather is nice, plan to spend the day at Brooklyn Bridge Park. The waterfront park is the perfect urban oasis with something for the entire family to enjoy. Start at Pier 6 with its incredible collection of playgrounds. Then check out a soccer game, enjoy an Ample Hills ice cream cone, or set up a picnic at Pier 5. Strap on your skates and hit the seasonal Pier 2 roller rink, explore tide pools on the beach at Pier 4, enjoy the view from the top of the granite block stack at the Greenway Terrace at Pier 3, or explore the Pier 2 uplands. You can even go kayaking in the East River for FREE during the summer courtesy of the Brooklyn Bridge Park Boathouse on Pier 1.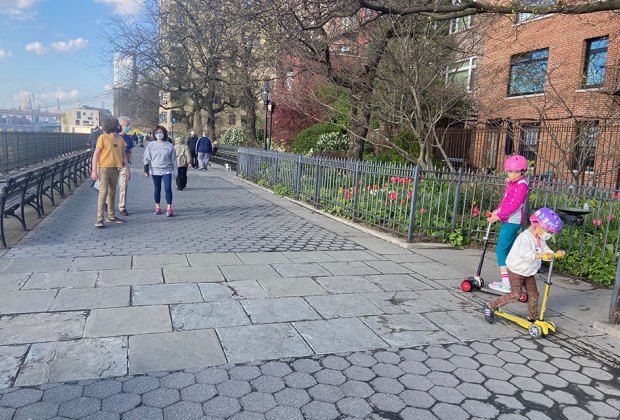 The Brooklyn Heights Promenade is a pretty magical place.
16. Bike, scoot, or stroll along the Brooklyn Heights Promenade and take in one of the area's most amazing views of the Manhattan skyline.
17. Head over to Pierrepont Playground, which is the perfect shady spot to enjoy a day outdoors with your kids.
RELATED: NYC's Best Playgrounds: 20 Parks Worthy of a Subway Schlep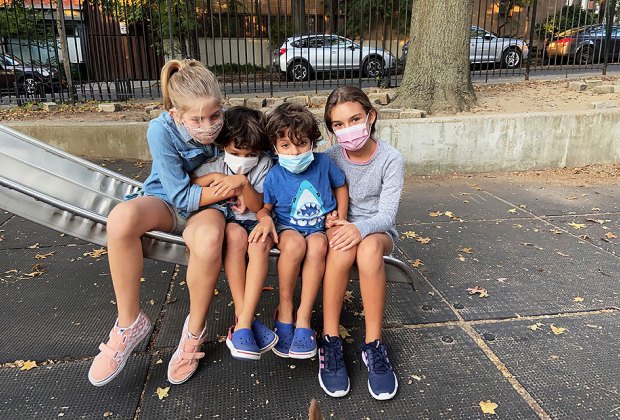 The Adam Yauch Park is shady and quiet for little kids and also has a great basketball court!
18. Play around at Adam Yauch Park, the Brooklyn Heights playground named after one of the founding members of the legendary rap group the Beastie Boys.
19. Get on the water with the Oneº15 Brooklyn Marina, which dedicates a portion of its profits to its Community Dock program to offer FREE and low-cost sailing programs to the community, including learn-to-sail classes for kids.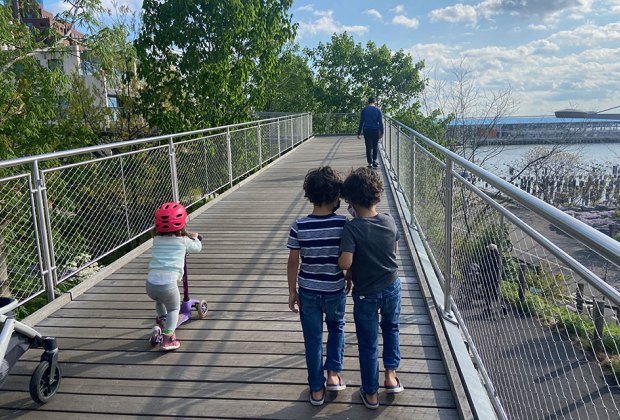 Squibb Park Bridge connects Pier 1 with Squibb Park in Brooklyn Heights,
11. Cross over the bouncy, zig-zagging Squibb Park Bridge, which connects Squibb Park and the Promenade to Brooklyn Bridge Park.
20. Let your kids explore Harry Chapin Playground, named after the singer and Brooklyn Heights native.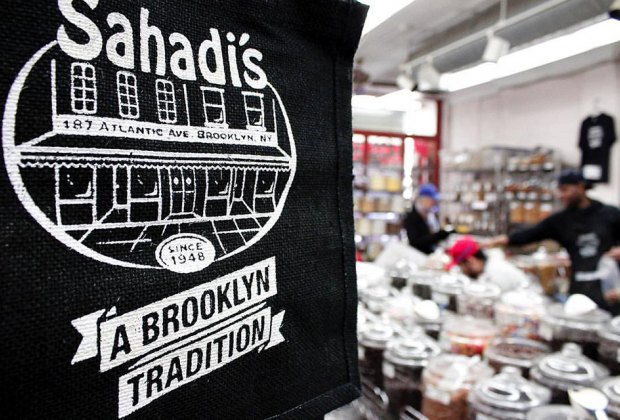 Sahadi's bulk section is amazing, besides the delicious Middle Eastern and other specialty foods. Photo courtesy of Sahadi's
Family-Friendly Shops and Services in Brooklyn Heights
21. Need snacks for a play date? Look no further than Sahadi's, a traditional Middle Eastern grocery store with an amazing selection of dried fruits, nuts, cheeses, and more.
22. Families with kids up to 5 years old can rock out together during Music Together classes at Naomi's Music. If you think you can sit still, think again: Grown-up participation is mandatory.
RELATED: Best Toy Stores in NYC: 15 Family Favorites and Destination Toy Shops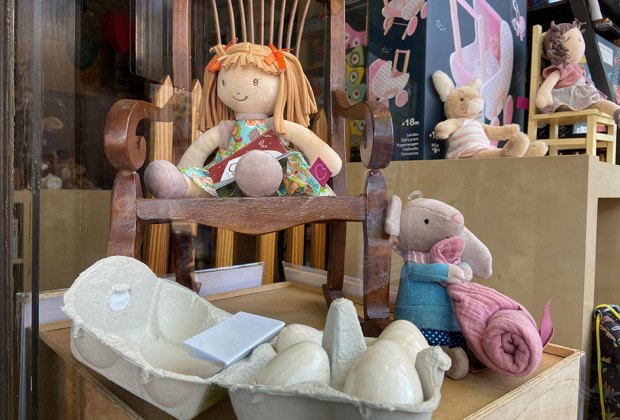 Nest Egg Kids offers a curated selection of unique toys you won't find in a big box store.
23. Forget Amazon; shop the selection of toys, books, and games at Nest Egg Kids, one of the best places in the 'hood to find unique gifts; it's open for online shopping, local delivery, and curbside pickup.
24.Stroll the lovely Montague Street between the Promenade and Brooklyn Borough Hall, where you can shop local at its Greenmarket on Tuesdays year-round.
25. Step into Woolyn for a curated selection of yarns and fiber craft supplies, plus classes to introduce kids to old-school handicrafts like knitting, spinning, and crocheting in non-pandemic times.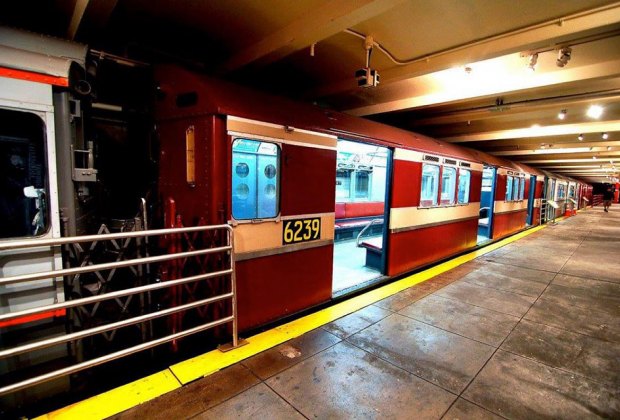 Explore the history of the transit in NYC at the New York Transit Museum
Favorite Brooklyn Heights Spots We're Longing to Visit Again
27. We love riding the vintage subway trains and exploring the history right under our feet at the New York Transit Museum, located underground on the border of Brooklyn Heights and Downtown Brooklyn. Though still closed, online programming is available to stream.
28. Visit the Center for Brooklyn History (formerly the Brooklyn Historical Society) to learn all about how the borough has evolved. The collaboration between the Historical Society and the Brooklyn Public Library combines materials collected over the past 157 years to form what is quickly becoming the most expansive catalog of Brooklyn history in the world. Currently, it's lobby service only, but plans are in the works for a 2021 reopening.
29. At WMA Karate, kids learn martial arts fundamentals while developing concentration and building confidence. Currently, all programming is online only.
How to get to Brooklyn Heights: Brooklyn Heights is easily accessible from other parts of the city by subway via the 2, 3 at Clark Street, A, C at High Street, or R at Court Street. It's also just a short walk from other great Brooklyn neighborhoods like Cobble Hill and Dumbo, or you can take the NYC Ferry to the Dumbo/Brooklyn Bridge Park Pier 1 dock.
A version of this post was first published in 2014. It has since been updated.
Unless noted, Photos by Sara Marentette