2023 Annual Bus Festival
Emily Warren Roebling Plaza

Improv 4 Kids Off Broadway Live
New York Improv Theater Times Square

Spark Math: Free Trial Class
Virtual
Sign up for our free newsletters.
VRBar Brings Virtual Reality Gaming Fun to Brooklyn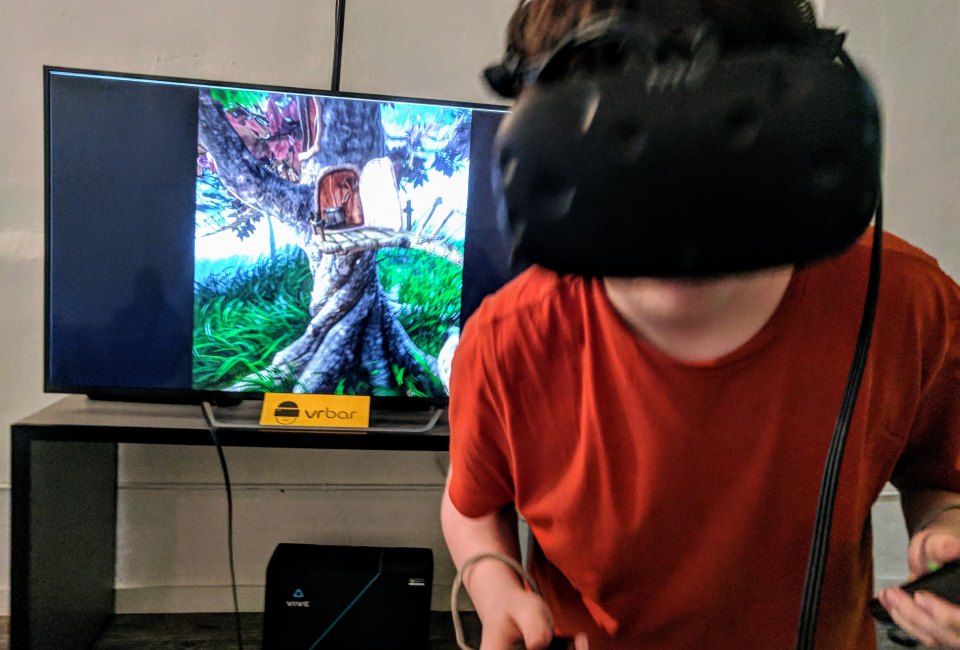 11/14/17
- By
Anna Fader
The promise of virtual reality has been dangled before us, enticingly, for years. Until now, disappointing and expensive forays into the virtual world have left us happy to leave VR to hardcore gamers and "boys with toys"... and disposable income. But, finally, virtual reality arcades and an explosion of fun games are making it an actual reality for families.
We recently reviewed VR World in Manhattan and the positive experience made us excited to seek out another virtual reality spot in Brooklyn. The recently relocated vrbar in Dumbo offers virtual reality gaming in a less crowded, reservation-based environment.

Book a time slot for a group of friends and you'll have few wait times.
Although vrbar had been in a smaller space in Park Slope, it reopened in Dumbo in early fall 2017 with three VR stations and plans to expand further. When we visited it had about a dozen experiences available. From our uber excited 8-year-old to our skeptical teens, everyone had a great time.
The owner showed us how to use the equipment, setting us up on some beginner games to get used to the equipment and recommending the most popular and kid-friendly games to try after that. We started off with Tilt Brush, a painting game that helps you get used to the controls and VR experience. The 8-year-old couldn't get enough of Job Simulator, where you can be a car mechanic, office worker, or a cook, while our teens liked intermediate shooter games like The LAB and Space Pirate. Everyone in the group loved Sweet Escape, a multiplayer game where two people can race each other, climbing a candy course. Watching the kids flail around as they "climbed" was hilarious.
RELATED: Find More Fun Zones, Arcades and Laser Tag in our Family Fun Guide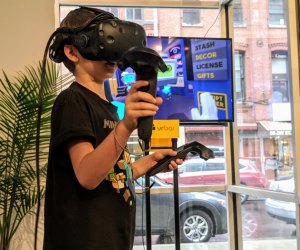 There were games for all ages, from a painting game to typical shooter games.
Kids must be at least 8 years old to play, but anyone can come along—and watching is almost as fun. The concensus was, after trying virtual reality on Google Cardboard and other VR simulators, that seeing what VR can really do in this type of setting was a treat. Even my surly teen said it was much better than he expected. High praise!
There are three setups at vrbar and the company has plans to add more. Although walk-ins are welcome, you can book a reservation in 30 minute increments for one or two consoles, ensuring no wait time—except maybe taking turns within your group. Playtime is $14 for 15 minutes per person, which is more expensive than VR World's two hour or all-day packages. Although vrbar has fewer games and doesn't have driving consoles, it also doesn't have a bar (yet) and being able to play the whole time and not wait on lines for games is a big plus. We haven't tried Yokey Pokey yet in Boerum Hill, but hear it's similar to vrbar so it might be worth checking out, too.
All photos by the author
Places featured in this article: