Immerse Yourself in Another Dimension at VR World in Midtown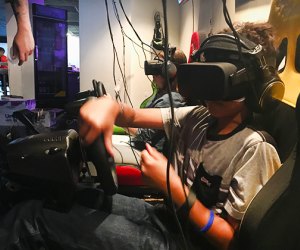 10/23/17
- By
Jody Mercier
Looking to earn some cool-mom (or dad) cred with your teen or tween? Take them to VR World in Midtown Manhattan for an out-of-this world experience.
Whether you choose to fly like an eagle through the skies of Paris or hunt ghosts in an abandoned castle in the south of France, you've surely never experienced an afternoon like this in the shadow of the Empire State Building.
Sign up for our FREE newsletters to get posts like this delivered to your inbox.
Located just across Fifth Avenue from the iconic skyscraper, VR World first opened to the public in the summer of 2017. With more than 50 virtual reality experiences on tap at any one time, the site became known as the "largest virtual reality center on this side of the planet" and drew thousands of guests. Because of this success, VR World recently expanded, moving to a larger, three-floor, 12,000 square foot space just three doors down from its original location.
RELATED: Laser Tag and Paintball Options in NYC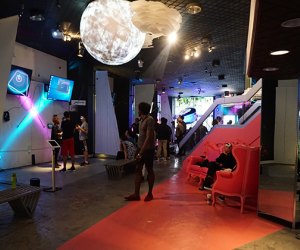 More than 50 VR experiences are on offer, so there's something for tweens and grown-ups.
Designed by Mark Foster Gage of the award-winning MFGA Architects, the new space features a 30-foot-tall futuristic abstract sculpture named Hypercube which is illuminated by sophisticated projection software that continuously morphs the staircase into an ever-changing array of fractal landscapes. On the day of my visit it was depicted as a set of melting ice blocks.
Guests can jump right in—or maybe I should say off— trying their hand at a range of headset experiences. Richie's Plank Experience, which simulates stepping onto a plank suspended 480 feet above street level, is intense, especially if you're afraid of heights. Though I knew it was a game, and knew the plank I walked was squarely on the ground, I was terrified. When I had reached the end, the attendant asked if I'd like to step off. I'm sure I looked at her with crazy eyes, which were shielded by my VR mask, and insisted there was NO WAY that was happening.
RELATED: Dive Into a Virtual Ocean in Times Square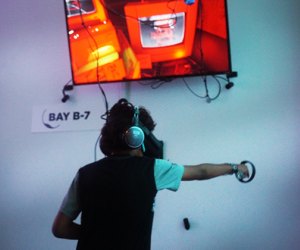 There's still immersive games of Fruit Ninja, several flight simulators and the typical boxing/jousting/racing equipment. But this new VR World location also offers a lot more. Arizona Sunshine Free Roam transports up to four players into the heart of a zombie apocalypse; a Cirque Du Soleil experience allows guests to step into the contemporary circus' most thrilling moments; and Tower Tag, which is featured in the front window to get the attention of passers-by, allows gamers to jump from tower to tower to evade the enemy.
An immersive movie experience is situated on the second floor, allowing guests to view 360 films and art during private events.
Sangwha Flying Jet, a compact single-rider VR attraction, provides a thrilling jet pack experience with dropping and tilting motion.
VR World's new location formerly housed a bank and the franchise is making good use of that distinction with an escape room. A real-life bank vault (equipped with a 500-pound door) is the site of Assassin's Creed: Escape the Lost Pyramid, a game that lets teams collaborate to find their way out of the pyramid of Nebka.
Children are encouraged as guests during daytime hours and at private birthday parties but the space turns into a 21-and-over destination at night. During that time the bar serves craft cocktails and a DJ entertains.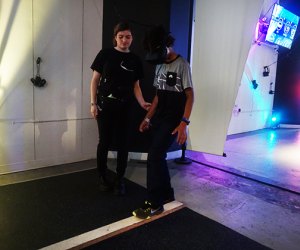 Walk the plank, virtually suspended hundreds of feet above the ground.
Things to Know
VR World tickets can be purchased for a timed, two-hour slot ($44) or an all-day pass ($64), and given the fact there's a fair amount of waiting for popular games, I'd recommend opting for the latter. Upon entry, we were given VR World bracelets synced to a screen name. Each game had a tablet and scanner that read our bracelets when we wanted to join the queue for a game. The fact that you can only be waiting for one game at a time meant it took longer to get to everything you wanted to try, especially if you were interested in a popular option.

Aside from the myriad games offered, VR World does have an on-site bar. We were there on a Saturday afternoon and into the evening, so as the time wore on, the alcohol seemed to be more prevalent, but it was far from a bar scene and I was perfectly comfortable to have my son there with me. Do plan to eat beforehand, however, because the only snacks sold inside were Cliff Bars.

VR World isn't an all-ages attraction. In fact, children under age 7 aren't admitted and certain games have age requirements, while others are based on height. My son wanted to try a flying game, but at just over 5-feet-tall, the attendant told him he'd have a hard time controlling the machine, which was geared toward those over 5-foot-2.

Dress for comfort. These games are interactive. Whether you're chopping fruit, or working up a sweat climbing a mountain, you'll be moving around a lot, so you might as well be comfy. Also, beware that once you put on your VR mask, you can't see or hear anything else around you. Travel only with the necessities in a small bag that you don't mind keeping on you while you play, stashing near where you're playing, or handing off. You really won't be able to keep an eye on your stuff.

Planning your next party? VR World has space to host. While we were there, a group of teen boys bounded between the gaming floor and a cool party space on the mezzanine level overlooking the action.

Lastly, be prepared for the awkwardness. You'll look silly when you're in the midst of a game, stuck in your own virtual world. It was more than mildly entertaining watching my son get really into the game, and he enjoyed watching me, too. So, if there's awkwardness, it's of the shared variety. Just let go and have a good time. Most gaming bays have a big-screen TV where you can watch the action that's happening in the headset, so people tend to fixate on that more than whoever is playing the game.
Photos by the author