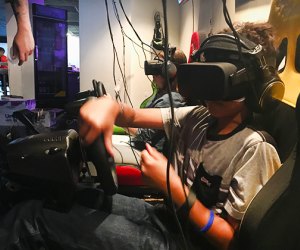 Immerse Yourself in Another Dimension at VR World in Midtown
Looking to earn some cool-mom (or dad) cred with your teen or tween? Take them to the newly opened VR World in Midtown Manhattan for an out-of-this world experience.
Whether you choose to climb a mountain in Vietnam (like me) or explore a Matrix-like fighting scene (like my 11-year-old son), you've surely never experienced an afternoon like this in the shadow of the Empire State Building.
Sign up for our FREE newsletters to get posts like this delivered to your inbox.
Located just across Fifth Avenue from the iconic skyscraper, VR World opened to the public in late June. With more than 50 virtual reality experiences on tap at any one time, and rotating monthly, it touts itself as the "largest virtual reality center on this side of the planet."
RELATED: Laser Tag and Paintball Options in NYC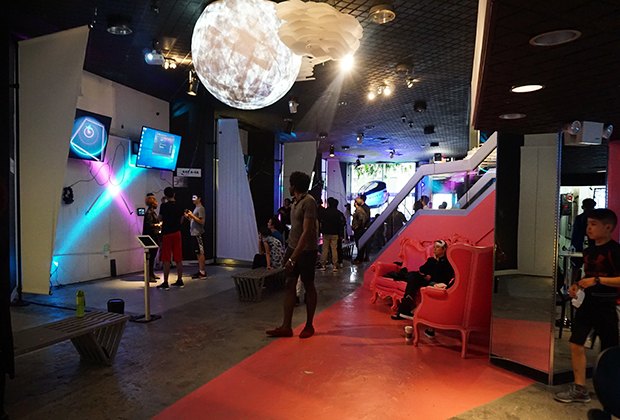 More than 50 VR experiences are on offer, so there's something for tweens and grown-ups.
Stepping through the doors of the neon-lit exterior, my son and I weren't sure what to expect. We were greeted with friendly faces, most clad in white masks that gave the spot the aura of a masquerade ball. Of course, the masks weren't meant to conceal the identity of the gamers within, but rather offer a germ-free barrier against the shared VR face masks that awaited at every gaming bay.
We jumped right in—or maybe I should say off—as I decided to try my hand at Richie's Plank Experience, which simulates stepping onto a plank suspended 480 feet above street level. Though I knew it was a game, and knew the plank I walked was squarely on the ground, I was terrified. When I had reached the end, the attendant asked if I'd like to step off. I'm sure I looked at her with crazy eyes, which were shielded by my VR mask, and insisted there was NO WAY that was happening. My son was braver...and took the plunge, which faded to black just before he hit the pavement.
RELATED: Dive Into a Virtual Ocean in Times Square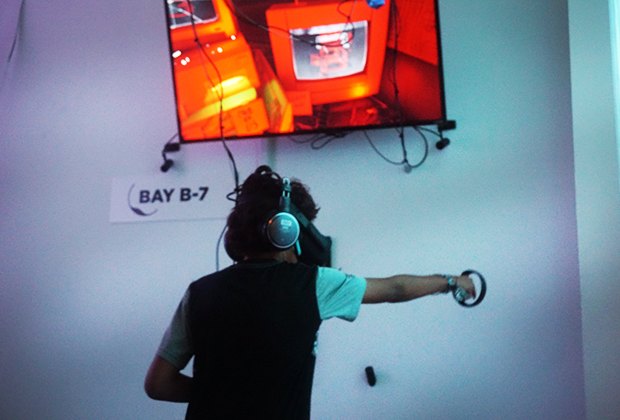 From there, we were off. He fell in love with Super Hot, a game with a stark-white background where flaming red figurines came to do battle and quickly learned how to slow his speed, and with it, time in this virtual dimension he had entered. Easily the most popular game offered during our visit, he came back to play it over and over again.
We had a fun, if not nauseating, experience racing cars through the desert (hint: slow and steady wins the race), and he put his after-school boxing club skills to the test in the virtual ring (KO!), while I busied myself with an immersive game of Fruit Ninja.
And we became fully immersed. We thought we'd spend a couple of hours getting a feel for the spot, but actually left a full six hours later. It truly felt like the time flew by, along with the arrows we shot in another game, Elven's Assassin.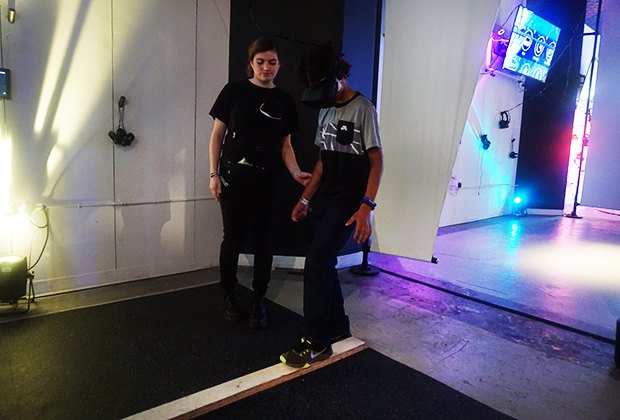 Walk the plank, virtually suspended hundreds of feet above the ground.
Things to Know
VR World tickets can be purchased for a timed, two-hour slot ($39.99) or an all-day pass ($59.99), and given the fact there's a fair amount of waiting for popular games, I'd recommend opting for the latter. Upon entry, we were given VR World bracelets synced to a screen name. Each game had a tablet and scanner that read our bracelets when we wanted to join the queue for a game. The fact that you can only be waiting for one game at a time meant it took longer to get to everything you wanted to try, especially if you were interested in a popular option.

Aside from the myriad games offered, VR World does have an on-site bar. We were there on a Saturday afternoon and into the evening, so as the time wore on, the alcohol seemed to be more prevalent, but it was far from a bar scene and I was perfectly comfortable to have my son there with me. Do plan to eat beforehand, however, because the only snacks sold inside were Cliff Bars.

VR World isn't an all-ages attraction. In fact, children under age 7 aren't admitted and certain games have age requirements, while others are based on height. My son wanted to try a flying game, but at just over 5-feet-tall, the attendant told him he'd have a hard time controlling the machine, which was geared toward those over 5-foot-2.

Dress for comfort. These games are interactive. Whether you're chopping fruit, or working up a sweat climbing a mountain, you'll be moving around a lot, so you might as well be comfy. Also, beware that once you put on your VR mask, you can't see or hear anything else around you. Travel only with the necessities in a small bag that you don't mind keeping on you while you play, stashing near where you're playing, or handing off. You really won't be able to keep an eye on your stuff.

Planning your next party? VR World has space to host. While we were there, a group of teen boys bounded between the gaming floor and a cool party space on the mezzanine level overlooking the action.

Lastly, be prepared for the awkwardness. You'll look silly when you're in the midst of a game, stuck in your own virtual world. It was more than mildly entertaining watching my son get really into the game, and he enjoyed watching me, too. So, if there's awkwardness, it's of the shared variety. Just let go and have a good time. Most gaming bays have a big-screen TV where you can watch the action that's happening in the headset, so people tend to fixate on that more than whoever is playing the game.
Photos by the author