2023 Annual Bus Festival
Emily Warren Roebling Plaza

Improv 4 Kids Off Broadway Live
New York Improv Theater Times Square

Spark Math: Free Trial Class
Virtual
Sign up for our free newsletters.
A Virtual Ocean Is Coming to Times Square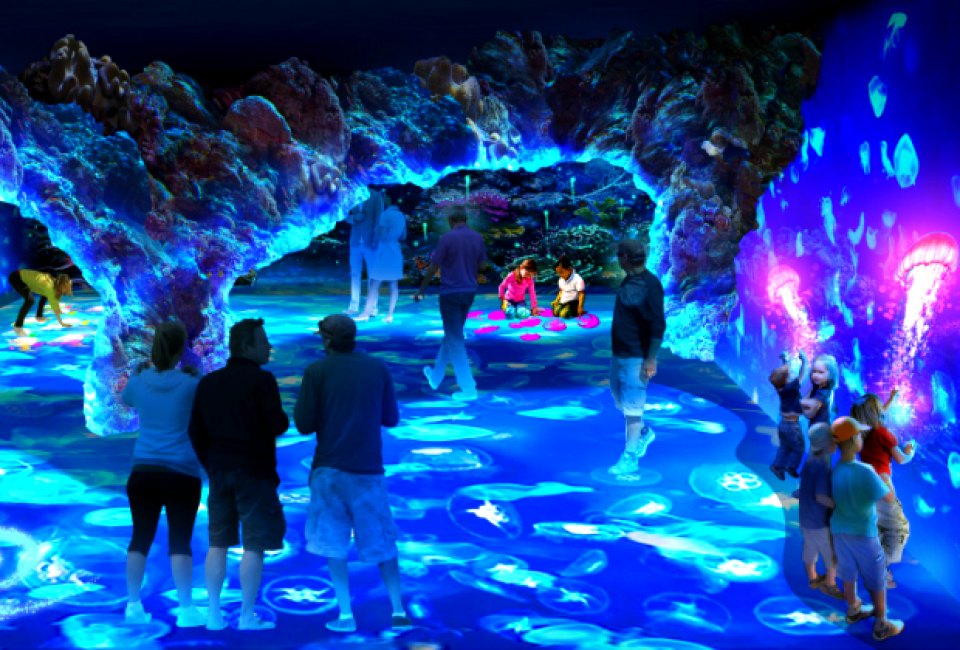 7/9/17
- By
Rose Gordon Sala
A digital ocean experience complete with faux sea lions, a coral reef, and sharks will open October 6, 2017 in the Times Square area. National Geographic Encounter: Ocean Odyssey will make use of a host of technology (plus award-winning designers) to create a multiroom experience that visitors will travel through for a glimpse of deep sea life.
It will open just a few doors away from the new Gulliver's Gate, ramping up Times Square's attractions for families and kids.
Tickets go on sale Tuesday, July 11, so we wanted to provide a few more details on what to expect at Ocean Odyssey, especially for those who want to be first in line.
No wet suits are required—in fact, you won't even get wet. Instead, this virtual 60,000-square-foot aquarium of sorts will rely on video mapping, animation, huge projection screens, sound, and even holograms and touch screens to show visitors not only the magic of the ocean, but also the life it contains.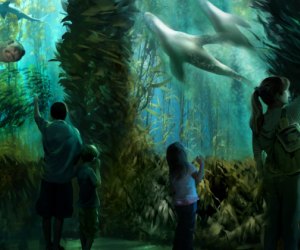 Organizers described it as "immersive" and "cinematic," and noted that "Some scenes within the experience may not be suitable for young children." It's recommended for children ages 6 and up.
Visitors begin the experience on the lower level, walking through and experiencing a new ocean scene on each floor and room. Expect to "travel" through the Solomon Islands and South Pacific, to possibly come face to face with rays, dolphins, and even humpback whales. It takes about 90 minutes to tour the full venue, all capped off with a "40-foot dome finale" that organizers aren't giving away.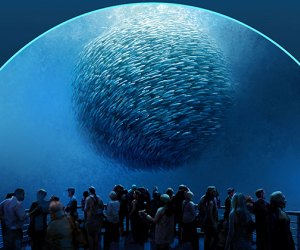 Created by SPE Partners, the team behind Ocean Odyssey's impressive effects includes Pixomondo, aka the people behind Game of Thrones dragons; Falcon's Creative Group, of the U.S. Astronaut Hall of Fame at Kennedy Space Visitor Complex; the virtual reality gurus at Miranda Studios; Grammy award-winning producer and composer David Kahn, and a marine biologist and professor David Gruber, who specializes in bioluminescent and biofluorescent marine animals.
Some elements of the exhibit will discuss the impact ocean warming, including on coral, and a portion of the proceeds of each ticket sale will support the National Geographic Society's nonprofit work in conservation, exploration, research, and education.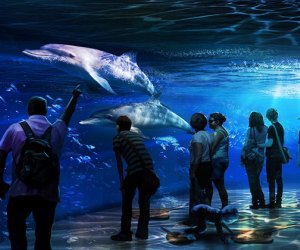 Tickets will be sold in timed slots, and the attraction will be open daily beginning October 6. Advance tickets are recommended, especially so you can skip the general admission line, but same-day tickets will also be available. Everyone who enters National Geographic Encounter: Ocean Odyssey requires a ticket. Strollers aren't allowed in the venue.
It's located at 226 West 44th Street between 7th and 8th Avenues.
All images are artist renderings provided by National Geographic Encounter: Ocean Odyssey.
Places featured in this article:
---
National Geographic Encounter: Ocean Odyssey