SPONSORED
Times Square's Biggest New Attraction for Kids Is Gulliver's Gate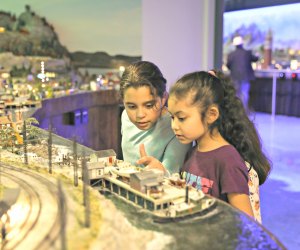 They say big things come in small packages. Gulliver's Gate, the newest attraction to arrive in Times Square, proves just that. Now open for previews—with its official opening slated for early May—this inspiring destination shrinks our global community into 49,000 square feet of captivating detail, giving visitors a glimpse at all corners of the world.

My daughters and I attended a preview and, even though some parts are still in the works, we agree Gulliver's Gate definitely deserves its spot on our 2017 GoList. We've got tips for exploring this exhibit with kids, including some fun facts about the displays, engaging interactive elements, and other perks.
Gulliver's Gate (the name was inspired by Jonathan Swift's Gulliver's Travels' protagonist Lemuel Gulliver) miniaturizes more than 300 scenes from across the globe in stunning visual displays that will leave kids and adults awestruck. The first scene visitors encounter is a metropolis inspired by New York City. Though, like all the exhibits, not an exact replica, you'll quickly recognize familiar sites like the Brooklyn Bridge, Grand Central Station, the Staten Island Ferry Terminal, and others. But the true delight is in the details.
It's best to move through the exhibit slowly and really take in the unfolding scenes. At first, my girls (ages 9 and 7) blew through it, circling the display in minutes and returning to find me in the same spot we entered, still bent over the Brooklyn Bridge and downtown Manhattan. Exasperated, they asked what I was looking at. I pointed to the itty-bitty Fearless Girl statue, surprised and delighted to see such a new addition on display. They gasped in awe, then really slowed their pace, discovering scene after scene. They marveled at a micro-sized backpack that had fallen onto the subway tracks below Grand Central, as tiny commuters peered over the edge. We won't give away all the surprises, but one tip for kids: Look for a fun surprise at the top of the Brooklyn Bridge.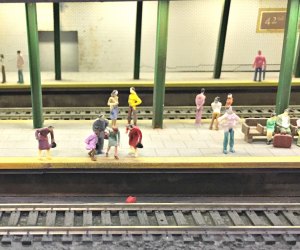 The attention to detail is amazing - challenge your kids to try and spot as many as they can! Photo by Sonia Gonzalez
After the NYC scene, visitors move through Europe, taking in scenes from England, Paris, and others, then onto Russia. Head down a hall and around a bend to discover lands in Asia, Latin America, and the Middle East, each display carefully crafted in vivid detail. My girls delighted in correctly identifying famous landmarks and sites they recognized from schoolwork, television, and books, including the Eiffel Tower, Taj Mahal, Egypt's pyramids, Brazil's Christ the Redeemer statue, and so many others. Hearing their excited banter sparked by the scenes while planning future trips around the world was a real treat for me.

Interactive elements can be found throughout the scenes. The push of a button will start helicopter propellers, reveal a scene inside a home or on a lake, even give liftoff to Santa's sleigh (another fun surprise for kids).

Want to actually become part of the landscape? A full-body scanner and 3D printer will be on hand to make a mini-you that will be placed in one of the exhibits. But that's not all. Having a figure of yourself in the display grants you "citizenship" to Gulliver's Gate. Citizenship gets you a framed photo of your mini person in its new permanent home and a passport for special pricing whenever you wish to return.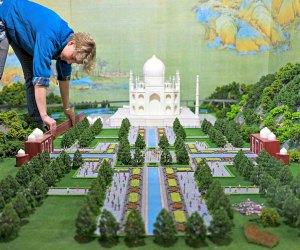 A crew member works on the Taj Mahal scene. Photo courtesy of Gulliver's Gate.
My family and I plan to visit again, especially because some displays are still in the works, including a functional airport with planes that taxi, take off, and land, plus future plans for an international space station hovering overhead!

Your journey ends in a gift shop that is stocked with much more than trinkets and t-shirts (those, of course, are also available). Gulliver's Gate hopes to inspire creativity and ignite imagination and its gift shop has everything you need to get started building your own miniatures and creating your own worlds.
Tips for visiting with kids
Many of the displays are a bit high for small children to easily view. Platforms are being added to some areas to help, but be prepared to lift little ones to give them a better view.

Bring your binoculars. It may seem a little silly, but there really is so much to take in and many scenes stretch several yards in. My girls were borrowing my phone and using the camera to zoom in on things they wanted to see more closely.

There is a Mamava nursing suite for parents with infants.

Food and drinks are not allowed. Other things to leave at home: selfie sticks, luggage, backpacks, umbrellas.

Gulliver's Gate is accessible and wheelchair friendly.

Changing tables are available in the restrooms.
Gulliver's Gate is located at 216 W 44th Street between 7th and 8th Avenues and is open daily from 9am-10pm. The last entry is at 8:30pm. Kids under 3 are free.
Top photo by Tyvan Films for Mommy Poppins. All rights reserved.