A World of Miniatures Will Open in NYC with Gulliver's Gate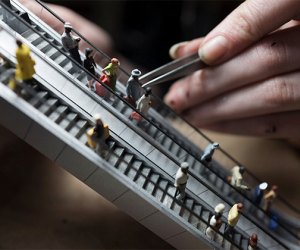 UPDATE: We're hosting a Facebook Live scavenger hunt with lots of ticket giveaways and a sneak preview of amazing Gulliver's Gate. Follow the Mommy Poppins Facebook page on Tuesday, 3/7 at 4PM to participate.
One of the biggest things to debut this year in New York City will be quite small. It's Gulliver's Gate. We told you about the miniature world coming to Times Square in our 2017 GoList and now are back with a deeper look into this incredible not-yet-open display.
Scheduled to open in early April near Times Square, Gulliver's Gate (named with a nod to Jonathan Swift's famous protagonist Lemuel Gulliver) shrinks the globe and even some time periods to Lilliputian proportions, small enough to fit on a football field or, for us city people, one block.
The immersive display features iconic manmade and natural landmarks from around the globe set in 300 tiny scenes. But it won't be only something to look (er, gape) at. Gulliver's Gate features interactive elements, educational tidbits, and even a chance to have yourself shrunk down and placed in the exhibit. It's a perfect opportunity to show your kids the world without ever leaving NYC.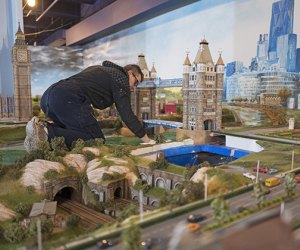 The exhibit includes a number of miniaturized European cities, including London, above.
For the team behind this massive undertaking, Gulliver's Gate is a labor of love three years in the making. Artists from eight countries participated with the NYC display, which was ultimately built in Brooklyn. The team is fascinated by miniatures and loves to tell stories; this exhibit is a way to combine those passions. The creators like to say, "Leave the Land of Large," in which "Land of Large" is the complicated, hectic and not always pleasant world in which we live, they told us over email. The organizers add: "Gulliver's Gate is a positive, utopian interpretation of what the world could, should and would look like if only there were no wars or poverty or calamity." In this miniature environment, you can relax and enjoy discovering all of the world's nooks and crannies.
Times Square is prominently featured, and visitors can expect to see some of the city's most famous landmarks, including the Statue of Liberty, the Guggenheim, and authentic looking—right down to the graffiti—NYC streets. Other displays include great monuments from European, Asian, Middle Eastern and South American cities, including London, Paris, Rome, Moscow, Jerusalem, Beijing, Rio de Janeiro, and Buenos Aires.
RELATED: A Dozen Times Square Restaurants with Kid-Friendly Eats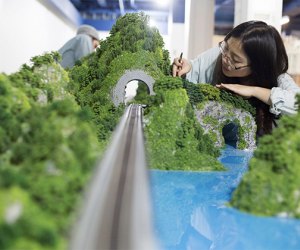 Kids will enjoy the miles of small-scale railroad tracks.
Along with gawking at miniature city scenes, kids will love the trains, cars, and ships whizzing through the various sets; the working airport of the future; and more. Each set offers educational stations that describe what you are looking at. Plus, admission allows visitors to engage with the exhibit by controlling the weather, illuminating buildings and even making monsters appear.
While many of the models were handcrafted, you can expect to see the latest in high-tech here, too. Look closely at the fuselages on the jets in the tiny airport. Examine the pieces in the Jerusalem exhibit. At mock Niagara Falls you can experience what it is like to actually be there thanks to image mapping technology and lighting effects.
What's more, a high-resolution scanner makes a mini-me color scan of every visitor. For an additional fee, visitors can participate in a Model Citizen Program in which your scan is transformed into a 3D printed figurine version of yourself. Models are available in a variety of sizes, including one that can be placed in a dozen different places in the display.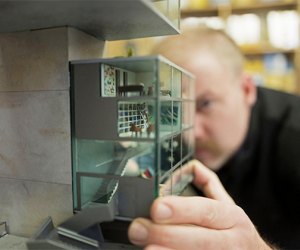 You can even glimpse yourself and your role in this miniature world.
Gulliver's Gate will be located at 216 West 44th Street (between 7th and 8th Avenues) in Manhattan. Early bird ticket sales are going on now, with options for visiting beginning April 4. I know what we'll be doing over NYC's school spring break!
Photos by Pascal Perich/courtesy of Gulliver's Gate.