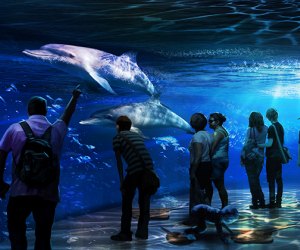 GoList 2017: The Best Family Events this Year in NYC
There's so much fun new stuff going on in New York City every day that it can be hard to keep up—and it looks like 2017 will be no exception. Luckily for you, it's our job to stay on top of this when it comes to kid and family events. We've rounded up all the top annual family festivals, plus the really cool new things coming to NYC this year, including a miniature model city, mummies, big shows, new art, and a virtual aquarium coming to Times Square.
We just took a look at the best openings of 2016 for NYC kids, including dozens of new indoor play spaces, plus cool playgrounds and cultural spots. But I have a feeling that this year might just top last!
Read on for all our best picks for NYC kids in 2017, and let us know via our Facebook page if you have more suggestions. And don't forget, you can always check our Event Calendar for upcoming events and activities and our monthly GoLists.
Note: Some event organizers have not released 2017 dates yet. We've noted specific dates when possible and will update the list as details roll in. If an event piques your interest, click through to our listing for all the details, including addresses, times, prices and recommended ages.
January
All Aboard with Thomas & Friends — the Bronx
Through January 22
Catch Thomas the Tank Engine and more friends at this annual show at the New York Botanical Garden. Tots can sign along with the interactive performance, and check out the gorgeous multi-room holiday train exhibits at NYBG afterward, though the latter closes soon!
Cirque-tacular's Snowkus Pocus: Enchant The Spring — East Village
Thursday, January 19-Sunday, February 5
The NYC-based troupe Cirque-tacular performs this fairy tale, Snowkus Pocus, at the 14th Street Y with a blend of ballet and acrobatics. Kids will likely enjoy the winter wonderland theme, gorgeous visuals, and the story of young girl and the colorful characters she meets.
Beam Center's Inventgenuity Festival — Carroll Gardens, Brooklyn
Saturday, January 21-Sunday, January 22​
Mini tinkerers always have a blast at the Beam Center's annual maker fest where low- and high-tech projects on tap. Register for the festival ASAP if you are interested; it always fills up fast! FREE admission but nominal materials fee for workshops apply.
Wilderness Camp — Crown Heights, Brooklyn
Saturday, January 21-Sunday, June 4
Explore the outdoors while indoors at The Brooklyn Children's Museum with this brand-new exhibit. Kids will load up backpacks stocked with survival tools, and then follow a map of hiking trails and head into the faux wilderness. Interactive elements along the way teach kids "wilderness" skills like how to build a shelter. Included in museum admission.
RELATED: 50 Fun Things to Do Indoors in NYC this Winter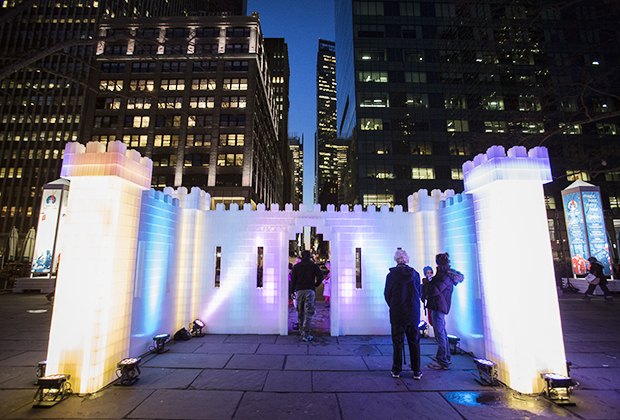 Be sure to check out the ice castle amidst the skyscrapers at Bryant Park. Photo by Andrew Kelly/courtesy of Bryant Park.
Winter Carnival — Bryant Park
January 27-February 4
Play Elsa and snap a selfie in front of the ice castle, attend a silent disco, enjoy ice skating lessons, entertainment, or take a break to people watch in the cozy warming lodge at this annual festival at Bryant Park. Extended for more days this year! FREE
Winter Jam — Central Park
Saturday, January 28
Head to Central Park to enjoy all kinds of winter activities at this annual winter festival, including cross-country skiing, sledding, snowshoeing and snowboarding. All equipment will be provided, including the snow and ice! FREE
Elephant & Piggie's We Are in a Play — Midtown West
Saturday, January 28-Sunday, February 5, 2017
Last year, we had a Mo Willems art exhibit, and this year NYC kids get to see two of his top children's book characters onstage at the New Victory Theater in this hourlong musical. Fans of the Elephant and Piggie book series will likely love watching the pair tackle questions like, "Should you share your ice cream?"
BAMkids Film Festival – Fort Greene, Brooklyn
Saturday, January 28-Sunday, January 29
Catch indie family flicks at this annual film festival held at BAM Rose Cinemas. There's also typically FREE family entertainment in the lobby, including live performers and face painting. Buy tickets in advance. It does sell out.
February
The Children's Museum of the Arts opens Weather or Not, That is the Question, an exhibition about the power and awesomeness of weather and its impact on our environment. Artists will explore environmentalism and climate change. Included with museum admission.
February 4 – early May 2017
Got a thriller fan? This NYSCI exhibit lets kids explore robots, holograms, augmented reality and other tech that brings science fiction to life. Included in museum admission.
Chinatown Lunar New Year Parade and Festival — Chinatown
Sunday, February 5
Celebrate the Year of the Monkey at NYC's biggest Lunar New Year shindig. This pan-Asian parade includes Chinese, Korean, Japanese, Vietnamese, Taiwanese, Malaysian and even Hispanic floats and cultural performances. The parade is followed by an outdoor cultural festival in Sara D. Roosevelt Park. Both events are very festive, loud and way too crowded for strollers, so it's probably best for school-age children. FREE
Hippo Ballerina — Lincoln Center
Opens February 7
It'll be hard to miss the more than 2 ton Hippo Ballerina standing in front of Lincoln Center this winter, and we can't wait. The bronze sculpture by Danish artist Bjørn Okholm Skaarup wil stand over 15 tall, and offer the perfect spot for a whimsical family picture.
Erth's Dinosaur Zoo Live — Greenwich Village
Saturday, February 4-Sunday, February 5
Dinosaur-obsessed kids (and who isn't, really?) will thrill to see their favorite prehistoric beasts onstage for this theatrical production set in the Australian outback 65 million years ago.
Sesame Street Live: Make a New Friend — Midtown
Thursday, February 16-Sunday, February 26
The Sesame Street Live crew brings its Make a New Friend show to the Theater at Madison Garden for singing and dancing with all your favorites: Grover, Abby Cadabby, Cookie Monster, and a new friend from India.
Kids Week at the Intrepid — Hell's Kitchen
Monday, February 20-Saturday, February 25
This weeklong festival is designed just for kids, with hands-on activities exploring the theme of science and the art of games in 2017. Kids will test out experiments themselves, dabble in game design, and watch demonstrations. This year's special guest highlights include Jarod Miller, a zoologist and naturalist who has appeared on
The Tonight Show with Jay Leno
and
Late Night with
Conan O'Brien
; former NASA astronaut Mike Massimino; and a children's book authors, and scientists. Included with museum admission.
Engineering Week — Corona, Queens
Monday, February 20 – Saturday, February 25
Spend February break at the New York Hall of Science, which will host a week of activities covering different engineering concepts, including 3D printing and geoseismic engineering. Interactive tables are hosted by the American Society of Civil Engineers. Included in museum admission.
Ringling Bros. and Barnum & Bailey Presents Out of This World — Fort Greene, Brooklyn
Thursday, February 23-Friday March 3
Catch what may be the last NYC Ringling Bros. circus event ever. This time-honored circus spectacular just announced it will close up shop for good in May 2017 due to financial difficulties. It returns to the Barclays Center with its troop of awe-inspiring aerialists and acrobats, majestic animals, daredevils, and of course, clowns, for one final show.
New York International Children's Film Festival — Manhattan
Friday, February 24-Sunday, March 19
This annual film fest just for kids features dozens of kids' flicks from around the globe, with shorts and full-length screenings. Tickets go on sale for the general public on January 25, and top screenings often sell out fast.
BAMKids Teknopolis — Fort Greene, Brooklyn
Saturday, February 25-Sunday, March 12
Described as a digital playground, this brand-new digital art exhibit presented by BAMkids will remain on display for a limited three-week run. Merging the arts and technology, kids will walk through the multilevel and multiroom interactive experience, taking in works of art like Shifting Streams, an installation that responds to movement and features a swirling mass of 10,000 dandelion seeds, as well as music, storytelling, and performances. Tickets will be sold in 90-minute slots.
March
ARTech: Adventures in Art + Technology — Manhattan
Wednesday, March 1-Saturday, April 29
This brand-new STEAM fest will bring two months of FREE workshops and interactive and creative installations to school-age kids. We don't have a ton of details yet, but it's a collaboration between The Children's Museum of the Arts, the New York Hall of Science, and the Meatpacking Business Improvement District, so we're expecting good things! RSVPs will be required to gain a time slot for the activities. We'll update you when reservations are available.
Tilt Festival — Citywide
Saturday, March 18-Sunday, March 19
After an exciting debut in 2016, this French cultural and art festival just for kids is returning. The full schedule is not yet available, though we have learned about one of the shows for older kids that is on tap. From our Best Winter Theater Picks: La Cordonnerie: Snow White or the Fall of the Berlin Wall, this theater-cinema hybrid resets Snow White in 1989 Berlin—the year the Wall came down. This reinvention of the iconic tale examines the drama of being a teenager raised by a step-parent in an unstable environment.
The Peter Pan Experience — Fort Greene, Brooklyn
Saturday, March 18-Sunday, March 26
This fast-paced Dutch theater show hits BAM this season with a tale of five adults who rediscover the joys of childhood thanks to a little Peter Pan magic. Expect silliness, fun songs, and plenty of dancing.
Mummies — Upper West Side
March 20, 2017–January 7, 2018
One of the largest collections of mummies arrives at the American Museum of Natural History this spring. Mummies will showcase mummies, burial goods, tomb artifacts, and demonstrate how technology is helping scientists to learn more about these ancient societies, from predynastic Egypt to pre-Columbian Peru.
Anastasia — Midtown West
Thursday, March 23
We previewed this family musical headed for Broadway back in the fall, but now it's finally ready to open! From our preview: Anastasia follows Anya, a spirited young amnesiac who wants to find out who she is. Is she just a commoner or the long-lost daughter of the late Czar Nicholas II, heir to a fortune? The show is based on the popular 1997 animated movie of the same name (inspired by the legend of Grand Duchess Anastasia Nikolaevna of Russia) and features six of that flick's songs, including the Oscar-nominated "Journey to the Past." The new tunes are by the same team that penned the movie's songs: Tony Award winners Stephen Flaherty and Lynn Ahrens, best known for their musicals Ragtime and Seussical.
PAW Patrol Live! Race to the Rescue — Midtown West
Thursday, March 23-Sunday, March 26
Paw Patrol, the preschooler TV sensation, arrives on the stage for the first time with this musical, featuring all those friendly, active pups eager to save the day. Expect plenty of singing and dancing as the Paw Patrol gang works together to solve the mysterious disappearance of the town mayor. Playing at the Theater at Madison Square Garden.
Charlie and the Chocolate Factory — Midtown West
Tuesday, March 28
Another family Broadway show we previewed last year: While the musical has been a huge hit in London for the past few years, the Broadway incarnation is rumored to be significantly retooled, with classic numbers such as "Pure Imagination" from the 1971 Gene Wilder movie added to complement the new tunes by Tony-winning Hairspray songwriters Scott Wittman and Marc Shaiman. But the greatest coup is who's playing Willy Wonka: Christian Borle, whose hilarious, over-the-top turns in Peter and the Starcatcher and Something Rotten! snagged him two well-deserved Tony Awards.
The Lightning Thief: The Percy Jackson Musical — Greenwich Village
Thursday, March 23-Saturday, May 6
We really loved this show the first time, especially the humor-filled rock 'n roll songs, and now, its returning as a brand-new, and expanded, Off-Broadway show. It's likely your tweens won't need to have read the book to follow "the adventures of a 12-year-old, modern-day demigod who overcomes challenges both mythical (Medusa, Hades, the Furies) and earthbound (dyslexia, ADD) with a little help from his powerful pals," according to our theater critic.
RELATED: 100 Things to Do with Kids in NYC
April
Children's Carnival — Glen Oaks, Queens
Saturday, April 1-Sunday, April 2; Saturday April 8-Sunday, April 9
The historic Queens County Farm Museum's two-weekend long Children's Carnival features an authentic midway with lots of kiddie rides, games and family entertainment. The best part is all carnival rides are included in the admission price, so kids can spin, twirl and ride to their heart's content.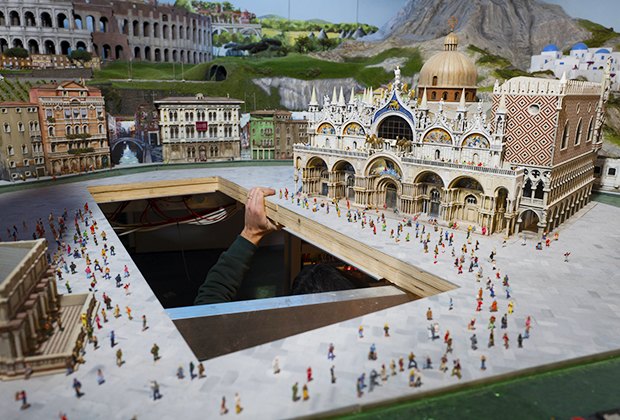 When completed, Gulliver's Gate will span nearly a full city block, filled with miniature scenes. Photo courtesy of the organizers.
Gulliver's Gate — Times Square
Previews begin April 4, 2017
A mini village is being mounted in Times Square, and we can't wait to check it out. The 49,000-square-foot brand-new attraction known as Gulliver's Gate will showcase more than 300 global scenes in miniature. Artist have been building it at studios around the world, including in Brooklyn, Israel, and China, and are now carefully assembling the scene that will take up nearly a full football field. We're told there will be a full-body scanner and 3D printer, so you can make a mini copy of yourself! The grand opening is planned for early May, but previews begin in April with early bird ticket specials. More than a million annual visitors expected. Read our full preview of this cool new installation.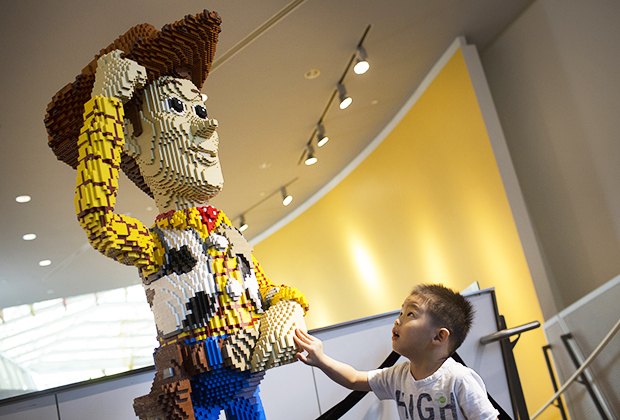 LEGO fans will be in awe at Brick Fest Live. Photo by Andrew Kelly/courtesy of NYSCI.
Saturday, April 8-Sunday, April 9
Dive into a pool of Legos, build, gawk at over-the-top displays at the traveling Brick Fest Live when it docks at the New York Hall of Science to kick off spring break. Free with NYSCI admission.
Luna Park Opens — Coney Island
Saturday, April 8
Just in time for the kids' spring break, NYC's top amusement park opens for the season with rides galore. Abbreviated hours in effect until Memorial Weekend when it expands opening hours, and again after school lets out.
Chihuly — the Bronx
Saturday, April 22-Sunday October 29
Traverse the gorgeous grounds of the Bronx Botanical Garden just as spring hits, all the way into the fall, for a glimpse at some gorgeous and colorful handblown glass sculptures from celebrated artist Dale Chihuly. The sculptures will be lit up for full effect on certain evenings, too.
​Easter Parade and Easter Bonnet Festival — Midtown East
Sunday, April 16
This is one of our favorite celebrations of the whole year! Fifth Avenue between 49th and 57th streets close to traffic on Easter Sunday and opens to revelers in beautiful bonnets, snappy hats and jaw-dropping headdresses. Truly a must-do event. FREE
Tribeca Film Festival On Location — Tribeca
Late April/TBD
This is the outdoor family day component to the Tribeca Film Festival. For the last 14 years, the street fest has included contests, bouncy houses, giveaways, performances by Broadway musicals, interactive art, film workshops and much more for families. It's typically a full day of family fun. Dates have not been released yet for the family day, but the film fest runs April 19-30, so it will fall in there somewhere, perhaps April 22. FREE
Sakura Matsuri Cherry Blossom Festival — Crown Heights
Saturday, April 29-Sunday, April 30
The Brooklyn Botanic Garden's wildly popular annual fest celebrates Japanese culture in its beautiful blooming Cherry Esplanade with a large variety of activities to watch, participate in and listen to.
RELATED: How to Get into Almost Every NYC Museum for FREE
May
Governors Island Opening Weekend — Governors Island
Monday, May 1-Sunday, October 1
For the first time ever, Governors Island is opening for the season ahead of Memorial Weekend, a full month ahead on May 1! We've enjoyed the island more and more as it expanded hours, added new ferries and loads of kids' playgrounds and programming, including Slide Hill and the adventure playground last year, so we're excited to have an extra month of playtime on one of our favorite isles. Read our full review of latest family features. As we get more details, we'll be sure to update you, but we did hear from the adventure playground folks that they plan to return to the isle in 2017. FREE, although ferry fees apply for grown-ups.
Drones: Is the Sky the Limit? — Pier 86 (Hell's Kitchen)
Opens Wednesday, May 10
Drones! The hot Christmas gift of 2016 lands at the Intrepid Sea, Air & Space Museum with a variety of examples of the pilotless aircraft housed in a 6,000-square-foot custom-designed pavilion on the Museum's Pier 86. Expect an examination of the history and future of drones, and the technology, plus immersive experiences, video games and video, and demonstrations.
CMA Kids Fair — Hudson Square
Saturday, May 20, 2017
The annual CMA Kids Fair on Charlton Street includes loads of outdoor art-making projects, entertainment, and family-oriented vendors. FREE
Maker, Maker
— Hudson Square
May 30 through mid-September (closing date not yet confirmed)
The Children's Museum of the Arts adds Maker, Maker, an exhibit showcasing artists' reactions to the explosive DIY maker culture. Kids will see classic maker skills on display with works of woven and sewn textiles, papier maché, mosaics, ceramics, paper collage, decoupage, metalwork, macramé, woodwork and quilting.
June
Strawberry Picking — New Jersey, Connecticut and New York State
Plan a post-Memorial Day trip to a local berry patch to pluck juicy strawberries straight from the vine. Find a patch near you in our Farm Guide.
The Ultimate Science Street Fair — Greenwich Village
Date TBD
Every year the World Science Festival culminates in this amazing family street fair in Washington Square Park, featuring tons of hands-on activities and experiments. FREE
Figment NYC — Governors Island
Saturday, June 3-Sunday, June 4
Figment is an unforgettable day and one of our favorite events all year. The highly creative arts fest on Governors Island has included everything from traditional mural painting and arts and crafts to dressing up in costumes, G-rated raves, fortune telling and splashing around in big buckets of colored water. The isle's mini-golf course and new art are usually unveiled for the season at this time. FREE
Museum Mile Festival — Upper East Side
Date TBD
It's worth blowing bedtime for the Museum Mile Fest when Fifth Avenue is closed to traffic and turned into a massive art party, plus all the museums on the mile offer complimentary admission.
Egg Rolls, Egg Creams & Empanadas Festival — Lower East Side
​Date TBD
The Museum at Eldridge Street's signature celebration of the nabe's Chinese, Jewish and Latin heritages is traditionally held the first Sunday in June. The street fair has been packed with cultural performances and eats from the neighborhood (egg rolls and egg creams, of course!). FREE
RELATED: 20 Best Water Playgrounds in NYC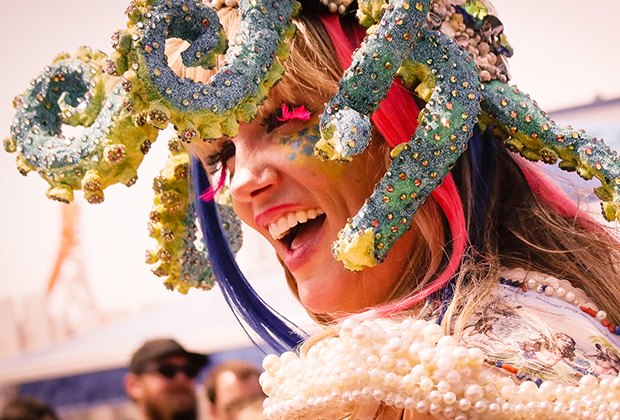 The only in New York, always funky Mermaid Parade at Coney Island is not to be missed. Photo by Jennivere Kenlon via Flickr.
The Mermaid Parade — Coney Island
Saturday, June 17
NYC's official kickoff to summer and a Coney Island tradition since 1983, this parade features revelers decked out in their most outrageous aquatic-themed costumes with a Queen Mermaid and King Neptune leading the way. FREE
Pools Open in NYC — Citywide
late-June
We anxiously await this day every year as the city gets hotter and hotter. Opening day is typically the day after public schools let out, which would make it Thursday, June 29, 2017. Check out our favorite FREE pools around the city as they open for the season, or try an always FREE water playground if you can't wait for pool day. FREE
July
Fourth of July Fireworks — Citywide
At midnight see the fireworks take over the city from these top vantage points.
City of Water Day — Governors Island & Hoboken
Saturday, July 15
This celebration of our local waterfront takes place on Governors Island and Hoboken, NJ. Big eco-fairs are part of the fun, but the best part of this festival has to be the FREE boat rides. In the past we have gone on the Sloop Clearwater, an NYC Audubon Eco-Cruise, and the Schooner Pioneer. Boat tours require advance registration, and reservations usually open about a week before the event—and fill up fast FREE
Theatreworks USA FREE Summer Theatre — Greenwich Village
​Date TBD
Theatreworks' free musical production for kids is a real treat. The esteemed troupe adapts children's books into charming and engaging musicals. Several of our writers go every summer, but you need to plan ahead as the weekday shows are reserved for camp groups and are first come, first serve during the weekends for the general public.
August
Summer Streets — Manhattan
​Date TBD but typically the first three Saturdays in August
Cycle, scooter or stroll a car-free, seven-mile route from the Upper East Side to the Brooklyn Bridge with interactive rest stops along the way, including live performances and water features like a giant slide to beat the summer heat. FREE
Hong Kong Dragon Boat Festival — Corona
Saturday, August 12-Sunday, August 13
Watch more than 200 teams compete on the lake at Flushing Meadows Corona Park in colorful custom-made dragon boats. In between races, check out the massive outdoor marketplace with ethnic eats, live Chinese music, lion and dragon dances, crafts, martial arts displays and kite flying. FREE
Coney Island Sand Sculpting Contest — Coney Island, Brooklyn
​Date TBD
Whether you participate, or just gawk, this beach festival and contest is great family fun. The sand castles are always impressive, and you can enjoy the rides and beach afterward.
September
Apple Picking — New York, New Jersey, Long Island and Connecticut
Make sure to schedule a weekend to enjoy this quintessential autumn activity. Our Farm Guide offers a slew of orchards in the tristate area perfect for a day trip.
Broadway Week Tickets on Sale — Times Square
​Date TBD
NYC hosts two Broadway Week ticket buying events annually where patrons can score 2-for-1 seats. Tickets go on sale shortly before the discounted performances, which typically take place in February and September. Check our Event Calendar, as well as our post on Broadway bargains for updated info as the date gets closer.
Brooklyn Book Festival Children's Day – Brooklyn Heights
​Saturday, September 16
The family day portion of the Brooklyn Book Festival is filled with daylong activities, kid lit and illustrator readings, plenty of good eats, and more book fun.
Morningside Lights — Morningside Heights
​Date TBD
As soon as the dates are released, you will want to register for a spot in one of the sessions of this artsy weeklong series of FREE collaborative art workshops that culminate in an illuminated procession in Morningside Park. FREE
Medieval Festival — Inwood
​​Date TBD
Come dressed in your best Medieval garb and watch real jousting, and more Medieval-themed fun from crafts to eats.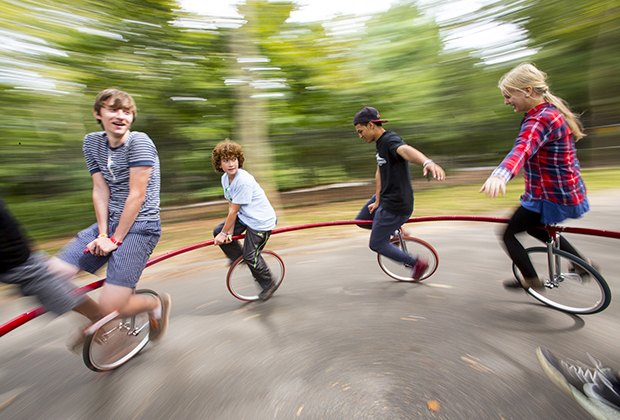 Join in the fun and innovation at Maker Fair New York. Photo by Andrew Kelly/courtesy of the event.
Maker Faire New York — Corona
Saturday, September 23-Sunday, September 24
The grounds of the New York Hall of Science explode with all kinds of inventions and creations; everything from knitting to robotics, circus to interactive sculptures, computers to crafts. Plus there is usually a life-sized Mouse Trap game! This is an event many of our Mommy Poppins' families plan around, attending every year.
The Amazing Maize Maze — Glen Oaks, Queens
TBD but usually opens late September
The city's only corn maze is a must-do at least once, but some of like to go every year, especially during its Queens County Fair. Catch pig races, kid entertainment like magicians and stilt walkers, a petting zoo, carnival rides and eats at this fest.
The Bus Festival at Atlantic Antic — Downtown Brooklyn
​Date TBD, but usually mid to late September
This outdoor festival held in conjunction with the street fest, Atlantic Antic, lets kids climb aboard all manner of bus, including some of the New York Transit Museum's vintage fleet. There are usually craft activities like bus decorating, too. Great for the little ones overwhelmed by Atlantic Antic. FREE
October
National Geographic Encounter: Ocean Odyssey — Times Square
Friday, October 6 (opening date)
This brand-new 60,000-square-foot marine attraction will surround visitors with a oceanic virtual tour. You'll meet sea lions, humpback whales, and great white sharks, see a gorgeous coral reef and more, as you journey through the different sea worlds created by a visual effects team that include Game of Thrones alum and other award-winning designers and sound engineers. Timed tickets will be available, as well as space for private events.
Little Red Lighthouse Festival — Washington Heights
​Date TBD
Fans of Hildegarde H. Swift's 1942 children's book, The Little Red Lighthouse and the Great Gray Bridge, won't want to miss this event which offers the rare opportunity to go inside Little Red. Lines for tickets usually start forming in the morning, so get there early. The fest also features fishing clinics, live performances, food vendors, themed art activities and, of course, readings of Swift's classic. FREE
Pumpkin Picking — New Jersey, Connecticut, New York
Pick the perfect jack-o'-lantern at a nearby pumpkin patch, which host farm fun like hay rides, petting zoos and seasonal food treats.
Great North River Tugboat Race & Competition — Midtown West
Date TBD
Watch as 15 tugboats race from Pier I in Riverside Park South to Pier 84 in Hudson River Park where a slew of nautical-themed fun awaits! The race usually takes place in the Hudson River and can be viewed for FREE along the waterfront between West 44th and West 70th Streets. FREE to watch.
The Great Jack-O' Lantern Blaze — Croton-on-Hudson
Date TBD
This event is a top Halloween-themed day trip for New Yorkers and locals. Marvel at more than 5,000 hand-carved, illuminated jack-o'-lanterns displayed all over the 18th century grounds of Van Cortlandt Manor in creative designs. It typically runs from the last weekend in September through early November. Tickets go on sale during August, so plan ahead. (Note: It is an easy drive or train ride to Westchester.)
Open House New York — Citywide
Date TBD
Hundreds of New York City's historic buildings and architectural marvels open their doors to the public for one weekend every October, hosting a citywide "open house." The complete list of sites will be posted on the organizer's website a week before. Some tours require advance registration.
Rhoda and the Fossil Hunt — Upper West Side
Fall 2017
On site Opera arrives at the American Museum of Natural History with this family musical for dino fans.
Halloween — citywide
October 31
From trick or treating, to cool events like Halloween at AMNH and the Children's Fall Festival with its haunted house to FREE events, NYC does this holiday right for kids. Our Halloween Guide will show you where and when all the best events are happening this year.
November
Kids' Night on Broadway — Times Square
Date TBD but tickets typically on sale in November
Score a FREE kid ticket for each adult ticket purchased to a slew of popular Broadway shows. If you missed out last year, be sure to mark this popular BOGO deal down for 2017. Performances typically take place in February of the following year, so it does require some planning ahead!
Canstruction — Battery Park City
Date TBD
This stunning canned food display created by inventive teams of architects, engineers, contractors and students, runs for about two weeks each November. Once the exhibition is over, all the cans are donated to City Harvest. FREE but bringing cans of food to donate is strongly encouraged.
American Girl Store Opening — Midtown
November 11-12 (opening weekend)
The American Girl Store, one of our favorite spots for tea or playing princess, is set to move from its spot on Fifth Avenue down to Rockefeller. The new location is expected to be a concept store, meaning even more interactive for the kids! Early reports suggest there will be design classes, stop motion lessons, cooking, yoga, and more for the modern kid.
The Nutcracker — Citywide
Various, November through December
Watching The Nutcracker performed live is a perfect holiday experience for all ages. Many of the more popular productions sell out quickly and the lesser known tend to sneak up on you. Schedule a date now to catch one of these sweet performances before they dance out of town.
Thanksgiving Day Parade Balloon Inflation — Upper West Side
Wednesday, November 23
On Thanksgiving Eve, the streets surrounding the American Museum of Natural History are ground zero for parade prep as the giant balloons are inflated to full height right before your eyes. It is always a mob scene but definitely something to do at least once. Before you head out, read our insider tips to make the most of your trip. FREE
December
Holiday Lights — Citywide
All month
Once the turkey is done, NYC transforms into a twinkling holiday wonderland with sparkling Christmas trees, giant menorahs and festive holiday displays in Midtown's department store windows. Book some time in your busy month to stroll down Fifth Avenue or enjoy one of the many lighting ceremonies around town. FREE
Holiday Train Show — the Bronx
The NYBG's annual holiday show is a must-see! More than 25 model trains, including Thomas the Tank Engine, go whizzing by approximately 150 NYC landmarks meticulously made out of acorns, twigs, bark, berries and leaves. Admission by timed ticket only.
Holiday Theater — Citywide
Early November through early January
Aside from The Nutcracker, NYC offers many wonderful holiday theater productions each year that range from traditional, whimsical tales to unique, thrilling entertainment.
Holiday Sing-Along with Dan Zanes and Friends — Tribeca
TBD but typically early December
The Grammy-winning family rocker celebrates the holidays each year with a sing- and dance-along show. Enjoy catchy tunes from the legendary performer's genre-busting, parent-approved albums.
2018 Sneak Peek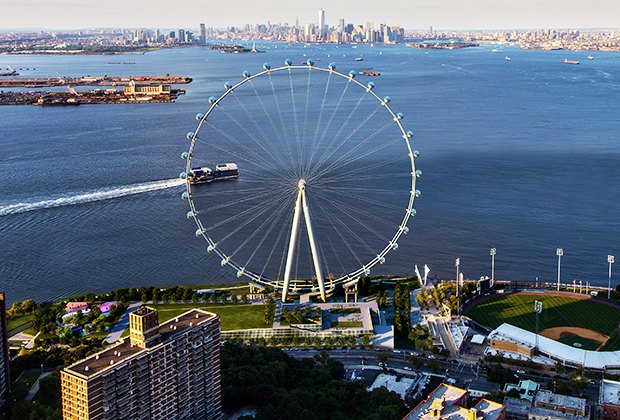 A new observation wheel will go up in Staten Island. Rendering courtesy of New York Wheel.
There are a few extra special openings expected in 2018 that we wanted to put on your radar, including the opening of the New York Wheel on Staten Island, a 630-foot tall observation wheel in St. George at the harbor, which will be accessible from the ferry. Each "pod" will be able to hold 40 people, and the full ride will take 38 minutes to go around, serving up amazing views of the city and harbor. It's also the year that Frozen the musical is set to hit Broadway in the spring, and we know a few Elsa fans who are going to be absolutely blown away by that magic. And the Chelsea Waterside Playground is expected to have received a full upgrade by then with amazing new slides and water features. We'll also be crossing our fingers for the ongoing rebuilding of the New York Aquarium, which is working on a brand-new 57,000-square-foot environment that will house many species and a new centerpiece exhibit, Ocean Wonders: Sharks! There's also a rumored zip line coming to the Bronx Zoo, which some reports said could arrive as soon as summer 2017, but officials at the zoo said they do not have any information to share on it just yet.
Top image: Marvel at virtual dolphins and other sea creatures swimming all around you at National Geographic Encounter: Ocean Odyssey. Image rendering of the experience courtesy organizers.