World Science Festival: Free Science Street Fair, Hands-on Workshops for Kids & a Discount for Cool Ticketed Events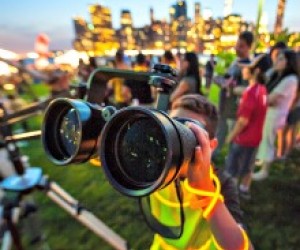 You don't need to be a nerd to enjoy the World Science Festival, a five-day, multidisciplinary science celebration featuring plenty of programming for kids. In fact, its FREE Ultimate Science Street Fair is one of our favorite FREE annual festivals for families. This year, the organizers have made a number of changes to the fest and there are more hands-on science experiences for kids than ever before. Many of these events are FREE, and we have an exclusive discount for two of the most popular ticketed youth programs: Cool Jobs and Scientist's Apprentice.

More than 40 events are taking place at various NYC venues from Wednesday, May 28 to Sunday, June 1. In addition to the Ultimate Science Street Fair on the last day, there are several cool new attractions with lots of kid appeal, like a traveling NASA exhibit, a giant animated weather globe at NYU, a replica of a comet in Brooklyn Bridge Park, plus face time with real-life scientists and astronauts.

Here are the best things to do with kids at the 2014 World Science Festival:
From Wednesday May 28 to Sunday, June 1, the World Science Festival holds a variety of lectures, panels and special programs for all ages. Some events are FREE; others require the purchase of a an advance ticket. You can find the complete schedule on the website and even filter by youth & family programs.

This year, the fest's family programs focus on three distinct themes: space, robotics and weather. Whether you're introducing your young child to one of these concepts for the first time or hoping to come away with a better understanding of it yourself, here are the best bets for families:

Eye of the Storm: The Science of Weather – Greenwich Village
Wednesday, May 28-Friday, May 30 1-3pm; Saturday, May 31 noon-4pm
Gould Plaza at NYU, 40 West 4th Street near Greene Street
FREE but advance registration suggested
Drop in to the giant tent on Gould Plaza to gawk at Science on a Sphere, a giant, suspended, animated globe which will screen historic weather events and nature films. Step inside simulators to see hurricanes and tornadoes in action. Scientists will also be on hand to discuss weather forecasting, Hurricane Sandy and other extreme weather happenings.

A Comet Lands in Brooklyn – Brooklyn Heights
Pier 1 in Brooklyn Bridge Park
Wednesday, May 28-Sunday, June 1 10am-5pm
FREE
The Rosetta spacecraft was launched in 2004 and has traveled billions of miles in an attempt to land on the Churyumov-Gerasimenko comet this coming fall. Head to Brooklyn Bridge Park to check out a scaled 9-foot-high and 12-foot-long replica of the comet, which will be on view throughout the festival. After you take an inevitable photo, meet the NASA Jet Propulsion Lab scientists and learn more about Rosetta's incredible mission.

All Hands on Deck: Science, Space and Astronomy Night at the Intrepid Museum – Midtown West
Intrepid Sea, Air, & Space Museum , Pier 86, 46th Street at Hudson River
Thursday May 29 7:30-11pm
Free for most activities, $30 for Gravity screening
A fun-filled, after-hours experience at the Intrepid featuring tours, scientist-led stargazing, astronaut visits, the aforementioned NASA exhibit. It's all free save for the screening of Gravity, which costs $30 and is rated PG-13.

Space: NASA, Comets and Stargazing – Manhattan and Brooklyn
Thursday, May 29-Sunday, June 1
FREE
This traveling trailer sheds light on the science of space stations; how bodies, cells, plants and other living organisms behave in space; and what we've learned from going up there. Kids can see first-hand what it takes to be an astronaut and pose with real-life space explorers like Michael S. Hopkins and the Mohawk Guy. This exhibit will debut outside of the Intrepid on Thursday, May 29, then travel to Brooklyn Bridge Park for The Night Sky from Brooklyn Bridge Park on Saturday, May 31 and make its final appearance at the Ultimate Science Street Fair on Sunday, June 1.

The Night Sky from Brooklyn Bridge Park – Brooklyn Heights
Pier 1 in Brooklyn Bridge Park
Saturday, May 31 8pm-midnight
FREE
You really can see stars in the city! Learn about the cosmos from professional and amateur astronomers, give NASA's interactive game "The Hidden Light" a try and check out the comet replica. Telescopes will be available to borrow though you're welcome to bring your own.

The Ultimate Science Street Fair – Greenwich Village
Washington Square Park and surrounding streets
Sunday, June 1 10am-6pm
FREE but register in advance to receive a map and schedule
If you only go to one World Science Festival event, make it this one! The blocks surrounding the southern edge of Washington Square Park are filled with booths offering all kinds of hands-on science fun for kids. My family and I have been to every edition and in years past my son has made Goop, explored the BioBus, participated in a dinosaur Q&A with paleontologist Dr. Scott from the Dinosaur Train TV show, played crime scene investigator, learned about recycling, toured the Math Midway, met Sid the Science Kid and lots more. Although the Street Fair has been retooled to focus on space, robotics and weather, many of our favorite exhibitors are back including the Central Park Zoo, the American Museum of Natural History, Mad Science, Carmelo the Science Fellow and the New York Hall of Science. And as always there will be awesome live performances, like the Franklin Institute's Traveling Science Show. New this year: a Kids Science Storytime featuring Scholastic's Steve Metzger reading his book Pluto Visits Earth and other authors. Since this program will be held inside the nearby Kimmel Center, it's a nice way to take a break from the crowds. Also in the Kimmel Center: a robotics exhibit featuring tons of displays, and experts explaining how they are programmed and what tools they use to see, hear and touch. Go early! The Street Fair always gets super-mobbed. And make sure you register in advance so you can download a map and schedule to help plan out your day.

Cool Jobs – Greenwich Village
NYU Skirball Center, 566 LaGuardia Place at Washington Square South
Sunday, June 1 1-2:30pm
Advance tickets required: $15 for children, $30 for adults but save 15% off adults tickets with the code WSFMP
Serious science buffs can find out about career possibilities, and meet pros who study animals, build robots and invent cool stuff.

Scientist's Apprentice – Greenwich Village
Sunday, June 1; see the entire lineup on the festival website
Kimmel Center for University Life, 60 Washington Square South between LaGuardia Place and Thompson Street on the second floor
Advance tickets required: $30 but save 15% with the code WSFMP
A series of drop-off, 75-minute classes where children as young as age 5 can get hands-on experience alongside experts in various fields. The anthropology, robotics, physics and neuroscience workshops are already sold out! So if you think your kid is interested in one of the available sessions, do not hesitate. Book tickets now.
Find out about other cool science and tech programs for kids in our Geek Guide.