The Adventures of Tortoise & Hare The Next Generation
The Sheen Center

The Very Hungry Caterpillar Show
DR2 Theatre

NYC Easter Brunch Cruise 2023
Event Cruises NYC
Sign up for our free newsletters.
The Lightning Thief Musical: A Free & Funny Family Show (Even if You Don't Know the Book)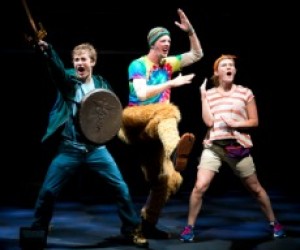 7/29/14
- By
Raven Snook
Seeing Theatreworks USA's annual FREE show at the Lucille Lortel Theatre is as much of a rite of summer for me and my kid as hitting the beach, the pool and the playground. But I was a little worried when I heard that this year, the family theater company was going to musicalize The Lightning Thief, the first novel in Rick Riordan's Percy Jackson & the Olympians series. My kid doesn't really get into fantasy stories (save for superheroes) so she's never read the books about the 12-year-old demigod and his pals. I figured this show just wouldn't be her kind of thing. Boy was I wrong.

The hour-long Lightning Thief is a fast, funny and pop-tune filled introduction to his adventures as he takes on mythic Greek characters like Medusa, Hades and the Furies while dealing with modern-day challenges like dyslexia, ADD and fitting in with his peers. It's grounded enough in the real world that you don't need to be fantasy aficionado to enjoy it. Aimed at children ages 7 and up, the show also seems to be a hit with fans of the book—as we left the theater we heard readers of various ages (kids and grown-ups) saying how well it captured the spirit of the series.
Produced by lauded family theater company Theatreworks USA, The Lightning Thief is just an hour long so obviously the 377-page book has been condensed somewhat, but it still hews close to the main story. Percy (Eric Meyers, who's sure to inspire many a tweenage crush) discovers he's the son of Poseidon just as he's attacked by a Minotaur and his mother is whisked away to Hades. He recovers at Camp Half-Blood where he makes a few friends: a satyr named Grover and Annabeth, daughter of Athena. Together they embark on a quest to recover Zeus' missing lightning bolt, prevent a potential all-out war among the Gods and save Percy's mom. Phew, that's a lot of plot but since it's presented clearly and cleverly, most school-age kids shouldn't have trouble following it.

There's a lot of action on their journey as they defeat mythic monsters like Medusa and Chimera. Unlike the poorly reviewed movie adaptation, which put special effects before the story, the musical is all about low-tech stage craft (a leaf blower with toilet paper represents Percy's ability to control water), creative costuming (Grover's furry legs are a hoot, and wait until you see what Poseidon is wearing) and campy characterizations. Graham Stevens, who plays Chiron and others, is a comic standout, inspiring giggles as he prances around (he is a centaur after all). Meanwhile, the utilitarian scaffolding set stands in for all the locations and comes in handy as the actors climb up it or swing off its bars.

The songs, by Rob Rokicki, are of the pop-rock variety (you can hear a few online) and a few are pretty funny, like the pun-filled "In the Same Boat" (good luck trying to get that one out of your head. My kid is still singing it days later). Some are moving, too, with lyrics like, "Normal is a myth—Everyone has issues that they're dealing with." Any kid who's ever felt like an outcast can relate to Percy, even if they don't have special powers.

If you're thinking, sounds great! But it's FREE so what's the catch? There's only one: Tickets are distributed first come, first served one hour prior to the first performance of the day. Weekday performances are often sold out with camp groups so you may be better off attending on a weekend. Whenever you go, just make sure you arrive early and prepare for potential disappointment. Also, no strollers are allowed in the theater so leave them at home (although this show really isn't good for preschoolers).

The Lightning Thief is playing through Friday, August 22 at the Lucille Lortel Theatre, 121 Christopher Street at Bedford Street. Tickets are FREE.

Find more no-cost seasonal activities in our Summer Fun Guide.
Photos by Jeremy Daniel