Edgy French Art Arrives with Tilt Kids Festival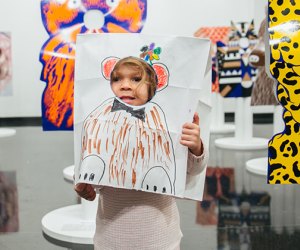 A brand-new, multi-borough kids festival with magicians, hands-on preschooler art and a Paris-trained circus troupe kicks off Friday, March 4 in New York City. It's not every day that a monthlong cultural fest dedicated to kids arrives, especially in the dead of winter, so we were excited to learn more.
For more than a century, the French Institute Alliance Française (FIAF) has been teaching New Yorkers of all ages about the language and culture of La France through classes and engaging programming. In 2011, the organization debuted Family Saturdays aimed at the not-old-enough-for-wine set so les enfants could get a taste of French music, movies, art and theater. From March through early April, FIAF kicks that concept into high gear with its first-ever Tilt Kids Festival, a series of diverse cultural experiences for children and their adult companions taking place at half a dozen venues in Manhattan and Brooklyn. While it's organized by French speakers, all events will take place in English.
Co-presented by the Cultural Services of the French Embassy and curated by a pair of arts pros who also happen to be moms, the Tilt Kids Festival comprises a wide range of events including circus shows, interactive exhibits and cool concerts. Even better: some of the offerings are FREE—though reservations are filling up fast. Here are the highlights of this inaugural family fest for budding Francophiles. Ça vous dit?
The Tilt Kids Festival consists of 14 events meant to appeal to a wide range of interests and ages, knowledge of French not required. The founders, Lili Chopra and Violaine Huisman, have both worked on FIAF's annual Crossing the Line fest featuring programming for adults that defies easy categorization. As mothers to young children, they decided to take that idea and found a similar fest for families. "There's been a lot of evolution in France when it comes to programming for kids and families," says Chopra. "More and more institutions are taking it seriously, and generating robust work."
While some of the artists showcased in Tilt are experienced in making work for youngsters, others are adult-oriented companies creating pieces for kids for the first time. And a couple of the offerings were initially conceived for grown-ups but can appeal to children, too—as long as they're presented in a kid-friendly environment. "Bringing a performance to all audiences means it won't be like sitting in the quiet car," jokes Huisman. "Part of our vision with this festival is to present works that can speak to different age groups, both kids and adults."
A few Tilt offerings are already sold out, and two are lectures for adults: one about talking to your kids about sex, the other about eating healthy foods (let's face it, if there's anyone who knows about those subjects, it's the French!). Of the rest, we've picked seven best bets, two of which are FREE. Be sure to book your tickets ASAP, even for the no-cost events, as they're going fast.
RELATED: Film Festivals for Kids This Winter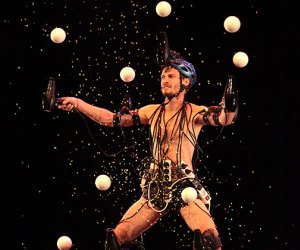 The Paris-based Cie 14:20 troupe offers an impressive fusion show with circus arts, optical illusions and more. Photo by Clément Debailleul/courtesy of FIAF.
Cabaret de Magie Nouvelle — Midtown East
Friday, March 4-Saturday, March 5
Ages 6 and older
Paris-based troupe Cie 14:20 presents a hybrid performance at FIAF's Florence Gould Hall that fuses shadow puppetry, circus skills, and jaw-dropping tricks and illusions. The performers truly seem to defy gravity! Don't believe us? Check out one of Cie 14:20's amazing videos and then book tickets to see their antics in person. $20
Anima — Cobble Hill
Saturday, Mar 5-Thursday, Apr 14
Ages 5 and older
A one-of-a-kind collaboration between three artists, two magicians and an anthropologist, this interactive installation at the Invisible Dog Art Center invites visitors to explore a virtual forest and archaeological dig inspired by Mayan culture. On opening day, there will be a special family reception from 4 to 6pm, but if you can't make it then, drop in anytime during regular gallery hours. FREE
RELATED: Best Children's Theater in NYC This Winter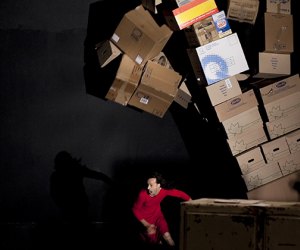 The acrobats of L'Immediate navigate obstacles in a wordless but wacky show. Photo by Vincent Beaume/courtesy of FIAF.
L'immédiat — Greenwich Village
Wednesday, March 9-Sunday, March 13
Ages 8 and older
This wacky spectacle at the Skirball Center for the Performing Arts is the brainchild of internationally renowned circus star Camille Boitel. Seven adventurous acrobats navigate a world full of obstacles, both physical and imagined. The wordless hour-long show is a circus/theater hybrid that's great for mature kids who've outgrown traditional big tops. $35-65 but get $20 tickets for children under age 21 with the discount code ACROSTUDENT.
The Total People — Midtown East
Saturday, March 12
Ages 7 and older
The first family work ever created by cutting-edge theater artists 600 Highwaymen, this in-progress show celebrates "people and the songs inside of them." As always, the troupe is purposefully vague with its production description, preferring audiences see the piece. That said, we're intrigued by the part that says, "The Total People is a fleeting moment in our lives to see and be seen, to hear and be heard." Sounds a lot like childhood! $20
Hands-on Art Workshops at Le bestiaire — Midtown East
Saturdays, March 12 and April 2
Ages 3-10
Throughout the fest, the FIAF Gallery is hosting Le bestiaire, a FREE installation of whimsical animal sculptures. But for two Saturdays, kids transform from observers into artists as they make their own creatures with guidance from a pro. $15
Carousel of Ideas — Upper East Side
Saturday, March 19
Ages 4-10
Hit the Cultural Services of the French Embassy for a day of no-cost activities for kids. In the morning, children can engage in a "forum of ideas" with philosopher Simon Critchley. In the afternoon, a variety of dance pros lead movement workshops. While all sessions are FREE, you must RSVP to secure your spots.
RELATED: Best New Winter Art for NYC Kids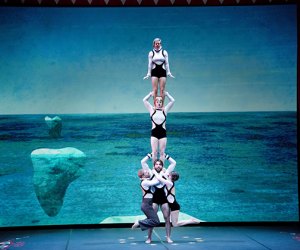 Classical music and circus theater come together for the Carnival of the Animals. Photo by Justin Nicolas, Atmosphere Photography/courtesy of FIAF.
SOLD OUT Carnival of the Animals — Fort Greene
Friday, April 1-Sunday, April 3
Ages 3-11
The amazing acrobats of Circa, a wacky circus-theater troupe from Down Under, transform into exotic creatures for this show at BAM inspired by French composer Camille Saint-Saëns' famous classical composition. Watch as these strong and flexible humans become elephants, kangaroos and other animals through their movements—no fuzzy costumes required. $24
The Tilt Kids Festival takes place on select dates in March and early April at various venues. Prices range from FREE to $65. Visit the website for the comprehensive schedule.
Top image: Le Bestiare. Photo by Michael George/courtesy of FIAF.