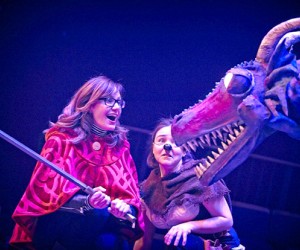 The Best Children's Theater in NYC This Winter
Click through to our listings for all the details, including complete schedules and locations.
Legend Has It — Fort Greene, Brooklyn
Saturday, January 16-Sunday, January 17
Ages 8 and older
Created by a self-described nerd with a background in improvisational theater, this live-action fantasy adventure at BAM is never the same twice because the hero is plucked from the audience. Even if a family member is not lucky enough to be chosen—the performers prefer grown-ups, because leading a 90-minute show is an arduous task—there are still plenty of interactive elements to enjoy. Characters mingle with spectators before the show, and often call on viewers to help during their quest to save the forest-dwelling Mumplings from the evil Lord Haldor. The fantastical world is brought to life via sound effects, props, evocative costumes and commedia dell'arte masks. There's plenty of humor, especially when things go wrong, as they often do. After all, the lead has no idea what he or she will be asked to do. $10
Twinkle Tames A Dragon — Upper West Side
Saturday, January 16-Sunday, May 22
Ages 2-7
Time to trade in those tutus for magic wands. Angelina Ballerina creator Katharine Holabird's new heroine for the preschool set is Twinkle, a young fairy who can't seem to get the hang of casting spells. Tots can enjoy her latest misadventure about training her mischievous pet as a musical at Vital Children's Theatre before the book of the same name comes out in March. An excellent choice for first-time theatergoers. $49.50 but you can snag $25 tickets with the code MP25RS.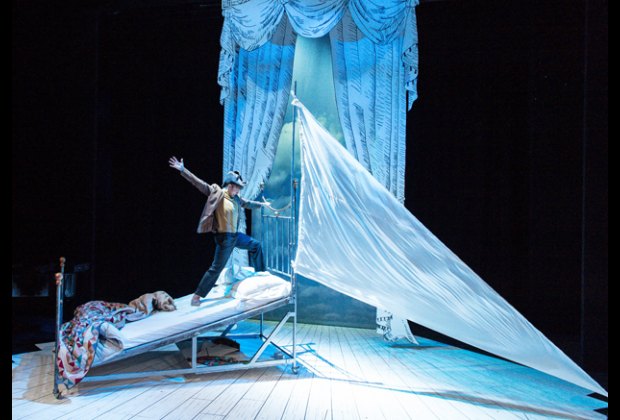 Be sure to bring tissues to this eye-popping adaptation of The Velveteen Rabbit at the New Vic. Photo by Manuel Harlan/courtesy the New Victory Theater.
The Velveteen Rabbit — Midtown West
Friday, January 22-Sunday, January 31
Ages 6 and older
Yes, we know: Margery Williams' beloved picture book about a toy bunny who longs to be real has been adapted for the stage many, many times. However, we're particularly intrigued by this production at the New Victory from London's Unicorn Theatre, which eschews cutesy animal costumes in favor of poignant characterizations and surrealist sets. Bonus: Mommy Poppins is sponsoring the 7pm performance on Saturday, January 30, so our readers save 20 percent on tickets and enjoy exclusive post-show activities, including a pop-up Imagination Playground and a bead buddy craft. See our event listing for all the details. $15-$38
The Gumball Gang: Crime-Solving Kids — Chelsea
Friday, January 22-Monday, February 15
Ages 3-10
Of all the shows my daughter and I see together, those at TADA! Youth Theater make the most lasting impression. She loves watching her peers on stage. Local youngsters ages 8 to 18 perform in original musicals that are quirky and thought-provoking. In the company's latest tuner, aspiring sleuths try to solve the mystery of what happened to the missing masterpiece. Expect comedic songs and lots of hijinks in this little-kid-friendly hour-long whodunit. $20-$25 for adults, $10-$15 for children
The Woodsman — Midtown West
Begins Wednesday, January 27 for an open run
Ages 10 and older
I loved Strangemen & Co.'s inventive reimagining of the Tin Woodman of Oz's back story so much, I saw it twice. A big hit in its original tiny theater, it's transferring to the much-larger New World Stages for an open-ended run. Inspired by the writings of L. Frank Baum, the show relies on live actors, evocative Bunraku puppets, moody songs, an immersive set, sound effects and sparse dialogue to tell the dark tale of a woodsman in a doomed romance with a wicked witch's slave. While aimed at grown-ups, it's definitely tween-friendly. $45-$85 but save up to 31% on tickets via Broadwaybox.com.
The Very Hungry Caterpillar Show — Midtown West
Saturday, January 30-Sunday, April 17
Ages 1-6
Some of Eric Carle's most beloved picture books come alive in this interactive, hour-long show aimed at young theatergoers, including toddlers and preschoolers. The Artist Who Painted a Blue Horse, Mister Seahorse, The Very Lonely Firefly and the title tale leap from the page to the stage courtesy of four performers and more than 75 larger-than-life puppets. While other kids' shows have been based on the legendary author-illustrator's stories, this version boasts high production values, great word of mouth—it's been touring its home country of Australia for the past year—and is playing at a full-fledged Off-Broadway theater. At $49.50, it's a splurge, but save 40 percent on select performances via Broadwaybox.com.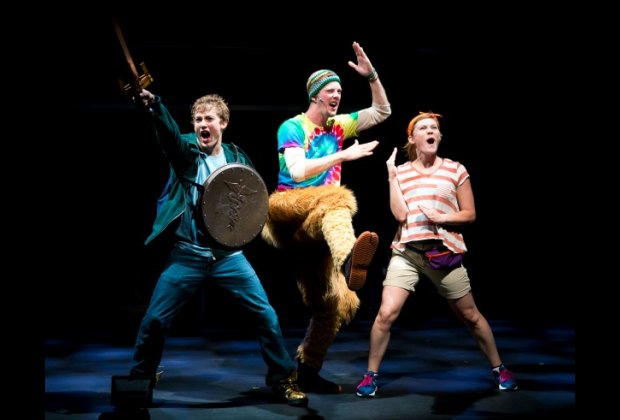 The Lightning Thief and his heroic mythical pals take the audience along on their (musical) quest to save his mom. Photo by Jeremy Daniel/courtesy Theatreworks USA.
The Lightning Thief — Upper East Side
Sunday, January 31
Ages 8-12
Part of Theatreworks USA's robust season at the Kaye Playhouse, this hour-long musicalization of Rick Riordan's Greek mythology-inspired YA novel is fast, funny and filled with catchy pop tunes. My daughter and I gave the show a rave review in 2014, and that was before she had ever read any of his Percy Jackson & the Olympians series. So you don't need to know the book to enjoy the show. Watch as demigod Percy goes on a quest to save his mom with help from his fellow half-bloods. Along the way, they battle mythical characters, including Medusa, Hades and the Furies as well as more typical human issues such as dyslexia, ADD and fitting in. $25
SOLD OUT as of 2/1
Daniel Tiger's Neighborhood Live! — Greenwich Village
Saturday, February 6-Sunday, February 7
Ages 2-6
A number of popular preschooler TV shows are getting the live stage treatment this season, including Sesame Street and Peppa Pig. But Daniel Tiger's Neighborhood Live! may be a better option for young fans. It's playing at the more intimate Skirball Center for the Performing Arts and it's only an hour long. Join Daniel and his pals as they introduce the audience to their beloved Neighborhood of Make-Believe via stories and songs. Another great choice for first-time theatergoers. Note: VIP tickets include a post-show meet and greet with the title character. $35-$55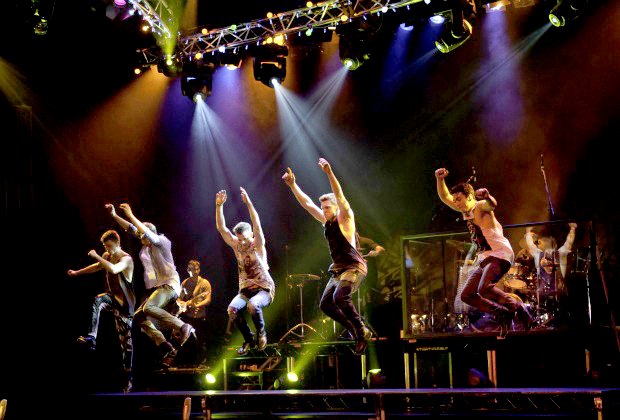 Marvel at a troupe of high-energy Australian dancers in Untapped. Photo by Amanda Brenchley, courtesy of the New Victory Theater.
Untapped — Midtown West
February 5-February 21
Ages 7 and older
My daughter and I adored this tap-dancing extravaganza a few years back, and now it returns to the New Victory for an encore run. These talented Australians leap across the stage in jeans and T-shirts, creating amazingly intricate rhythms that complement the live band and beat boxer rocking out on stage. Even if you're not a dance person, this high-octane and humorous hour-long show should have you grooving in your seat. The 7pm performance on Saturday, February 20 is our second Mommy Poppins Readers Night at the New Vic, so mark your calendars. We will host some fun post-show activities with our friends at Gate Hill Day Camp and offer a 20 percent discount on tickets. $15-$38
Moon Mouse: A Space Odyssey — Corona, Queens
Sunday, February 21
Ages 5-10
The always inventive Lightwire Theater of America's Got Talent fame brings this eye-popping, glow-in-the-dark show to the Queens Theatre. Taunted by his nasty peers, a geeky mouse named Marvin escapes into a fantasy world where he goes on a cosmic journey full of kooky creatures, all conjured by luminescent black light. The plot is never the thing with Lightwire; it's all about dazzling visuals as seen in the video above. $14. Can't make it to Queens? The show is also playing at Symphony Space on the Upper West Side on Saturday, March 19.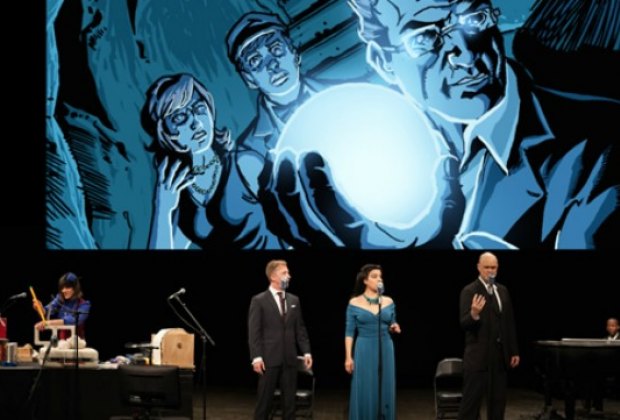 The one-of-a-kind Intergalactic Nemesis: Book One Target Earth is a period sci-fi fantasy set in the 1930s. Photo courtesy of Robot Planet
Intergalactic Nemesis: Book One Target Earth — Financial District
Sunday, February 28
Ages 8 and older
Equal parts live-action graphic novel and radio play, this show is a true original. Three actors stand at old-fashioned microphones, giving voice to a motley crew of characters as a Foley artist whips up cool sound effects, a pianist underscores the action and comic book panels are projected onto a giant screen. We saw it a few years back and it's sensory overload at its most awesome. The pulpy adventure story is set in the 1930s and focuses on three unlikely heroes: a spunky journalist, her assistant and a time-traveling librarian. Intentional clichés and geeky jokes abound, but it's really about the experience not the story. $39
Boy at the Edge of Everything — Lincoln Square
Saturday, March 12-Sunday, March 20
Ages 7 and older
Can two isolated, inquisitive but oddball 12-year-old boys reach each other across the abyss? After all, one lives on Earth while the other resides at the end of the universe, watching over, well, everything. Created by NYC's cutting-edge Trusty Sidekick Theater Company, this show makes its Big Apple debut as part of Lincoln Center Kids. Since its world premiere at Seattle Children's Theatre in 2014, it has played all over, especially in playwright Finegan Kruckemeyer's native Australia. Like most Trusty shows, it's trippy, thought-provoking and hard to describe. But don't worry that it's too heady: We hear there are plenty of lowbrow gags, too. $25
L'immédiat — Greenwich Village
Wednesday, March 9-Sunday, March 13
Ages 8 and older
Part of the inaugural month-long, French-infused Tilt Kids Festival, this wacky spectacle at the Skirball Center for the Performing Arts is the brainchild of internationally renowned circus star Camille Boitel. Seven adventurous acrobats navigate a world full of obstacles, both physical and imagined. The wordless hour-long show is a circus/theater hybrid that's great for mature kids who've outgrown traditional big tops. $35-65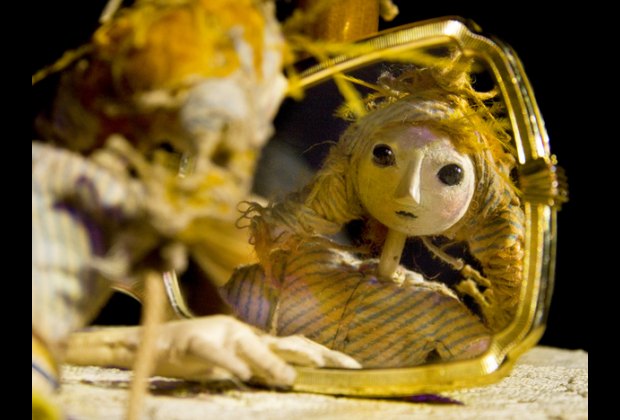 The Cinderella tabletop puppet show captures the spirit of this iconic fairy tale in a minimalist fashion. Photo courtesy BAM.
Cinderella — Fort Greene, Brooklyn
Saturday, March 12-Sunday, March 13
Ages 5-7
Scottish theater maker Shona Reppe reinvents the classic fairy all by herself—save for a few puppet friends. The characters inhabit a tabletop stage making the show minimalist and intimate. This Cinderella was a big hit when it played the New Victory back in 2009, and it will be introduced to a new young generation at BAMkids this season. $15
The Pirate La Dee Da — Chelsea
Saturday, March 19-Sunday, April 17
Ages 5-10
One of the best theater companies in NYC for young audiences, Atlantic for Kids, is mounting the world premiere of this original musical, about a princess who changes her royal destiny by running away from her castle and hitting the high seas as a fearsome pirate. Created by a pair of moms whose résumés include writing stints on The Simpsons, Seinfeld and Scrubs, The Pirate La Dee Da may end up being the most hilarious little-kid show in town. $20 for adults, $15 for children
Top image: Thanks to improv, the interactive adventure Legend Has It is different at every performance. Photo by Kenneth Locke/courtesy of BAMkids.