Peppa Pig Arrives on a NYC Stage This Spring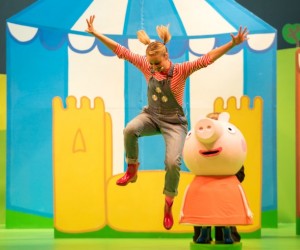 Preschool favorite Peppa Pig is making her U.S. theatrical debut in life-size puppet form as Peppa Pig's Big Splash tours the country, hitting 90 cities, including New York City in April.
If you have a preschooler or toddler at home, you likely know all about Peppa Pig, her snorting family and their love of muddy puddles. The British-accented pink pig plays on Nick Jr., and ahem, YouTube, on a loop in many a tot's house, entertaining kids with simple graphics and wholesome themes. You can expect the same from the musical Big Splash, including plenty of Daddy Pig antics, games involving brother George and sightings of Peppa's friendly pals: Pedro Pony, Danny Dog and Suzy Sheep.
We headed to New Jersey to see the show last month before it arrives here in NYC. Read on for our review, what to expect and how to manage a squirmy tot's first theater experience. Have an older sibling? Try one of our 10 Best Broadway Shows for kids.
Seeing Peppa up close in an interactive format will awe your pint-sized fan in a whole new way. Don't go into it expecting an intricate plot or even a particularly sweet story for the grown-ups. The stage production mirrors the TV show's format and keeps to simple, easily-digestible themes. It's your kid's joy at seeing and singing along with Peppa that will make it worth it. My typically bashful 3-year-old's nonstop smile and avid focus sold me.
When Big Splash opens, you're greeted by a boisterous, overall-wearing narrator, Daisy, who will be the guide throughout the show. She warms the kids up, asking: "Are you all Peppa's friends, too?" It quickly moves into a game of hide-and-seek among Peppa's friends all looking for the pig of the hour. Although the game is over in less than five minutes, the reveal of Peppa elicited lots of excited squeals from the audience.
You'll follow Peppa and company through a series of scenes from George losing his dinosaur to a game of "Piggy in the Middle." A loose plot begins to develop at the close of act one when the school's roof springs a leak.
RELATED: NYC's Best Indoor Play Spaces for Tots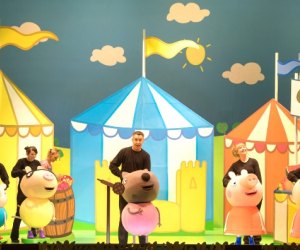 Actors manuever the Peppa puppets across the stage, often ducking behind them.
Peppa and her friends are all depicted as oversized puppets (around 4-feet tall) and maneuvered around stage by the puppeteer giving voice to each one. The puppeteers often duck behind the character they're playing or operate them from a kneeling position, so Peppa and pals remain the focus. Grown-ups like Mummy and Daddy Pig, as well as Mr. Potato and Mr. Bull, are played by actors in impressive costume. There's no doubt as to who that giant rotund pig (at least 7-feet tall!) on stage is getting into his puddle-jumping gear.
Expect plenty of songs—some catchy, others less so. I still can't get one of them out of my head: "Step right up, come on have some fun at the fair, step right up, fun is in the air!" Audience interaction in the form of call-and-response and other cues is encouraged throughout: "Can you shout hooray? Let's all count to 5!" Your kid may end up standing and dancing through the whole thing, which is totally OK.
The average age at our matinee was probably 4, but there were plenty of 5 to 7 year olds in the crowd, too, and despite the many shades of pink, multiple sets of fairy wings and tutus, the audience seemed split 50/50 between boys and girls.
There are no scary scenes or even dark moments in the Big Splash, though like many large-scale children's shows it was pretty loud given all the call-and-response action and an audience made up of preschoolers in various states of excitement and tantrum. Several positive teaching moments take place, including when Peppa and her friends work together to achieve a new milestone.
RELATED: Guide to NYC's Best Classes for Kids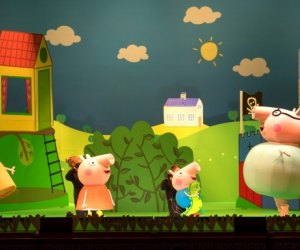 Expect lots of songs, audience interaction and laughter at the Big Splash.
Big Splash runs a little over an hour, plus a 15-minute intermission. Our show at the gorgeous old-world theater at the Bergen Performing Arts Center in Englewood, New Jersey, in early December, seemed to run behind the whole time, though. The intermission stretched to 20 minutes, keeping us in the theater for a total time of nearly two hours. I was antsy, but my kid remained rapt throughout.
Peppa Pig's Big Splash, produced by Red Light Management, Fiery Angel and eOne, opened its national US tour in November and continues into the spring of next year, arriving in major metro areas including Denver, Los Angeles, Kansas City and more. It's already toured the UK (the original home of Peppa) and Australia. It plays at New York City's Beacon Theatre on the Upper West Side for three showings, April 9 and 10. Visit our Event Calendar for info, or check the show's website for other cities' showtimes.
Ticket prices vary by venue with some as low as $26, but starting closer to $40 in NYC. A VIP add-on lets kids pose with Peppa post-show.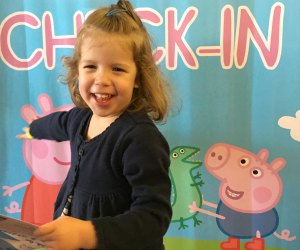 Your Peppa fan's nonstop smile is the ultimate reward. Photo by Mommy Poppins.
Tips for Attending a Kid Show
Many kid shows are interactive and these larger national tours typically host larger audiences, which can equal a very loud event, mostly because of the audience, so kids sensitive to noise may have a difficult time.

Pack your own snacks and drinks. Waiting in a lengthy concession line is not fun with a whiny tot.

Pee before the show! The bathroom line for the recently potty-trained will only get longer.

Pack something for kids to do during intermission like a coloring book or take a quick lap around the block if kids are antsy. My own was simply confused about where Peppa and George had gone. We snuck a few bites of PB&J in the lobby.

Expect a mob scene at the merchandise table. Avoid it if you can, or you will likely lose at least $20 as I did.

Some theaters offer booster seats for the youngest tots (infants typically score free lap seating), so be sure to ask if it might give your kid a better view.
Top image: Daisy, who acts as a friendly show chaperone, and Peppa laugh and jump around in the Big Splash. All photos by Joe del Tufo/provided courtesy the production except where noted.