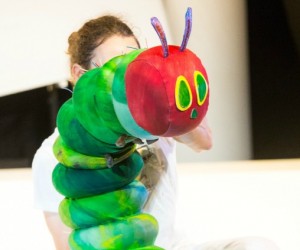 'Very Hungry Caterpillar' Puppet Show Set to Open in NYC
More than 75 oversized puppets will help bring classic children's book The Very Hungry Caterpillar and other works by famed author Eric Carle to an off-Broadway New York theater this January.
Jonathan Rockefeller's The Very Hungry Caterpillar Show comes to NYC from Australia where it debuted in January 2015 and continues to tour the country. Rockefeller's adaption stands out with its large, colorful puppets and lively storytelling of a caterpillar's metamorphosis geared specifically to first-time theatergoers, including toddlers and preschoolers. While we've told you about previous NYC productions of this iconic early childhood classic, including just last year, we're excited to welcome a new entrant—especially given its seemingly ambitious scope.
Watch a preview clip of the show below!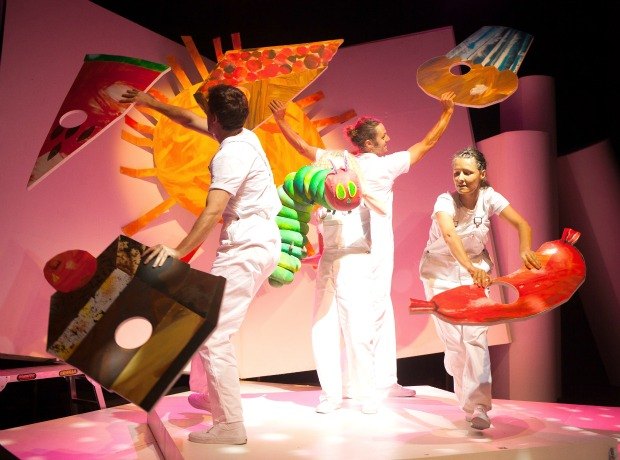 The caterpillar eats its way through the stage, gobbling up that slice of cake, pizza, cherry pie—well, you know the rest!
The show's four performers, led by NYC's Eric Wright of Puppet Kitchen, will tell four Carle favorites over 60 minutes: The Artist Who Painted a Blue Horse, Mister Seahorse, The Very Lonely Firefly and The Very Hungry Caterpillar. The sets and storylines stick closely to the original tales, offering parents and kids alike a familiar storytime punctuated by eye-popping scenery, music and more.
OUR LATEST VIDEOS
RELATED: NYC's Best Holiday Shows for Kids
There is no intermission during the hour-long performance and audience participation is encouraged to keep things lively for its target demographic of 1 to 6 year olds. It's performed at the 47th Street Theatre, which offers orchestra, balcony and limited-view box seating. While there's no dedicated space for restless kids to sit on the floor or hover in the aisles as with some theaters, there is a touch of room at the back for children to stretch their legs and work out the wiggles a bit. The ticket price is a bit of a splurge for a preschooler show, starting at around $50.
As for the fear factor, show organizers promise there are no scary parts. In fact, we've been told that even the 6-foot-long red crocodile is a very friendly croc.
The Very Hungry Caterpillar Show runs from January 30 through March 27 at the 47th Street Theatre at 304 West 47th Street (between 8th and 9th Avenues). Tickets are available now online or by calling 212-279-4200. Pricing starts at $49.50. Lap-seating is available for children under 1 year old for $5.
TVHC_Promos_SIZZLE from Jonathan Rockefeller on Vimeo.
All photos provided courtesy of the production.