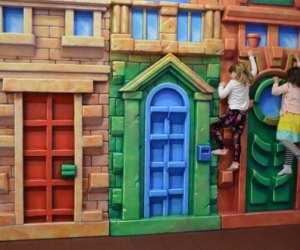 Best New Destinations for NYC Kids That Opened in 2016
You're forgiven if you don't count 2016 among your favorite years. There was Zika, ISIS, the Orlando massacre and more shootings than we care to count, the ongoing Syrian tragedy, the untimely deaths of public figures like David Bowie and Carrie Fisher, and yes, our acrimonious presidential election. But if you're looking for a little glimmer of light, something to brighten your way into 2017, there sure were some positive signs in NYC when it came to new destinations for kids and families.
Even as we lost some of those quirky spots that make New York, well, New York, such as The Morbid Anatomy Museum and local bookstores BookCourt and P.S. Bookshop (all three in Brooklyn), the completely revamped 53rd Street NYPL reopened with a lovely children's room and teen programming. We also gained several new playgrounds, including this whopper on the Upper West Side and a piano-shaped sprayground in Queens—and more than a dozen new kiddie gyms and play spaces across the five boroughs. And don't forget about Slide Hill on Governors Island, along with the city's first ever adventure playground. Certainly there seems to be an upward trend and more diverse lineup in terms of destinations when compared with 2015.
We're looking forward to 2017 when the Bronx Zoo will gain a zip line (woot!), a miniature block-long city (Gulliver's Gate) will open for your gawking pleasure, downtown Brooklyn will add a new food court, and some spectacular family shows will arrive on Broadway. And let's hear it for the Second Avenue subway, eh? Onward all, and onward to our favorite openings last year.
Sports and STEM were two themes to openings this year for NYC kids.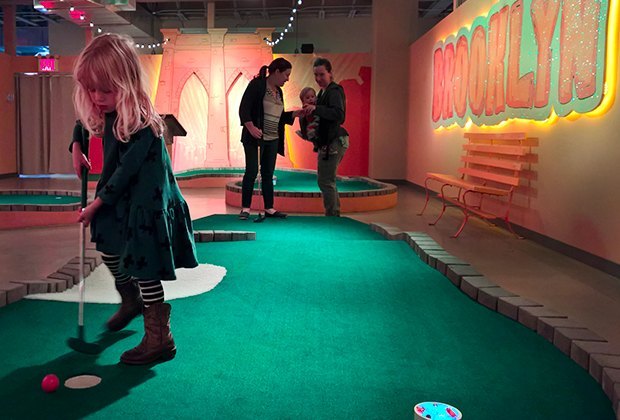 Play putt-putt year round at Shipwrecked Miniature Golf in Brooklyn. Photo courtesy the venue.
Brooklynites gained a tricked out mini-golf course, Shipwrecked, housed indoors at the Red Hook-Carroll Gardens' line for year-round putting, and families in Williamsburg now can take indoor soccer classes at The Backyard at Berry Park (formerly The Pitch), which is also home to an ongoing kiddie-parent playdate hosted by The Little People Party. Don't forget about Monkey Do Yoga for fun kids' yoga classes in Gowanus. Twentysomethings looking for a new date spot may have rejoiced when a 12-foot climbing wall taking up nearly 8,000-square feet rose up under the Manhattan Bridge, but families celebrated, too. The seasonal climbing wall, Dumbo Boulders, added one more perk to the long list of amenities for NYC kids at Brooklyn Bridge Park.
New playgrounds included the revamped Ramon Aponte playground, and Gertrude Ederle, both on Manhattan's west side, and the new sprayground in the shape of a Steinway piano in Queens. But it was Slide Hill on Governors Island that truly wowed us with gorgeous harbor views from the top and the city's longest slide. The brand-new adventure playground, play:groundNYC, where kids can hammer and saw, build and destroy, was another great addition to the island.
It's almost hard to cram all the new maker spaces into one breath, but here goes: Zaniac opened early in the year with a roster of after-school classes and camps and an emphasis on STEM, including programming and design; Skill Mill NYC dazzled us with its laser cutter and other options for advanced designers; while SciTech Kids' new brick-and-mortar location brought family-friendly maker classes to all ages, even tots; and Geek Forest became our go-to robot shop and must-try camp. Plus, Brooklyn Robot Foundry added a third location to NYC with the opening of its Upper East Side maker space.
RELATED: 20 Indoor Places in NYC Where Kids Can Play for Free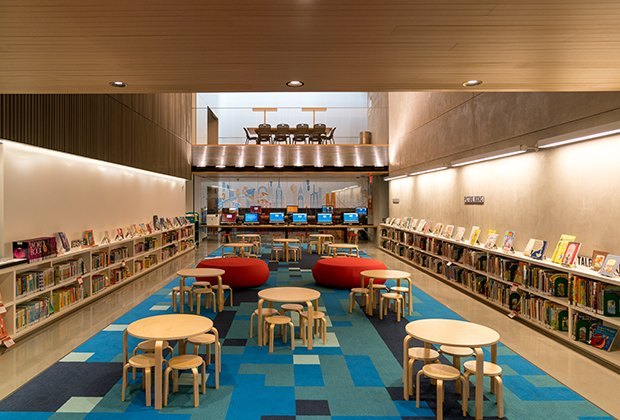 The 53rd Street Library includes a teen zone and a children's room, along with family programming. Photo by Jonathan Blanc/courtesy of NYPL.
Cultural hot spots weren't to be outdone. The aforementioned 53rd Street Library is a gem, and Spark, the new outpost of the Brooklyn Children's Museum offers drop-in play, tot classes, and even parties. Stories Bookshop and Storytelling Lab opened in Park Slope, offering shopping but also classes for the youngest of brownstone Brooklyn's literati.
Brooklyn is still hard to beat for new romping rooms. Little ones in Crown Heights, Brooklyn, now can hang at Tot Town, while Clinton Hill youngsters gained Busy Bodies, and The Coop in Bay Ridge offers parents a new cafe, where they can hang while toddlers play in the indoor and outdoor children's areas. And Curiosity on Court in Cobble Hill may have set a new standard for cool play spaces with its fun but mod indoor playground and classes spot.
Pregnant and postpartum moms and their babes earned a new family-friendly hangout and education mecca with the opening of Nurture in Windsor Terrace, Brooklyn.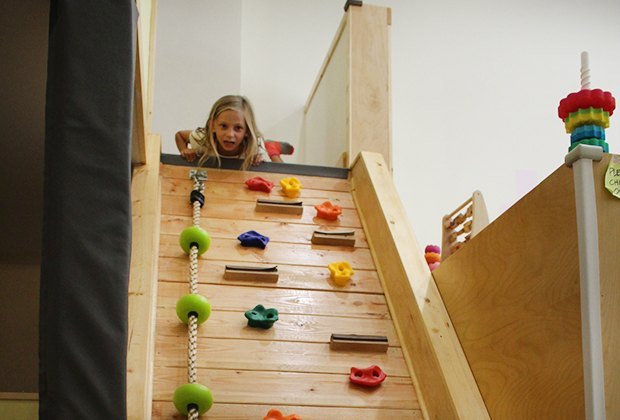 "Rock" climb at Good Day Play Cafe while parents enjoy coffee. Photo by Kelly O./Mommy Poppins.
Queens had a banner year when it came to children's play spaces, too, gaining on Brooklyn's advantage in 2016. Bayside added the cute (and yummy) Good Day Play Cafe, a Korean-inspired kids' play spot, where parents can also find coffee and eats; Sunnyside Plays opened in...yep, you guessed it, with drop-in fun for babies on up; the special-needs sensory gym favorite Extreme Kids & Crew opened its first spot in Queens; and possibly one of our favorite newcomers, Shastye Art and Play Space, part art gallery, part kiddie play zone, opened in Astoria.
New restaurants come and go daily in NYC, but we were happy to welcome CoolMess, where kids can build their own ice cream creations (and eat them), and although it sits near Times Square, the Kellogg's NYC cereal bar certainly is a fun new spot, too.
New NYC-focused apps had a solid year, too, including GooRoo, which connects NYC students with tutors; Hello Sitter, which helps you find a fully vetted babysitter at a moment's notice; and GoBaby, which lets New Yorkers rent out baby gear to visiting families, plus a few more sanity-saving apps and services for harried NYC parents.
See, 2016 wasn't all bad!
Top photo: Kids can hang off the wall, literally, at Curiosity on Court. Photo by Diana Kim/Mommy Poppins.