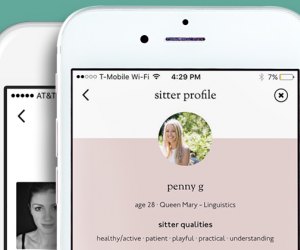 Need a Last-Minute Babysitter in NYC? Hello Sitter App Will Find One
NYC parents have gained a new option for scoring that elusive date-night and last-minute backup sitter. Hello Sitter, an app founded by a local mom, launched this summer with more than 200 sitters serving Manhattan and parts of Brooklyn, including the neighborhoods from Park Slope to Williamsburg.
Finding child care always presents a challenge to parents. Finding it on short notice? As they say, fuggedaboutit. But that's exactly the challenge that Lauren Mansell, founder and CEO of Hello Sitter, wanted to address when she set about creating the new service. Not only that, as a mom to a preschooler she knows it can be stressful to trust your kids with a stranger, so every sitter on the app is fully vetted.
Each sitter endorsed on the app goes through an extensive background check (national criminal databases, sex offender and terrorist lists, review of DMV records, Social Security validation, review of previous addresses, social media accounts) and is personally interviewed either by Mansell or her partner, Bell Family Company, a membership-only boutique nanny placement agency in NYC. Sitters must provide three child care references before they are onboarded. The sitters' app profiles include details on their educational backgrounds and even a video in which the sitter says a few words to introduce him or herself.
There are no booking, membership, or subscription fees; parents simply download the app, get started creating a profile and search for Friday night's sitter.
RELATED: NYC Baby and Maternity Guide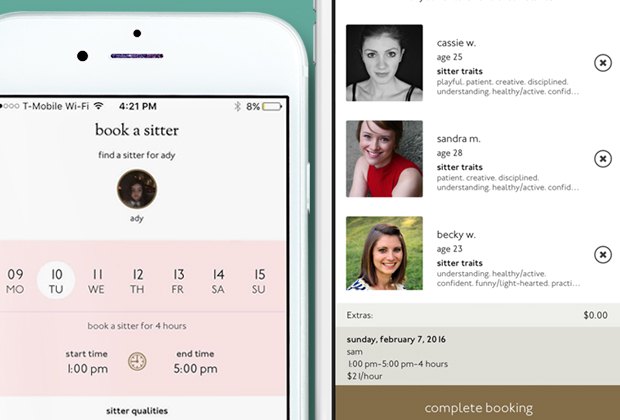 The app boasts a simple and clean design, which is super user-friendly. Setting up your initial profile, including inputting details about your kid(s) is tedious but necessary, of course. Select your most preferred sitter attributes such as patient, creative, pet-friendly, and the app will sort through its roster of baby-sitters to find who is available at your chosen time and date and those who best match your family's needs. You can even "favorite" sitters to find them easily next time.
One downside to Hello Sitter is that you can only book sitters one week in advance, which might stress some of us planners (when can I delete "get sitter" from my to-do list?!), but Mansell says this was by design. "I came up with the idea for Hello Sitter because of how difficult it was to find sitters in last-minute situations. My advice would be to go ahead and make that restaurant reservation: You will 100 percent be able to book with Hello Sitter a week out," she told us via email. "It completely removes the need to find a sitter a month out because we guarantee availability a week out or even a few days out."
Hello Sitter details: Rates are $21 per hour for one child, $23 per hour for two, and $26 for three to four children. All payment is done via the app at the time of booking, a la Uber. Hello Sitter is also free to download and available only to iOS users at this time. Initial coverage areas include Manhattan, from Battery Park to the Upper West Side and Upper East Side; as well as the following Brooklyn nabes: Park Slope, Williamsburg, Dumbo, Cobble Hill, Brooklyn Heights, Prospect Heights, Boerum Hill, Carroll Gardens, and Clinton Hill.
All images from the app.