SciTech Kids Opens UES Maker Space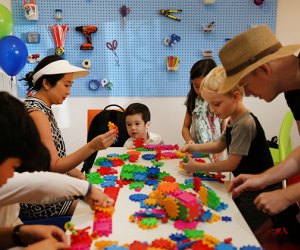 After four years of running classes, birthday parties, and summer camps out of a variety of locations in New York City, SciTech Kids finally has opened permanent maker space for kids and grown-ups.
SciTech's new home on East 81st Street celebrated its grand opening on September 17, 2016. With City Council member Ben Kallos on hand to help cut the ribbon, founder Kim Magloire—a biologist, epidemiologist, science coordinator for NYU Polytechnic's Science Summer Research Program, and a mom—welcomed families to its assortment of tech stations.
Magloire explained how she believes SciTech Kids' STEAM (Science, Technology, Engineering. Arts and Math) Maker Lab differs from traditional maker spaces popping up in NYC. She said SciTech was more than just an invitation for kids to build a robot or pilot a drone. Magloire said her lab wants to serve as a bridge between a child's passion, whatever it is, and employing that passion to do good in the world.
"Parents see children on their phone or playing video games and they think their kids are learning about technology. But they're not creating," Magloire said. "I ask kids to think about what they can do with what they create. What's the next step?"
To that end, SciTech Kids have participated in the White House Student Film Festival, and Disney's Create Your Tomorrowland event. President Barack Obama even praised the efforts in a speech you can watch on its website.
RELATED: 10 Mostly Free or Free Math Apps Kids Will Enjoy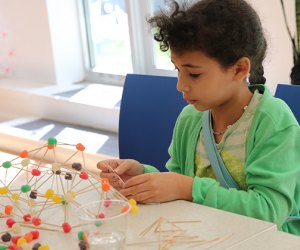 The kids won't even realize they're exercising their brains with these fun activities.
SciTech Kids offers classes for students ages 18 months to 15 years. On opening day, young STEAM enthusiasts built complex structures using gum drops and toothpicks (my daughter dubbed her creation an "abstract train"), experimented with multicolored gears of many sizes, tried their hands at coding on an iPad, got the inside scoop on chemical changes taking place in boiling coffee, drew with markers on a tantalizingly blank wall, and tested out some flying drones in the cozy outdoor space.
But that's only a taste of what SciTech Kids has to offer. Regular classes, including after-school options, kicked off this month and seem to offer something for everyone:
Discoverers classes for tots younger than 3. These get youngsters excited about science while also getting them comfortable with using manipulatable objects such as tweezers, eyedroppers, and other tools to help with motor skills.
Explorers for 3-5 year olds, which feature a variety of themes, including the water cycle, chemical reactions, magnetism, electricity, gravity, and how the body works.
Adventurers for 6-8 year olds, held on site and at local schools, where they design bridges, learn about space and amusement park science, and take a dip into renewable energy.
Investigators for 9-12-year-olds, who feel ready for interactive mystery science games developed by MIT researchers.
Citizen Science for teens 13-15, where the emphasis is on independent projects and research in which they generate their own data, analyze it, and possibly submit results to national science competitions.
And there are even classes for parents, with topics such as "How to Create a Science Fair Project," "How to Help Your Child Excel in Science and Math," and "Science Experiments You Can Do at Home." There are also parent-child classes. which explore 3D printers, laser cutters, and even soldering irons together. The resulting work is showcased around the studio. You can even 3D-print your own food.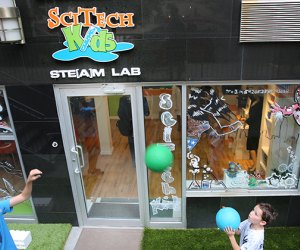 Screens are on hand but so is learning through physical play and experiments.
Families can be confident that traditional tech classes such as coding, robotics, jewelry design and manufacturing are combined with lessons in biology, environmental science, and circuitry to help budding creators brainstorm about ways their inventions can be put to use. Weekend classes are available, as are birthday parties and summer camps.
Good to know before you go: SciTech Kids is housed in a below-street-level space, but there is a ramp, and stroller parking is available.
Good to know before your register: There is a 5 percent discount for parents who register more than one child.
Good to know in general: SciTech Kids promises that if your children duplicate the experiments at home, your home will not blow up.
SciTech Kids is located at 215 East 81 Street at Third Avenue. Reach the enrichment center at 212-804-7055.
All photos by Shira Kronzon.