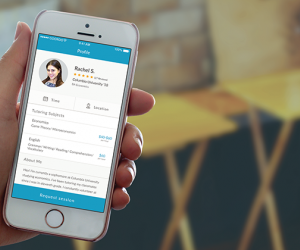 Find Tutors in NYC and NJ with the New GooRoo App
A new NYC-based app, GooRoo, is connecting students (and their parents) with pre-screened tutors. It launched last spring from its home base on the Upper West Side, drawing on tutors from Columbia University, but has since expanded into all five boroughs, and more recently, Northern New Jersey, with tutors serving Bergen County, Jersey City, and Hoboken.
It's a time-saver for busy parents, because each tutor has been interviewed in-person about his or her teaching style and passed a background check. Parents can peruse tutor ratings, pictures, and even videos. Read on for our review of this new app, and be sure to peruse the NYC Classes Guide or NJ Classes Guide to find more local enrichment options for your kids.
Initially, a student meets their GooRoo tutor in a public place approved on the app, such as a library or coffee shop. Parents are encouraged to attend the first session. Subsequent sessions can take place at the student's home. There's in-app chat, so you can discuss lesson plans or get to know a tutor better before booking. There's also a money-back guarantee for every first session, as long as the company is notified of issues within 24 hours.
I found GooRoo well-designed, attractive, and rather intuitive. There's an astonishing array of subjects; students can find help with everything from Judaic studies to Japanese to calculus and computer science. Test prep is a whole category with tutors preparing students for SATs/ACT, Common Core, Regents, GREs, PSAT on up to college counseling, LSATs, MCAT, and more. There's a special-needs category, too, so parents can find tutors with appropriate training and experience.

Peruse potential tutors' profiles, reviews, and even videos via the app.
After a user finds a relevant subject in the app menu, he or she can screen for a desired price range, along with schedule availability and degree level (from bachelor's to doctorate). Prospective students can also choose tutors from one of seven well-ranked New York-area colleges and universities. Tutors from some other universities are not yet searchable via a filter.
Seamlessly pay for your session by adding your credit card info into the app. Also, rate the tutor after your session to help out other students.
The one major roadblock that I ran into was when I wanted to search for tutors in my home borough of Queens. The map of public meeting spots includes a few Queens spots, but there was no way for me to search for a tutor that specifically works in the area. You can submit a request for a tutor directly to GooRoo through the app, and they will do the searching for you. However, I think it would much more useful to users to be able to search tutors by which areas they prefer to serve. We asked the GooRoo team about this and they said that many tutors are "willing to travel to different boroughs," but also the next iteration of the app will include the ability to search for help by location.
All in all, GooRoo seems like a fantastic app service. Tutors appear well-qualified, and the prices are in line with other New York City-based tutoring services. As someone who in the past has used an online service to find a tutor, I felt as though the wealth of information provided, especially videos, gave a stronger sense of the person who would be working with your child. I'd give GooRoo a go.
Photos of the app courtesy of GooRoo.