Shastye Art and Play Space for Kids Opens in Astoria
2/1/16
- By
Rachel Sokol
A new indoor art gallery and play space in Astoria, Queens, is offering drop-in art-making and play sessions for toddlers and preschoolers and loads of creative classes for older kids.
Shastye Art Gallery and Play Space is an intimate indoor play venue in this family-centric Queens neighborhood founded by professional artist Shasta Molnar. While not the largest play space we've reviewed—it is easily spotted by its red awning—it has a huge personality, offering family-friendly activities from crafting to indoor fort-making.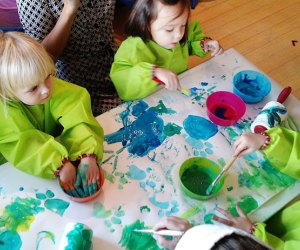 Kids enjoy the variety of materials on hand, while parents might love keeping the mess away from home!
Shastye, which means "happiness" in several Slavic languages (pronounced: Shas-ti-yuh), opened in the fall of 2015 as a place where parents don't have to stress about messes and ruined furniture. When her young daughter tried coloring on the family sofa, Molnar recognized the need for an arts-oriented play space outside the home, where kids can color, use Play-Doh and paint away. "This is a 'yes' zone for all things creative," Molnar says.
At Shastye, six mornings a week are dedicated to open art play for children 10 months to 3 years of age. Kids use various art supplies, which are organized in hanging buckets, to create art on large pads, paper rolls and even the cool chalkboard wall. Open art play is drop-in—there's no membership commitment—and, if needed, Molnar provides smocks and paint overalls. Just like home, at Shastye kid's artwork is always on display, from self-portraits to art inspired by Mexican artist Frida Kahlo.

RELATED: Queens Dance Classes for Kids: Tap, Ballet and More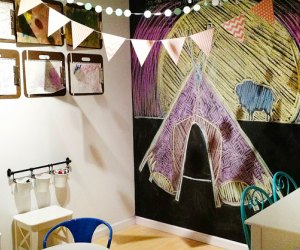 Artwork adorns the walls at Shastye where kids are encouraged to experiment.
Caregivers and parents can relax or, if they prefer, join the kids in creating artistic masterpieces. The vibe inside Shastye is laid-back and friendly, and Molnar says many mom or dad friendships have formed during open-play sessions. Open play, she says, can get crowded during the week, but Fridays are usually the emptiest mornings. (Pay in advance online for open play or the day-of.)
There's also a toy section, well-stocked with Mr. Potato Heads, play dinosaurs, blocks, trains and Russian nesting dolls, which are a favorite of Molnar's for their colorfulness and encouragement of motor skill development.
Kids older than 4 may enjoy one of Shastye's many creative classes, which include Story Time 'n Crafts, Sensory Toy Making, and Art Masters: Painting, Printmaking and Crafts. On-site kids cooking classes are led by the group Allergic to Salad, and Shastye's special events, which are listed on its website, include professional photo sessions for children and wine and canvas for mom's night out. All classes are led by professional artists, including Molnar herself. Most kid classes last 4-5 weeks, run 1½ hours and require advance registration.
RELATED: Drop-In Storytimes for Kids in Queens


Fort-making is just one of the non-coloring activities on tap.
Shastye Art Gallery and Play Space is always eager for adults to volunteer time and help out in the studio; reach out to Molnar if interested. The space is available for birthday parties, art camp classes, special events and more.
Shastye Art Gallery and Play Space is located at 26-16 23rd Avenue in Astoria; 917-608-1658. A bathroom is on site with a changing table; outside food is permitted.
Places featured in this article:
---
Shastye Art Gallery and Place