Family-Friendly Restaurants in Astoria, Queens: Not Just Greek, Try Ethnic Eats from Around the World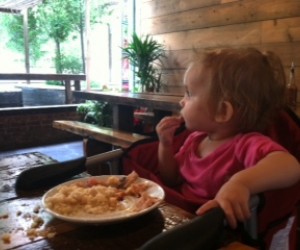 We finish up our series of posts about Astoria, Queens with a roundup of our favorite family-friendly restaurants in the area. While Astoria is rightfully known for its Greek eateries, you'll find lots of other awesome ethnic cuisines in this diverse neighborhood, too. Our list includes Czech, Japanese, Cajun, Middle Eastern and good ol' American burgers spots, plus two of our top ten destination family restaurants in all of Queens. Here are 13 kid-friendly restaurants to check out in Astoria.
Bareburger
33-21 31st Avenue between 33rd and 34th Streets
23-01 31st Street at 23rd Avenue
We've recommended this family-owned super-popular chain many times over the years. But the Astoria outpost on 31st Avenue was the first! The organic burgers can be made to order (and you have lots of toppings and sauces to choose from), plus there are delicious fries and milk shakes, and well-priced cubby meals for kids (including hot dogs and chicken fingers if they're not into beef). Salads and wraps are also on offer, as are beer and cocktails for parents. While there are two Astoria locations, my family and I prefer the 31st Avenue original featuring a wooden bear statue (my kids hug it every time we visit), and a lovely backyard that's open in warm weather.

The Strand Smokehouse
25-27 Broadway between Crescent and 29th Streets
If you're craving a kid-friendly barbecue spot, this spacious and casual restaurant is the place to be. There's sidewalk seating in the front, a huge central hall in the middle and a small backyard, and the staff is totally chill about kids roaming around. The daily menu is listed on a chalkboard; you order and then take it to your seat. The pulled pork is a favorite and there are always plenty of sides to choose from. My kids love the chicken and corn on the cob. Be warned: The weekend brunch is always mobbed but it also includes table service and live music.

Favela Grill
33-18 28th Avenue between 33rd and 34th Streets
This cozy restaurant offers authentic home-cooked Brazilian dishes. Grilled meat is the specialty but the seafood is excellent, too. On Saturdays only, the eatery prepares feijoada, a mouthwatering stew of black beans slowly cooked with pork, served with collard greens, orange slices, rice and farofa (toasted yucca flour). Guess which day of the week my family likes to visit?

Bohemian Hall & Beer Garden
29-19 24th Avenue between 29th and 31st Streets
The oldest beer garden in NYC is also one of our favorite family-friendly restaurants in Queens. It's great for kids during daytime hours, and families flock here for the traditional Czech menu and the huge backyard peppered with shady trees. Favorite dishes include roast pork with dumplings and sauerkraut, potato or mushroom pierogies, grilled burgers and klobasa (sausage), and of course there are all kinds of beers for grown-ups. One caveat: There's a smoking section in the back on the left so just make sure you steer clear of that area.

The Thirsty Koala
35-12 Ditmars Boulevard between 35th and 36th Streets
Want a taste of Australia? Look no further than the Thirsty Koala, which uses organic ingredients and free-range grass-fed meats. By supporting local producers and artisans, the restaurant adheres to an ecologically-sound philosophy so you can feel good about what you're eating. We love the goat and farmer's cheeses, all made in house. If you're feeling adventurous, try the free-range kangaroo. Or stick to staples like burgers, sandwiches and salads, all with Australian twists. There are interesting kids' meals, too, like grilled chook (that's chicken, mate) strips and chips with cucumber pineapple salsa.

HinoMaru Ramen
33-18 Ditmars Boulevard
In Japan, ramen is considered "soul food" and here you'll find a variety of regional ramen dishes from different parts of the country. The gyoza (dumplings) are made fresh daily. We like to sit at the ramen bar but there are cute mini-tables, too.

Taverna Kyclades
33-07 Ditmars Boulevard between 33rd and 35th Streets
One of the neighborhood's best known Greek restaurants serves traditional dishes like saganaki (fried cheese), Greek sausage and baby lamb chops. Taverna Kyclades is famous for its seafood dishes. I can attest that the grilled octopus is out of this world! It gets very busy on weekends so try to visit on a weekday if possible. The lunch specials are fantastic deals.

Balkh Shish Kebab House
23-10 31st Street near 23rd Avenue
You'll find plenty of seating and delicious grilled meat dishes at this Afghan spot. The lamb shank is my favorite but really all of the meats are amazing. Kids should go for the chicken kebab with a side order of basmati rice. Vegetarian? Try the bolani gandana (fried turnovers with scallions and spices) or the bolani kadu (fried turnovers with pumpkin).

Sugar Freak
36-18 30th Avenue between 36th and 37th Streets
This Cajun/Creole restaurant serves up comfort food like po' boys and boudin balls. My kids like the turkey sausage, mac and cheese, and sweet potato fries.

Waltz-Astoria
23-14 Ditmars Boulevard between 23rd and 24th Streets
Catch live entertainment and enjoy a light meal at this coffee house/concert venue. Waltz-Astoria serves up snacks, lunch (including PB&J sandwiches), baked treats (Oreo cookie mousse cake!), specialty coffee and teas, and even grown-up beverages like sangria that you can try while watching morning sing-alongs for $8 bucks per family, which includes a snack.

Panera Bread
38-01 35th Avenue between Steinway and 38th Streets
Yes it's a chain but it's also a true neighborhood family hub. My kids and I often enjoy the soups, salads and sandwiches after a class at The Yoga Room, a movie at UA Kaufman Astoria Stadium 14 or a visit to the Museum of the Moving Image.

Astor Bake Shop
12-23 Astoria Boulevard near 14th Streets
More than just sweets! In addition to scrumptious cakes, Astor serves brunch, lunch and dinner, including a mean lentil burger. As for dessert, I recommend the red velvet cake and the Vegan Snicker Doodle.

Bonus: In addition to the aforementioned restaurants, you'll find amazing delicatessens in Astoria like Sal, Kris & Charlie's Deli, which sells fabulous subs. Get your sandwiches to go and then stroll half a mile to Astoria Park.

Read all of our posts about exploring Astoria, Queens with kids.