Chelsea Family-Friendly Restaurants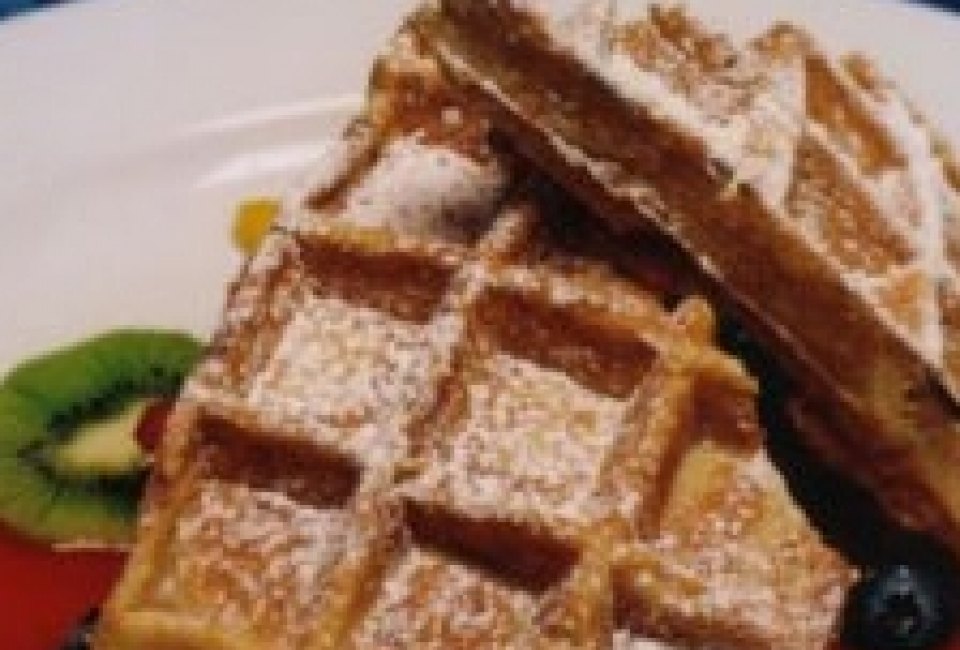 5/14/12
- By
Stephanie Ogozalek
Chelsea is jam-packed with restaurants. Walk down any major avenue and many of its side streets, and you're presented with an overwhelming amount of choices, from bistros to barbecue, diners to doughnuts.

Since Chelsea is a very family-friendly neighborhood, most of the restaurants will accommodate children, especially during the day, but that doesn't mean they're really good for kids. So we continue our series of posts on Chelsea with a roundup of our favorite eateries in the area that are kid-friendly in terms of atmosphere and menus.
Dirty Bird To-Go
204 West 14th Street between Seventh and Eighth Avenues
We know lots of families who rave about this chicken joint with the misleading name. Yes, the seating is extremely limited but the birds are far from dirty—in fact they're actually organic, antibiotic free and humanely raised in Pennsylvania Amish Country. It's a popular spot to grab some Southern fried chicken, rotisserie chicken or chicken fingers for the kids, along with sides like mac 'n' cheese, roasted kale and mashed spuds with gravy.

Co.
230 Ninth Avenue at 24th Street
Sullivan Street Bakery owner, Jim Lahey, is now doing for pizza what he did for bread back in the '90s. This beautiful communal restaurant offers lots of kid-pleasing options, including its specialty: no-knead pizza. The chewy, charred crusts are simply amazing and there are lots of different combos, from the exotic (my fave: Popeye, with pecorino, gruyère, mozzarella, spinach, black pepper and garlic) to the familiar (my son's fave: Margherita, with tomato, mozzarella, basil, Parmesan). Soups, salads and wonderful bread are also available.

Hill Country Barbecue
30 West 26th Street between Broadway and Sixth Avenue
We recently had a Mommy Poppins staff gathering here, so we can attest to the deliciousness of this Texas barbecue joint. The space is large and loud (often with live music), and since you walk to various stations to order and pick up your food there's no waiting. Come for beef brisket, shoulder and ribs cooked low and slow by famous female pitmaster Elizabeth Karmel. If your kids aren't big meat eaters, the succulent and generous sides, like mac 'n' cheese, green bean casserole and corn bread, can serve as a meal.

The Grey Dog
242 West 16th Street between Seventh and Eighth Avenues
This cozy neighborhood coffee spot serves tasty fare for breakfast, lunch and dinner. Stop in for eggs, pancakes and French toast, delicious soups, salads and sandwiches, burgers and tacos. There's even a small kids' menu with PB&J, mac 'n' cheese and other staples, all $4.95 each. Order from the counter, sit at a table and admire the work of local artists on the walls.

Chelsea's Table
Chelsea Piers, Pier 62 at 23rd Street and the Hudson River
This self-described "natural cafe" opened by Stonyfield Farm chariman Gary Hirshberg brings healthy food to athletics complex Chelsea Piers. The organic menu features flatbread sandwiches, salads, pastas and soups, even the kids' menu has choices like Pella Farms chicken fingers and Applegate organic hot dogs. Children will love the Stonyfield Organic Dairy Bar, which dishes out yogurt-based treats such as chocolate-dipped frozen yogurt bars, scoops and smoothies.

The City Bakery
3 West 18th Street, between Fifth and Sixth Avenues
Although this popular NYC bakery is famous for its hot chocolate and cookies, you can actually enjoy a whole meal here, including salads, soups, sandwiches, pizza, decadent mac 'n' cheese and its quirky pretzel croissant. The cavernous space is usually packed with strollers in the morning with moms getting their coffee and muffin fix, and then fills up again at noon for its amazing (albeit pricey) lunch buffet.

Bareburger
153 Eighth Avenue between 17th and 18th Streets
This local organic chain features funky decor—light fixtures made from kitchen tools and colorful bear heads mounted on the walls—and serves all natural, free-range, grass-fed meats, and organic cheeses and veggies. The "cubby meals" include the usual options (chicken fingers, sliders, hot dogs) served with apple slices, carrot chips and a tiny portion of fries. Adults will be impressed by the varied selections of burger proteins like bison, ostrich and boar, and the craft beers. My favorite: The onion rings and fries combo served with four delicious dipping sauces.

Lasagna Ristorante
196 Eighth Avenue at West 20th Street
If you love lasagne, this restaurant's for you. This spot serves 17 different baked-to-order variations of the classic Italian dish, plus other meat and pasta dishes. If somehow you don't like the lasagna choices on the menu, the chefs will make one to your specifications!

Petite Abeille
44 West 17th Street between Fifth and Sixth Avenues
This local Belgian chain has long been one of my family's favorite restaurants. You'll often find us digging into steaming waffles at breakfast, lunching on amazing burgers and twice cooked frites or dining on sausages and stoemp (mashed potatoes and carrots), Flemish beef stew or steamed Prince Island Mussels for dinner. Kids will enjoy the decor, which features Tintin and other Belgian comic book characters, and the complimentary coloring pages.

The Dish
201 Eighth Avenue between 20th and 21st Streets
Chelsea used to be filled with diners but most of them bit the dust around the same time as the area's megaclubs. (Anyone else remember Roxy?) If you're looking for a diner-like spot with lots of varied dishes, The Dish will do. More upscale than your typical coffee shop with exposed brick walls and mood lighting at night, the restaurant has a massive menu: a little bit of Greek, Italian, American and Mediterranean, plus burgers, milk shakes and all-day breakfast. Even picky eaters should be satisfied.

Chelsea Market
75 Ninth Avenue between 15th and 16th Streets
We did an entire post about all the cool things to do in Chelsea Market with kids a while back. Of course, you can also just come here to pick up eats and then picnic on the High Line. Grab cookies from Eleni's, brownies from Fat Witch Bakery or Popsicles from People's Pops, or try crepes at Bar Suzette or comfort food at Friedman's Lunch. There are many choices here.
And for dessert...

Doughnut Plant
222 West 23rd Street between Seventh and Eighth Avenues
These are no ordinary doughnuts. You'll find funky kid-pleasing flavors like peanut butter and jelly, pistachio and strawberry, and more exotic options including crème brulee and tres leches for adults. Plus there are even square doughnuts. Pretty cool.

Baconery
18 West 18th Street between Fifth and Sixth Avenues
The popular online bacon bakery recently opened up a cafe in kid-lit haven Books of Wonder. Drop by for bacon-laced baked goods like chocolate-dipped bacon; bacon-studded cookies, brownies and bars; rod pretzels dipped in chocolate and wrapped in bacon, and other sweet and salty treats.

Billy's Bakery
184 Ninth Avenue between 21st and 22nd Streets
Another NYC mini-chain (launched by an ex-Magnolia Bakery employee), this old-school-style spot is decked out like a '40s kitchen and sells scrumptious cookies, pies and other baked goods. Savory breakfast items, like cheddar cheese biscuits, are also available, but the main event here are the cupcakes, which come in a variety of flavors like banana, German chocolate and red velvet.