The High Line: How to Foil the Hipsters and Enjoy NYC's Hottest Park With Kids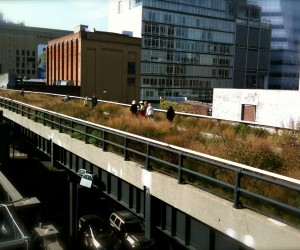 Check out our latest post about the High Line with info on all three sections. The High Line has been hyped far and wide as one of NYC's hippest new parks, but is it actually a good destination to hit with kids? There are no swings, no playgrounds, no grassy fields. No dogs or skates, scooters, trikes, bikes or balls are allowed. It's not really a park at all, more of a promenade. A promenade up a few flights of stairs, no less. Not to mention that one of the things it's become most famous for is being a great viewing location for watching guests of the Standard Hotel with a yen for x-rated exhibitionism.
But despite all those nos (and no-nos), there are some redeeming qualities for the High Line from a kids-eye view. While the High Line might not actually have anything to "do", you can make your own fun there with a little bit of creativity and preparation.
Perpective
The High Line is an incredibly rare specimen of a park in how extremely well planned it has been (no wonder they don't want fun stuff there to mess it up). The designers took into account its unique historical rail bed and the raised location to create a park that is all about perspective. From this elevation you can step outside your typical city perspective and see your world anew.
The High Line even has a special viewing station that turns the city itself almost into a TV channel. Looking through this picture window we can watch the city flow before us in a way we don't notice when we are down in it. If your kid isn't mesmerized, they will at least pause momentarily to climb on the stadium benches here.
Many other details of the High Line also make you take a second look, the wild flowers hidden in the rail beds, the movable seating, the waving floors...these puzzles to our expectations make us look freshly at our surroundings and wonder at the surprises found. Children can spend some time seeking out more of the mysteries of the park. What will they discover?
Patterns
One way to enjoy a peaceful promenade on the High Line with kids in tow is to give them a camera and let them go. You could give them a list of things to find and snap a picture of, like a scavenger hunt, or ask them to look for patterns, like some of these we snapped on our visit.
Programs
There may not be anything to do for kids on the High Line on a typical day, but the park has an unusually cool line up of special events. Every month there are free art, nature and fitness classes on the High Line for people of all ages.
The High Line is one of the rare websites with an up-to-date event calendar. Check their events month by month for the whole year to find more cool happenings on the High Line and plan your kid-friendly visit for one.
Proximity
If all else fails, the best thing about the High Line for kids may be its location. With Chelsea Market smack dab in the middle it's a great stopping point for lunch, a snack, or just to watch the bakers twist dough through the window of Amy's Bread. You can also head a block over to the Hudson River Park where you'll find a real park with real playgrounds that will please any child.
Picnicking
Food. It's allowed! Sidewalk chalk. It's allowed! Bring your picnic or buy one at Chelsea Market and find a nice corner of the park to settle down and enjoy the view. Kids can create their own games using sidewalk chalk or play a game you bring from home. Just remember...no alcohol, no picking flowers, no throwing balls, no radios, no walking on the rails, no....
The below map shows the current section of the High Line that is open and where elevators and stairway entrances are. Have fun...and good luck.