Forest Hills Family-Friendly Restaurants: 14 Places to Eat with Kids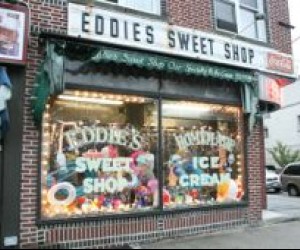 We continue our month-long focus on Forest Hills with a look at our favorite places to eat with kids in the area. While the Queens neighborhood is filled with great restaurants, our picks all offer tasty food and a family-friendly atmosphere, plus a wide variety of cuisines that reflect the diversity of the community. Forest Hills also boasts a few classic NYC eateries, like old-fashioned soda fountain Eddie's Sweet Shop, famous thin-crust pizzeria Nick's Pizza and retro sweet shop Aigner Chocolates.
Eddie's Sweet Shop
105-29 Metropolitan Avenue at 72nd Road
One of the few original old soda fountains left in New York City, Eddie's is a great place to indulge your sweet tooth. This family-owned restaurant, which has been around since the turn of the last century, is famous for its homemade ice cream, cherry-on-top sundaes, egg creams, shakes and malteds.

Nick's Pizza
108-26 Ascan Avenue at Austin Street
Crispy thin-crust pizza with super-fresh sauce and toppings have earned Nick's rave reviews. With kid-friendly booths and an adult-friendly selection of beers and wines, this restaurant is a big neighborhood favorite.

Just Like Mother's
11060 Queens Boulevard at 72nd Road
With its friendly staff and lots of space, this Polish-American diner dishes up some of my family's favorite comfort food staples like pierogi, borscht, mushroom-barley soup and stuffed cabbage.

Salut 2000
6342 108th Street between 63rd Road and 63rd Drive
This busy and always crowded kosher Uzbek restaurant is all about charcoal-grilled skewers of meat (chicken, lamb, veal and beef), homemade hummus and delicious salads.

Bann Thai
69-12 Austin Street between 69th Road and Yellowstone Boulevard
With a large dinning room, reasonable prices and a good selection of traditional Thai dishes, this eatery can satisfy your curry yen. Picky eaters can stick to crispy calamari and chicken fried rice if they're not ready for the spicier selections.

Ripe Juice Bar & Grill
70-13 Austin Street between 70th Road and 70th Avenue
A casual lunch or snack spot, Ripe serves up healthy wraps, soups, salads and a big selection of juices and smoothies.

East Ocean Palace
11315 Queens Boulevard between 76th Road and 75th Avenue
This place gets props for its authentic Cantonese cuisine (with an emphasis on seafood) and dim sum carts. Weekends there's always a line so stick to weekdays. The exotic fish tanks at the front windows provide great tot entertainment.

Hot Bialys & Bagels
116-63 Queens Boulevard at 78th Avenue
Need a carb fix? Locals love this shop for its fresh signature eats and wide variety of spreads. Since there are only a few booths and standalone tables, take-out is your best bet.

Dee's
107-23 Metropolitan Avenue between Ascan and 74th Avenues
Family-friendly and low-key, this Italian eatery is a great pick for lunch or dinner. There's a sizable kids's menu with small portions of the spot's pasta dishes, salads and brick-oven pizzas.

Pahal Zan
106-12 71st Avenue at Burns Street
Strictly a take-out spot, this tiny Israeli eatery has delicious falafel sandwiches, lamb and chicken kebabs, and generously-sized platters.

Bareburger
71-49 Austin Street between 71st Road and 72nd Avenue
We've written about this local NYC chain many, many times. The Forest Hills outpost boasts the same delicious organic burgers and fries, and family-friendly atmosphere. Plus there's a great kids' menu (known as cubby meals), plus salads, sandwiches and a nice selection of beers and wines. Always a huge hit with my six-year-old.

Wafa's
100-05 Metropolitan Avenue near Olcott Street
You'll find super-tasty hummus, stuffed grape leaves and chicken shawarma at this friendly, family-run Lebanese restaurant.

Emily's Sugar Rush
Unfortunate, this candy shop closed in October 2014
Although this candy shop isn't a restaurant, we couldn't resist mentioning it. It's chock-full of old-fashioned and contemporary treats to please anyone with a sweet tooth. We reviewed the store when it opened and were really impressed.

Aigner Chocolates
Another one of our Forest Hill faves, this retro sweet shop has been around since 1930. The family-owned spot sells specialty chocolates handmade onsite. Many of the treats are themed, so expect bunnies at Easter and Santas at Christmas but chocolate lollipops all year round.

Read all of our posts about Forest Hills, Queens.