Family-Friendly Restaurants in Cobble Hill & Carroll Gardens: 15 Delicious Places to Eat with Kids in BoCoCa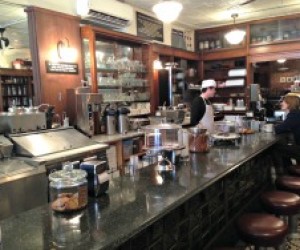 Our series of posts about Carroll Gardens, Cobble Hill and Boerum Hill continues with a roundup of family-friendly restaurants in the neighborhood. From a preliminary list of about 30 delicious eateries, we whittled our favorites down to 15, including old-fashioned soda fountain Brooklyn Farmacy, retro Italian eateries and some of the best burger joints in all of Brooklyn. Did your top spots make the cut? Read on to see our 15 picks and then share your family's regular haunts in the comments.
MooBurger
240 Court Street between Baltic and Kane Streets
Opened by chef Marc Anthony Bynum (two-time winner of Chopped on the Food Network), this spot serves up organic gourmet burgers, fries and onion rings, along with delicious milk shakes made from Brooklyn ice cream makers Blue Marble. My family loves the All-American burger but there are more adventurous choices, too, like the Banh Mi chicken patty or Hangover bison burger. The service is fast and super kid-friendly.

Bareburger
149 Court Street at Pacific Street
More organic burgers, fries and yummy milk shakes (you can never have too many, right?) The restaurant is built and decorated with recycled and reclaimed materials, and often uses local ingredients. Kids love the cubby meals (burger, hot dog or chicken fingers with fries) that come with paper and crayons, and the TVs are usually tuned to cartoons. Meanwhile the organic beer and wine is a big hit with parents. Expect to wait for a table on weekends for brunch and dinner every night.

Brooklyn Buschenschank
320 Court Street between Degraw and Sackett Streets
This German beer hall is very popular with the stroller crowd and you'll spy plenty of families with kids of all ages on weekend afternoons. Chow down on hearty German cuisine, like bratwurst, house-made pretzels and pies made by South Brooklyn Pizza. There's space just past the bar to park strollers but you'll have to drag it up a few steps at the front door first.

Lucali
575 Henry Street between Carroll Street and 1st Place
I think Mark Iacono's pizzeria serves some of the best pies in all of NYC. The rustic and romantic decor is very Moonstruck, the ingredients are fresh and the pizzas are cooked to crisp perfection in the wood-fired oven. The simple menu makes it quick and easy to order, and you may even spot a celebrity or two. Cash only and bring your own beer.

Pazzi Pasta
227 Smith Street between Butler and Douglass Streets
Perfect for pasta-loving kids, this Italian eatery has a menu loaded with customizable carb choices. Pick a homemade pasta and then select your sauce and toppings. Opened in October 2013 by a first-generation Southern Italian family, the restaurant is modern and clean, the service is friendly and the dishes are made to order very quickly, so you get fresh food with a short wait.

Frankies 457 Spuntino
457 Court Street between Fourth Place and Luquer Street
Serving fresh, seasonal and rustic Italian dishes, this is a big local favorite. The owners, both named Frank, are neighborhood legends who also opened the very grown-up Prime Meats, a farm-to-table restaurant and bar, just down the block. Frankies, however, is great for kids, serves exceptional house-made pastas and crostini, and has a lovely backyard where tots can roam in warm weather.

Buttermilk Channel
524 Court Street between Nelson and Huntington Streets
This hip American bistro pairs decadent comfort foods with family-friendly service. It's best for brunch but reservations aren't accepted, so expect to wait quite a while for a table. If you stick it out, reward your family with pecan pie French toast and fried pork chops with cheddar waffles. There's a children's menu with the usual (hot dogs, burgers, chicken fingers) as well as a large communal table that's great for large groups.

Darna Falafel
200 Court Street between Congress and Warren Streets
A great option if you're looking for something on the run. This cozy spot serves a mean signature sandwich and there's an incredibly inexpensive children's menu featuring grilled cheese, chicken fingers or falafel. In warm weather, grab one of the outdoor tables shaded by umbrellas.

Court Street Bagels
181 Court Street between Bergen and Dean Streets
The delicious hand-rolled bagels are baked on-site so it's no wonder there are long lines on the weekends. In fact sometimes it's so busy that ordering can feel like working on the floor of the New York Stock Exchange! But it's worth the wait and effort.

Hanco's
134 Smith Street between Bergen and Dean Streets
Introduce your children to bánh mì, Vietnamese sandwiches, at this no-frills spot. Chow down on crunchy French bread filled with your choice of pork, chicken or tofu. Make sure to order it mild since bánh mì tends to be spicy. There's also a large selection of bubble teas.

Mile End Deli
97 Hoyt Street between Atlantic Avenue and Pacific Street
This Montreal-style Jewish delicatessen (yes, that's a thing) serves cured and smoked meats and fish, corned beef Reuben sandwiches and chopped liver. Its poutine, a famous Canadian dish of French fries smothered in gravy and cheese curds, is glorious. Be wary, Mile End is often crowded on the weekends with hipsters nursing their hangovers. So leave the stroller at home as there's nowhere to park it. Or even better: Order your food to go.

Brooklyn Farmacy & Soda Fountain
513 Henry Street at Sackett Street
Step back in time at this former pharmacy transformed into an old-fashioned soda shop. We love it so much we did an entire post about its wonders, including ice cream sundaes and floats, egg creams, breakfast foods and savory sandwiches. Lingering is encouraged, in fact there are tables and family board games in the back.

The Chocolate Room
269 Court Street between Butler and Douglass Streets
Satisfy your sweet tooth with decadent desserts like cupcakes, pastries and straight-up chocolates. Just steps away from the Cobble Hill Cinemas, it's the perfect post-screening pit stop.

Momofuku Milk Bar
360 Smith Street between 1st and 2nd Places
This small spin-off of David Chang's celebrated Momofuku serves coffee, cereal milk, fun cookies, pies and cakes, and cake truffles. The pork and veggie buns are reheated and aren't nearly as good as the ones at the Momofuku Noodle Bar in the East Village, so stick with sweets.

Blue Bottle Coffee
85 Dean Street between Smith and Hoyt Streets
One thing parents can't live without is coffee so thank goodness for this recently opened cafe, which serves delicious drip coffees, iced beverages and pastries. Takeout is best as there's very little room.

Read all of our posts about exploring Carroll Gardens, Cobble Hill and Boerum Hill with kids.