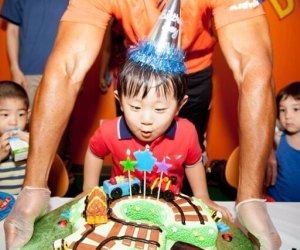 7 Fun Party Places for Car- and Train-Obsessed NYC Kids
Long before my kids laid eyes on Pixar movies, they were obsessed with cars. Big ones, little ones, toy ones—as long as they were fast and sleek, they'd want to play with them or, better yet, ride in them.
Growing up as public-transit-taking New Yorkers also means a healthy obsession with trains. So no matter the mode of transportation that piques your kid's interest, we've got a party recommendation for you. We've rounded up seven party places in or near NYC where kids can enjoy car- and train-centric activities, from driving go-karts, calling all aboard on a vintage train, and even slot-car racing. Best of all, there's no driver's license required.
Buzz-a-Rama – Kensington, Brooklyn
69 Church Avenue, between Story Street and Dahill Road
An authentic Old New York classic opened in 1965, Buzz-a-Rama is NYC's sole remaining spot for slot-car racing, once a popular pastime for kids. Children 5 and older can take retro rides on twisty tracks via remote control. It's a thrilling throwback to a simpler, pre-video-game era, and even though the cars frequently fly off the track, kids love it. There are five tracks total, but only three are used for parties (the other two are reserved for grown-up slot-car enthusiasts). Bonus: The private party room is filled with vintage video games that kids can play for free once they finish eating. Buzz-a-Rama doesn't have set business hours, so if you're interested in booking a party it's best to fill out this online form rather than call (it's hard to get someone on the phone). It's also closed from mid-June to mid-September.
Grand Prix New York – Mount Kisco, Westchester County
333 North Bedford Road
Yes, Grand Prix is about an hour's drive from Midtown Manhattan, but it offers a number of party packages, including indoor go-karting. There's even a track specially designed for kids. Bowling, an arcade, and a laser maze are available, and you can also drop in and race.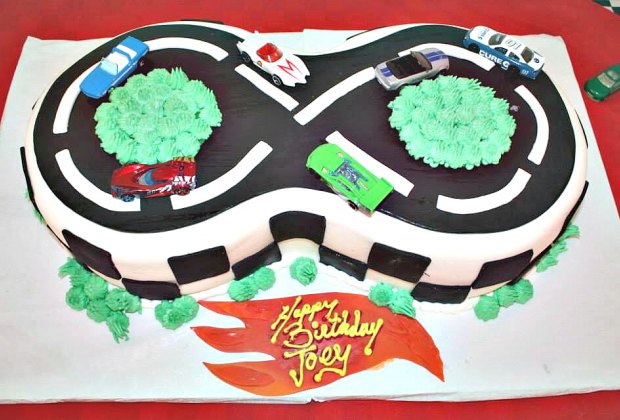 Racetrack Cake! Photo courtesy of Kidville.
Kidville New York – Citywide
Multiple locations, visit the website for details.
Tiny train enthusiasts will appreciate the Rockin' Railroad Birthday Bash at this popular local chain. Passengers are given a conductor hat and bandanna and led in a train-themed craft. The Rockin' Railroad Band then engages them in a sing-and-dance-along party.
New York Botanical Garden – the Bronx
2900 Southern Boulevard
While in any season the NYBG serves as a beautiful backdrop for your party, train lovers can enjoy a seasonal Holiday Train Show-themed party every fall or winter. An NYBG instructor leads the way through the Enid A. Haupt conservatory as tiny trains whiz by. After kids have had their fill of fun on rails, they get a tour of the indoor rainforest en route to the Conservatory GreenSchool, where they enjoy some educator-led activities and refreshments.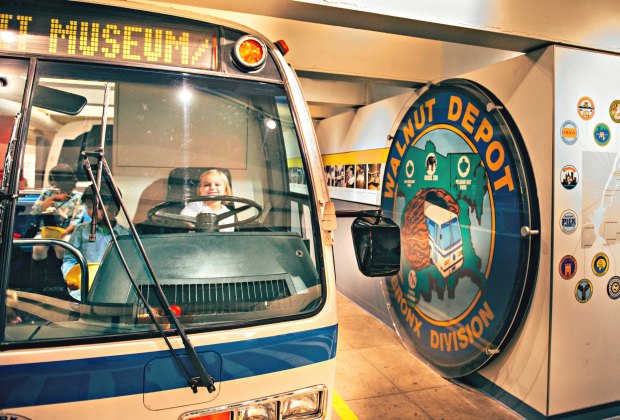 All aboard the MTA bus, and guess who gets to drive? Photo by Christian Rodriguez /courtesy of the New York Transit Museum.
New York Transit Museum – Brooklyn Heights, Brooklyn
99 Schermerhorn Street
What train-crazy kid wouldn't flip to celebrate his or her birthday underground at this mecca of all things MTA-related? The birthday kid and a crew of up to 30 guests (any combination of children and adults) are whisked away on an interactive museum tour. A pair of museum educators leads a workshop to help partygoers create take-home crafts, and there is time for refreshments. Once your party wraps up, guests have free run of the museum for the rest of the day.
Pole Position Raceway Indoor Karting – Jersey City, New Jersey
99 Caven Point Road
This national indoor go-karting chain has two locations near NYC: just across the Hudson River in Jersey City, which is accessible via PATH train and taxi; and a bit farther afield in Farmingdale, on Long Island. With a NASCAR look and feel, Pole Position offers drop-in, 10-minute races for drivers 48 inches and taller. Helmets and harnesses are required, and different-size cars are available depending on height and age. Party packages are offered and include arcade games and a private room.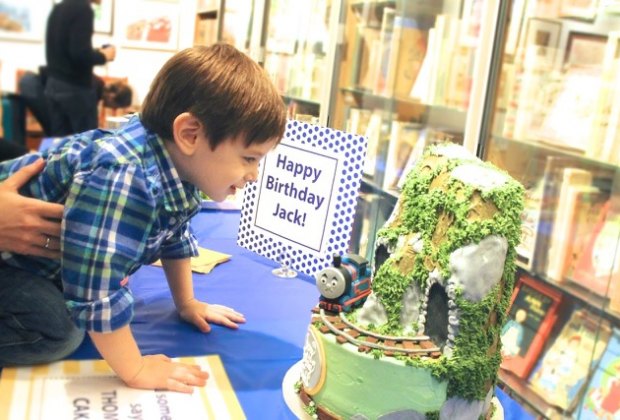 Books of Wonder in the Flatiron District throws a Cars, Trucks, and Trains themed party with a cool cake from Sweet Amanda Leigh.
Piece of Cake Parties – Flatiron District
18 West 18th Street
Piece of Cake Parties has joined forces with kid-lit haven Books of Wonder to provide custom parties at which no detail seems overlooked. While Piece of Cake offers a variety of themes, transportation lovers will go gaga for its Cars, Trucks, & Trains-themed shindigs. For more information and pricing, email bookparties@pieceofcakenyc.com.
Want more high-octane options? Check out our roundup of go-kart and slot-car racing spots on Long Island, or browse our Party Guide for additional birthday inspiration.
Top: Rockin' Railroad Cake! Photo courtesy of Kidville.
This post, originally published in March 2015, is updated regularly.