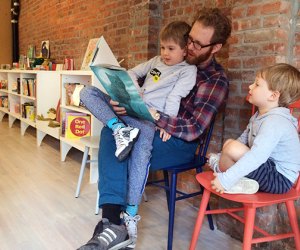 New Children's Bookstore and Story Lab Arrives in Park Slope
Are you tired of browsing impersonal children's book sections online? Do you wish you could have a more engaging experience looking for books for your child? Enter Stories Bookshop and Storytelling Lab, a new children's bookstore scheduled to open in late May in Park Slope, Brooklyn. It will also offer kid events, workshops and classes, including storytimes, sing-alongs and illustration and writing classes.
We got a sneak peek and were totally charmed by this indie newcomer to NYC's kid lit scene opened by Brooklyn parents.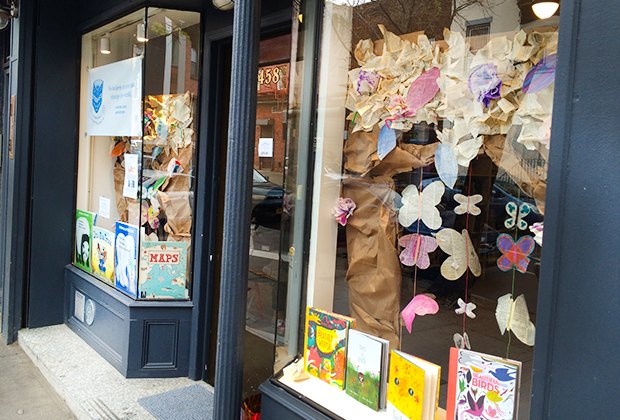 Stories joins a family-friendly stretch of Bergen Street where its ridiculously cute storefront draws you in.
Co-founded by novelist Maggie Pouncey and her husband, Matt Miller, a former technology entrepreneur, Stories is nestled along a cute block of Bergen Street that is also home to maternity and baby boutique Wild Was Mama, A. Cheng boutique, Gorilla Coffee and more.
Stories is clearly a labor of love—a love of beautiful books, of reading and writing, and of the pure magic of storytelling. "We believe growing up in a world of books can make all the difference," the couple writes on their Kickstarter page, which earned them more than $25K in startup funds. "Storytelling is a vital art, one that in our digitally saturated age deserves and demands preservation."
Along with carefully selected collections of contemporary and classic children's books for newborns through young adults, the shop carries art supplies, stationery, notebooks and assorted book-related and gift-worthy finds, including T-shirts emblazoned with classic book covers and framed vintage book art. Vintage book lovers will find a small collection of rare and out-of-print children's books stashed on higher shelves, safely out of the reach of young shoppers. There is a small section for parents, too.
RELATED: 50 Things to Do in Park Slope with Kids

The carefully curated collection ensures kids will always find something new.
At about 600 square feet, Stories is uncluttered and inviting, with plenty of spots for sitting and browsing and a not-too-overwhelming selection of books showcased by covers, not just book spines. When we visited, the couple's two sons, ages 2 and 6, happily hung out while their parents gave us a pre-opening tour.
Storytelling Lab, the workshop space, is a smaller room in the rear, sectioned off from the main shop floor. In the lab, kids ages 5-13 enjoy a host of extracurricular programs, including genre-based writing workshops, book-making and illustrating classes, special drop-in classes and one-off events, book-making birthday parties and school break and summer camp workshops. Weekly storytimes with top authors are already scheduled, as is a special Father's Day sing-along. Check the Facebook page for times. Best of all, Pouncey and Miller plan to have working writers and artists teach the lab events and workshops. The lab schedule is still being developed.
Stories Bookshop and Storytelling Lab is located at 458 Bergen Street, between Fifth and Flatbush Avenues, Brooklyn, NY 11217. It plans to open the week of May 23. Reach them at 718-369-1167, or sign up for store news here or via its Facebook page.
All photos by the author.