Best Maternity Stores in NYC for Expecting Moms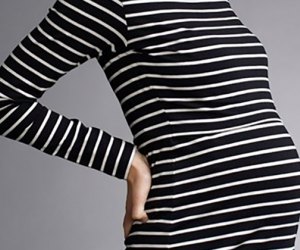 3/8/16
- By
Sarah G
For pregnant mamas, dressing that bump often means loading up on cheap Target and Old Navy gear. After all, you're only going to wear it for nine months, right? But great maternity wear can make you feel like yourself again—or at least the NYC mama you want to be. We've found ten New York City retailers who sell maternity clothes, plus great postpartum gear like nursing bras, breast pumps, pre- and postnatal classes , and even adorable bespoke onesies for your tiny human that will soon be covered in spit-up but that you should totally splurge on now!
And if you're looking for the best baby stores in NYC to stock up on those onesies once the baby is here, we've got you covered. We've rounded up the best 12 stylish stores for little ones. But for the next 9 or so months, it's time to focus on the mom-to-be!
So hit the many big box maternity retailers for your everyday T-shirts, but head to a local New York City retailer for something special or to find something that truly fits. Besides, you'll likely be visiting this store again to try on nursing bras and nothing beats a dedicated, knowledgeable staff and a carefully curated selection of excellent clothing and gear. Several even offer perks like lounge areas and nursing pillows for on-the-go breastfeeding.
Check our NYC Baby and Pregnancy Guide for more tips for expecting and new parents like some of Manhattan's more offbeat baby and me classes.
Manhattan

This NYC maternity store offers new moms-to-be a comfortable shopping experience that includes both designer brands and practical clothing and accessories. Whether you're looking for dresses, pants, jumpsuits, or nursing and postpartum clothing, they have tons of options. A Pea in the Pod also carries skincare, beauty, and jewelry items. It's a great place to shop when looking for gifts and registry items.
2. HATCH — Upper East Side, NoHo

The very stylish HATCH maternity collection is manufactured in NYC and is available via the company's website, but shoppers can also try on items at the company's two NYC locations. Prices are definitely on the higher end but customers rave about the quality and amazing pre- and postnatal wearability. They also offer virtual and in-person community events (at select stores).
RELATED: Baby Safety: Top NYC Babyproofing Companies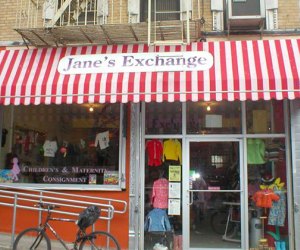 The recently expanded Jane's Exchange consignment shop has added a whole room dedicated to maternity and nursing clothes.

With a whole room dedicated exclusively to maternity and nursing wear, Jane's Exchange is bigger and better but still the community hub it always was for local parents. Nursing moms, and anyone needing a break, can chill in the large purple armchairs donated by Hotel Gansevoort; older kids will find books and plenty of toys to keep them occupied while parents shop. The selection is extensive and prices are wallet-friendly. This maternity shop offers gently used items that make preparing for a baby a little more budget-friendly.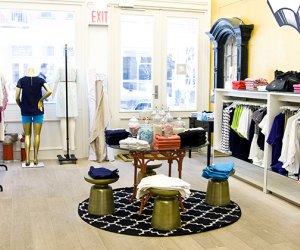 ​​
Head to Rosie Pope for your baby shower dress, just a nicer outfit for work or even a baby CPR class.

This trendy NYC maternity store offers stylish clothes at the flagship store in Tribeca. Maternity clothes include knitwear, dresses, and tops. The style is geared toward professional workwear for expecting women and includes a selection of high-end, sustainable clothing. There are also kids' clothing and gift options to choose from. When visiting the store in person, you can enjoy exclusives such as Solato Gelato, chocolates, popcorn, Rise Coffee, and a selection of other items and wellness products.
5. Séraphine — SoHo & Herald Square

Sure, Séraphine may be the preferred brand of the Duchess of Cambridge, but don't let that scare you away. Along with stylish work clothing, and a higher-priced formal wear collection, this international brand also offers high-quality, well-designed basics that will last well beyond nine months. As the flagship store, the SoHo location carries a larger collection than at Macy's Herald Square Maternity Corner. Neither location offers changing tables or dedicated space for nursing.

You may not think of lingerie immediately when you think of pregnancy and maternity styles. But what expecting mama doesn't deserve a little retail therapy to treat herself? This store also has swimwear (for a babymoon!), shapewear, and sleepwear option on top of the extensive lingerie and bra selection. This is a great maternity store to shop at for maternity sleepwear and nursing bras.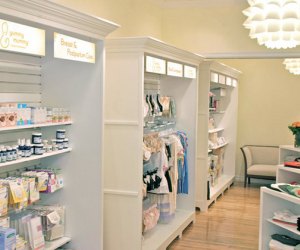 Try on nursing bras and other breastfeeding-friendly clothes at Yummy Mummy.

Yummy Mummy focuses on all things breastfeeding, so you'll find mostly nursing clothes here and a good selection of nursing bras. They have nearly every postpartum accessory imaginable, particularly breast pumps, books, DVDs, and pre- and postnatal information and support classes. If they don't have it at their store, you can order from the online store.
Brooklyn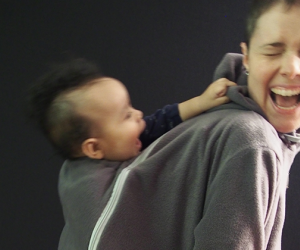 NYC-founded Tasku Babi offers a series of babywearing coats that keep you both warm.

This Brooklyn maternity store has been serving mamas-to-be for two generations, since 1973. It was first started in a small 5-room apartment and has now grown into this NYC maternity boutique. Hindy's also provides an online catalog for easy access to shopping. The store has built up a positive reputation and prides itself on high-quality, high-fashion items for expecting moms. They carry nursing, evening, sports, and career wear maternity styles. You're sure to find everything you're looking for at this maternity store.
RELATED: 6 Favorite Brooklyn Prenatal Massage Spots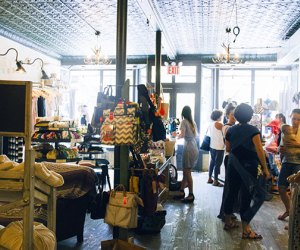 Wild Was Mama, beloved for its variety of baby carriers, recently opened a second Brooklyn location in Park Slope.

Customers rave about Wild Was Mama's knowledgeable and friendly staff, great selection of maternity and nursing clothes, breastfeeding supplies, baby and toddler clothes and gear, particularly its carriers, and welcoming atmosphere (with nursing nook and changing table, of course). Launched in 2009 as Caribou Baby, a mecca for the baby-wearing set who flocked to its Greenpoint location for its array of baby carriers, this family-run business now includes online shopping options and many classes.
This small, local Brooklyn maternity shop offers outfits for expecting mothers. The store focuses on modest maternity wear and includes selections such as comfy shirts, jumpers, and dresses. Online, you can shop by pattern category, season, color, and brand. Enjoy the maternity journey by enjoying a bit of self-care pre-baby shopping.
Top image: Boob Design's Simone Nursing Top is available at Wild Was Mama in Brooklyn. Photo courtesy of the store. All images in this article are provided courtesy of the respective retailer.