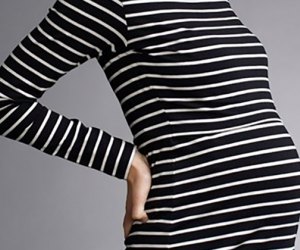 NYC Maternity Stores: Where to Find Pregnancy and Nursing Gear
For pregnant mamas, dressing that bump often means loading up on cheap Target and Old Navy gear. After all, you're only going to wear it for nine months, right? But great maternity wear can make you feel like yourself again—or at least the NYC mama you want to be. We've found nearly a dozen New York City retailers who sell maternity clothes, plus great postpartum gear like nursing bras, breast pumps, pre- and postnatal classes and even adorable bespoke onesies for your tiny human that will soon be covered in spit-up but that you should totally splurge on now!
So hit the many big box maternity retailers for your everyday T-shirts (you'll find several Motherhood locations in the city and a Pea in the Pod boutique in Macy's), but head to a local New York City retailer for something special or to find something that truly fits. Besides, you'll likely be visiting this store again to try on nursing bras and nothing beats a dedicated, knowledgeable staff and a carefully curated selection of excellent clothing and gear. Several even offer perks like lounge areas and nursing pillows for on-the-go breastfeeding.
Check our NYC Baby and Pregnancy Guide for more tips for expecting and new parents like some of Manhattan's more offbeat baby and me classes.
Manhattan
Clementine — West Village
39½ Washington Square South
212-228-9333
This designer-brand consignment shop stocks a revolving collection of gently used maternity and kids' clothing from Tea Collection, Janie and Jack, Bonpoint and Petit Bateau, to name a few. Customers return for the clean, well-organized selection and the friendly staff. There are chairs for nursing and feeding your baby and a changing table in the maternity dressing room.
OUR LATEST VIDEOS
Hatch — Soho
212-343-1685
The very stylish Hatch maternity collection is manufactured in NYC and is available via the company's website, but shoppers can also try on items, via a personal shopping appointment, at the company's showroom. Prices are definitely on the higher end but customers rave about quality and amazing pre- and postnatal wearability.
RELATED: Baby Safety: Top NYC Babyproofing Companies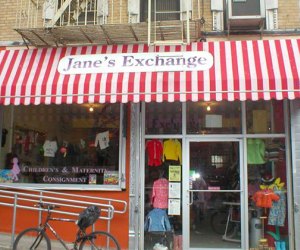 The recently expanded Jane's Exchange consignment shop has added a whole room dedicated to maternity and nursing clothes.
Jane's Exchange — East Village
191 E 3rd Street (between Avenue's A and B)
212-677-0380
With a whole room now dedicated exclusively to maternity and nursing wear, Jane's Exchange, in its new location, is bigger and better but still the community hub it always was for local parents. Nursing moms, and anyone needing a break, can chill in the large purple armchairs donated by Hotel Gansevoort; older kids will find books and plenty of toys to keep them occupied while parents shop. The selection is extensive and prices are wallet-friendly.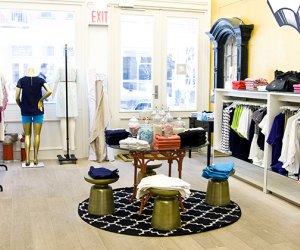 ​​
Head to Rosie Pope for your baby shower dress, just a nicer outfit for work or even a baby CPR class.
Rosie Pope — Upper East Side, Tribeca
1265 Madison Avenue (between 90th and 91st Streets); 212-608-2036
55 Warren Street (between Church and West Broadway); 212-213-3393
Parenting/lifestyle maven Rosie Pope offers stylish maternity and baby clothes, mostly from the Rosie Pope brand, at her flagship store on the Upper East Side and a Tribeca outpost. Maternity clothes ranges from casual to work and formal wear. The Madison Avenue store also hosts classes, including Infant CPR, Pumping 101 and Preparing to Give Birth by Cesarean. Rosie Pope maternity and baby clothes are also available at chain retailers Nordstrom, Bloomingdale's and Macy's. Unfortunately, there is no dedicated nursing area or changing table.
Séraphine — Soho & Upper East Side
464 West Broadway; 646-878-6196
1321 Madison Avenue; 212-831-2200
Sure, Séraphine may be the preferred brand of the Duchess of Cambridge, but don't let that scare you away. Along with stylish work clothing, and a higher-priced formal wear collection, this international brand also offers high-quality, well-designed basics that will last well beyond nine months. As the flagship store, the Soho location carries a larger collection than the Madison Avenue store. Neither location offers changing tables or dedicated space for nursing.
The Upper Breast Side — Upper West Side
510 Amsterdam Avenue (between 84th and 85th Streets)
212-873-2653
The Upper Breast Side, while primarily dedicated to breastfeeding, also carries a selection of maternity wear (often convertible pieces that are nursing-friendly), nursing bras and swimwear. There is a rocking chair for nursing and a changing table in the restroom. This shop offers hospital-grade breast pumps for rental or purchase, nursing bra fittings and breastfeeding classes. Customers renting hospital-grade breast pumps get access to a private cell number for emergency questions outside of regular store hours.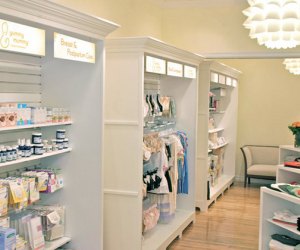 Try on nursing bras and other breastfeeding-friendly clothes at Yummy Mummy.
Yummy Mummy — Upper East Side
1201 Lexington Avenue (between 81st and 82nd Streets)
212-879-8669
Yummy Mummy focuses on all things breastfeeding, so you'll find mostly nursing clothes here and a good selection of nursing bras. Come to browse nearly every postpartum accessory imaginable, particularly breast pumps, books, DVDs and pre- and postnatal information and support classes. Yummy Mummy has a couch/chill area and a restroom with a changing table.
Brooklyn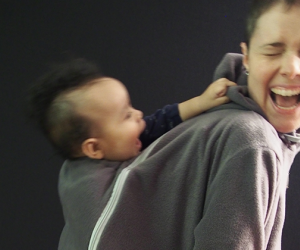 NYC-founded Tasku Babi offers a series of babywearing coats that keep you both warm.
Tasku Babi — Greenpoint
917-960-3380
It's not easy to keep both you and your baby warm while babywearing in a NYC winter. You either end up wearing them under your unzipped coat leaving you freezing or squeezing the carrier over your winter puffer coat, making everyone uncomfortable. Tasku Babi's new line of babywearing coats aims to solve that. Its tagline is "baby wearing in warmth" and the focus is on quality babywearing coats and other outerwear, as well as maternity clothing. Customers browse and select items of interest from the Tasku Babi website and make an appointment—at home or work—for a personalized fitting by the Tasku team. If that sounds too complicated, the company's products are also available at Baby/Mama in Bay Ridge.
Unfortunately, this store closed in October 2016.
Baby/Mama — Bay Ridge
9002 3rd Avenue (at 90th Street)
718-238-2354
Baby/Mama is owned and operated by a Bay Ridge family and staffed exclusively by local parents. You'll find a wide selection of eco-friendly products here from toddler backpacks, toys and children's clothing. The maternity gear is limited, though you will find pregnancy support bands and similar accessories, but we just had to include this independent outer borough spot as there's even a private nursing/pumping room and a certified car-seat installation and safety expert on staff. Go here for all your postpartum needs!
RELATED: 6 Favorite Brooklyn Prenatal Massage Spots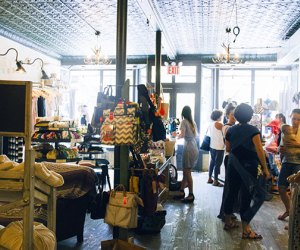 Wild Was Mama, beloved for its variety of baby carriers, recently opened a second Brooklyn location in Park Slope.
Wild Was Mama — Greenpoint, Park Slope
272 Driggs Avenue
464 Bergen Street
347-460-2229
Customers rave about Wild Was Mama's knowledgeable and friendly staff, great selection of maternity and nursing clothes, breastfeeding supplies, baby and toddler clothes and gear, particularly its carriers, and welcoming atmosphere (with nursing nook and changing table, of course). Launched in 2009 as Caribou Baby, a mecca for the baby-wearing set who flocked to the Greenpoint location for its array of baby carriers, this family run business now includes two locations (the newest store is in the former Bump location) and many classes.
Top image: Boob Design's Simone Nursing Top is available at Wild Was Mama in Brooklyn. Photo courtesy of the store. All images in this article provided courtesy the respective retailer.