NYC Car Services with Car Seats for Babies and Kids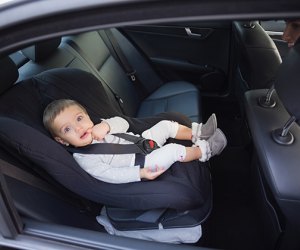 Whether you're headed to the pediatrician, the airport, or just visiting New York City, it can be hard to find a taxi or car service that offers car seats. In fact, it's probably one of the most frequent questions we get asked by tourists and locals alike.
If you have a car seat of your own, taxi drivers are required to let you install it. (I've had anxious drivers balk, but I've always made them wait.) But maybe you don't feel like lugging your seat to and from JFK or up and down the pediatrician's steps. Solution? Call a car service with car seats!
We've rounded up some of our staff favorites for service in all five boroughs. Just remember to specifically request an infant or a toddler seat depending on your child's needs.
Arecibo Car Service
855-428-0222
This go-to car service for Brooklyn families also offers pickups throughout Manhattan. Arecibo picks up your brood with pre-installed car seats fit for infants, toddlers, and big kids who still need boosters. There is a $5 surcharge per seat and reservations are best made a day in advance to ensure seats are available, especially if you require multiples.
Eastern Car Service
866-499-7177
Eastern offers infant, toddler, and booster seats for children up to 80 pounds. Some cars can accommodate multiple car seats on a single trip. Car seats come with a $5 surcharge per seat.
Empire Limousine
800-431-0313
Empire Limousine allows parents to book online and request rear-facing infant seats, forward-facing toddler seats, and backless booster seats to accommodate riders of all ages. If you're unsure what seat your child requires, mention your child's height and weight at booking and Empire will install the appropriate seat. There's a $20 surcharge per car seat.
Jupiter Car Service
718-499-2222
Jupiter Car Service caters to all members of the family, offering infant, toddler, and booster seats as add-ons to every booking. A $5 surcharge is added for the first car seat. If you need two or more car seats, the surcharge is $20 total, to account for an upgrade to a larger vehicle.
Kid Car
Given the name, it's no surprise this car service is perhaps the most kid-friendly of them all. Kid Car was designed with family travel in mind, and drivers arrive at your address with up to four car seats expertly installed. Kid Car's convertible car seats and booster seats can accommodate children between 5 and 120 lbs. Cars can be booked anywhere from 30 minutes to 30 days in advance, and you can choose the type of vehicle you book. All this kid-friendly service comes at a cost, however. While Kid Car charges a reasonable $10 per child seat installed, its minimum fare is $25 for a sedan, $35 for a minivan, and $50 for an SUV, including car seats. If you need a car regularly, however, Kid Car does offer the convenience of booking a preferred driver and also offers a Kid Car Pool service that allows you to split the cost of, say, school pickups, with other families. Kid Car only takes reservations via its app, which is available on both Apple and Android devices.
Kidmoto
Heading to the airport with kids? There's an app for that! Kidmoto is a car service that specializes in providing "safe family airport transportation" in New York City. (Airports served include Newark, JFK, and LaGuardia, as well as Teterboro, and Westchester County.) The minimum starting price varies depending on pickup location and airport—and it's on the pricey side. For example, a ride from Midtown Manhattan to JFK in a sedan with one car seat would be approximately $116, a minivan would be $160, and an SUV would be $205. The Kidmoto app is available to download from iTunes or Google Play, and when you book you can choose from a range of vehicle options and request up to four car seats. Rear-facing, back-facing, and booster seats are available.
Legends Limousine
888-534-3637
Based in Park Slope, Brooklyn, this car service ranks among the most recommended for family friendliness. Legends outfits its cars, which can be booked citywide, with rear-facing infant seats, forward-facing toddler seats, and booster seats. A $10 surcharge per seat applies; reservations can be made online, via phone, or with the Legends app, available on iOS and Android devices.
Lyft
Lyft now offers forward-facing car seats for riders throughout the city, and can accommodate children over 1 year who are between 22 and 48 pounds and 31 and 52 inches. The surcharge is $8.98 plus sales and fees where applicable. If you don't already have Lyft, you can download the easy-to-use app for iPhone or Android, then select "car seat" when requesting a pickup. BONUS: Download the app and enter code MOMMYPOPPINS under "promo" when requesting your ride to save $5.
Uber
This well-known car service with the easy-to-use app offers forward-facing car seats upon request. To book a car seat, open the Uber app, select the UberX option at the bottom of the screen, and select "car seat." Car seats accommodate children at least 1 year old who are between 22 and 48 pounds and 31 and 52 inches. A $10 surcharge is added, but if you're new to the service, use code CARSEATNYC10 to have the fee waived on your first ride.
A previous version of this post was published in December 2010, but it has since been updated.