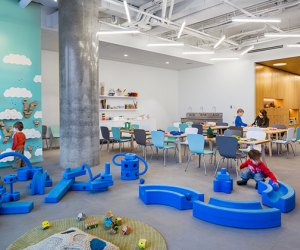 Brooklyn Children's Museum Debuts Kid Play Space in Dumbo
The Brooklyn Children's Museum's new kids' play space is set to open Saturday, October 15 on the ground floor of the One John Street luxury condo building on Dumbo's waterfront. The 1,850-square-foot one-room annex, dubbed Spark, will offer open play hours, classes, birthday parties, and special events for local families—all with the gorgeous backdrop of Brooklyn Bridge Park.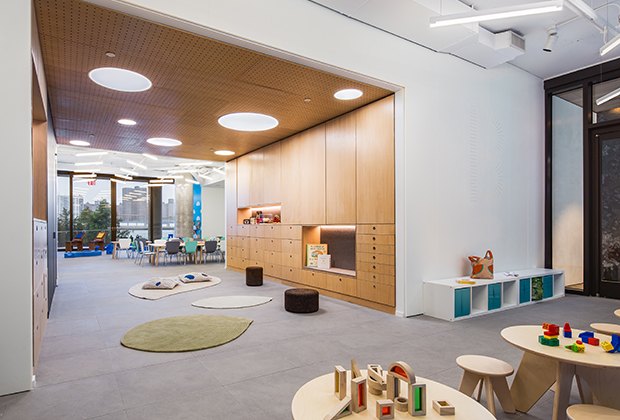 The low-key one-room annex will include plenty of toys and also classes for babies through first graders.
Spark, designed for babies through 6-year-olds, is the museum's first foray beyond its Crown Heights flagship, which attracts hundreds of thousands of visitors every year as much for its changing exhibits as for its staples, including the ever-popular water table and dress-up clothes section.
The museum is bringing one of those fan favorites, the Block Lab, to Spark as its signature opening feature. Kids can work together or independently to build with the oversize blue foam Imagination Playground–style blocks, as well as with MagnaTiles and Kapla planks. Building will take place outdoors during warm weather in the John Street Plaza, just steps from the indoor space.
RELATED: 21 Drop-In Play Spaces and Kiddie Gyms in Brooklyn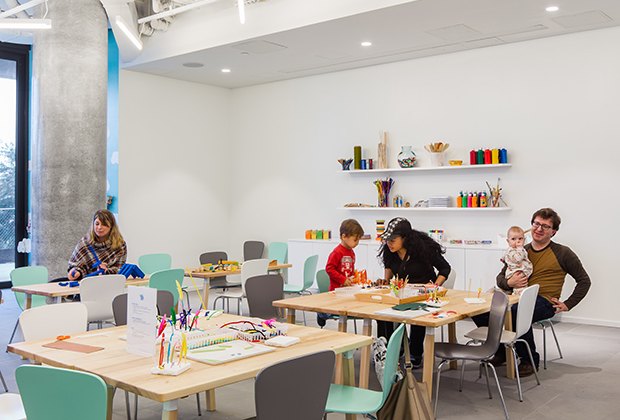 Projects and materials will rotate each weekend in Spark's art studio.
Another section of the space is designated as an art studio. Themed art projects and supplies will rotate each weekend; opening weekend will feature pumpkin and branch painting, as well as leaf printing.
The hands-on "Discovery Den" will feature a selection of the museum's touchable natural-science specimens and artifacts. Babies and tots will especially enjoy the sensory bins, which this season will include nature items, autumn-colored objects, and even some water-play elements (googly-eyes soup, we're told!).
You won't see the indoor play structures and slides common to typical children's play spaces, such as nearby Recess, but Spark will host a robust class schedule for babies, toddlers, and preschoolers, continuing the museum's focus on early childhood education. Fall classes include parent-and-child options, including music and movement with Lavender Blues, Animal Adventures, and Little Artists. On Fridays, there are also "play dates" for new parents on the docket.
Open play is offered every afternoon, from Tuesday through Sunday, for $15 per child (adults are FREE)—and Thursday afternoons are FREE for all as is the case at the main branch of the museum.(See Spark's website for the full schedule; Museum members can attend for free, too.) Reservations for open play, offered in hour-long slots, are encouraged. Families will be welcome to stay beyond the hour if the next slot is not booked. Walk-ins will be accepted if space allows.
The One John Street developer, Alloy Development, and Monadnock Development, donated the space to Brooklyn Bridge Park, which provides it to the museum rent-free, according to a statement by the museum. The group also paid to outfit the new spot and rounded up donations for operations of the fledgling outpost.
So now we have one more reason to head to this amenity-laden park, already stocked with destination-worthy playgrounds, a sandbox, a carousel, an environmental center, and a climbing wall!
All photos courtesy of Spark.