Brooklyn Robot Foundry Opens on Upper East Side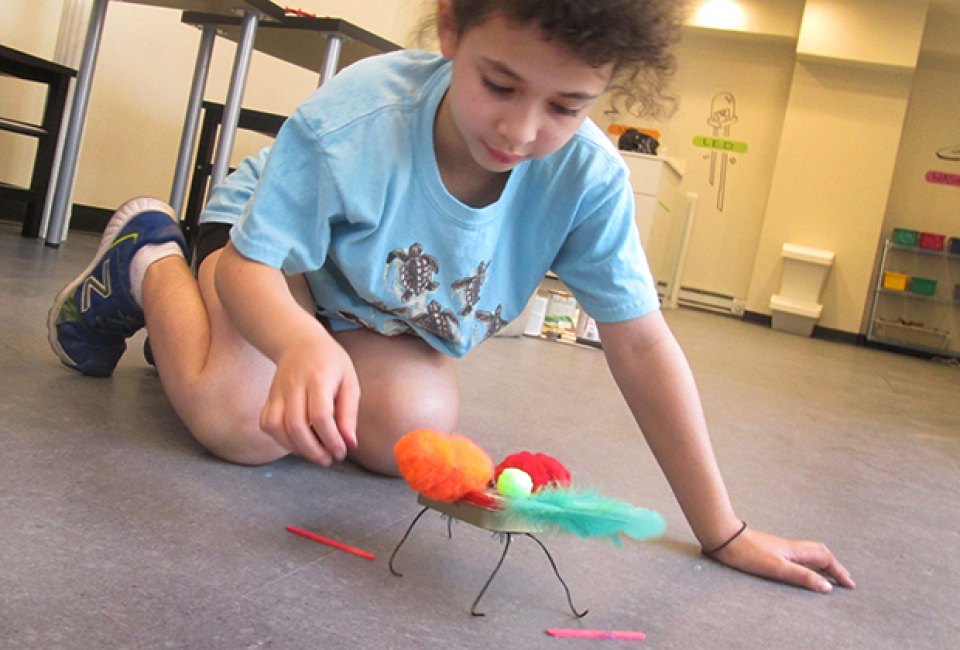 6/6/16
- By
Alina Adams
Brooklyn Robot Foundry opened on the Upper East Side, following a grand-opening celebration that began June 2 and marked the STEM and makerspace's third New York City location. It already offers its robot-making and engineering classes for kids in Brooklyn at its flagship Gowanus location and also in Tribeca.
The UES spot on Second Avenue is offering drop-off one-day classes this summer, after-school sessions in June, and a summer camp that begins July 11. Bookings for child and adult birthday parties are being accepted, too.
We stopped in to check out the new space just before opening. Read on for what we saw—and what my daughter built.
Founder Jenny Young grew up tinkering alongside her dad. She graduated Purdue University with a bachelor's degree in mechanical engineering. Up until age 6, she says, Foundry classes are equally divided between boys and girls. After that, there is a noticeable drop-off in girls' enthusiasm for building and mechanics.
RELATED: NYC Camp Directory and Guide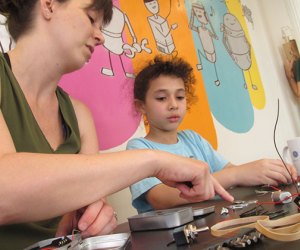 Small classes allow for lots of one-on-one attention.
Young appeals to girls (and boys) by making all projects open-minded and imaginative. That certainly proved true when my daughter and I visited. While my daughter diligently followed directions, applying screws, tightening bolts and inserting batteries, her face lit up when informed she could decorate her robot any way she liked. That included gluing on googly eyes and multicolored pom-poms.
For the littlest inventors, Foundry classes ask the question: What kinds of things can 4-6 year-olds build? Well, how about a tiny, customizable car? Or a tiny helicopter that teaches them about circuits? Or even a bumper car?
Kids ages 5-7 can make a Wiggler Robot (as my daughter did) that does exactly as advertised. It wiggles, vibrates and falls, prompting much delighted laughter. In the meantime, your child has learned phrases such as "insulator" and "electric conductive."
For slightly older engineers, robots that climb over obstacles, wearable fans, pom-pom throwers and automatic screwdrivers are on the classes agenda.
RELATED: Geek Forest Opens in Williamsburg with Robots to Buy and Build
Take a one-day class (ages 4-10) on a summer weekday afternoon to try it out. Kids get to build and keep their robot. And if they can't get enough, you can sign kids up for sessions that last several weeks and add to their building skill sets. There are Robot Adventure camps for newcomers and Robot Programmer and Robert Tinker camps for the more practiced builders happening this summer, running from kindergarten age on up to seventh grade for certain sessions. Mini-camps are available on days when NYC public schools are closed. Though classes can get as large as 30 kids per session, the teacher-student ratio never goes above one instructor for five or six builders.
To enhance girls' interest, Young designates one of her summer camp sessions as an all-girls week. (Date is TBD.)
In the fall, the Foundry expects to host school field trips and teacher training to help incorporate robot-building into a school curriculum.
And just in case moms and dads feel left out of the fun, Young is developing classes for adults as well.
Good to Know Before You Go: Brooklyn Robot Foundry Upper East Side is located at 1595 Second Avenue, at East 83rd Street. Fair warning: It is not an easy spot to find, especially if you are walking from downtown. Four different storefronts bear the exact same address, including a nail salon, apartment building, and bodega. The Brooklyn Robot Foundry Upper East Side entrance is at the very end of the block.
Top image: Watch it wiggle, see it jiggle; it's the Wiggler Robot you just made! All photos by the author.
Places featured in this article:
---
Brooklyn Robot Foundry Upper East Side
Click Here to Sign Up!
i