Tribeca's Brand-new Brooklyn Robot Foundry: Where Kids Can Build Robots & Wire Circuits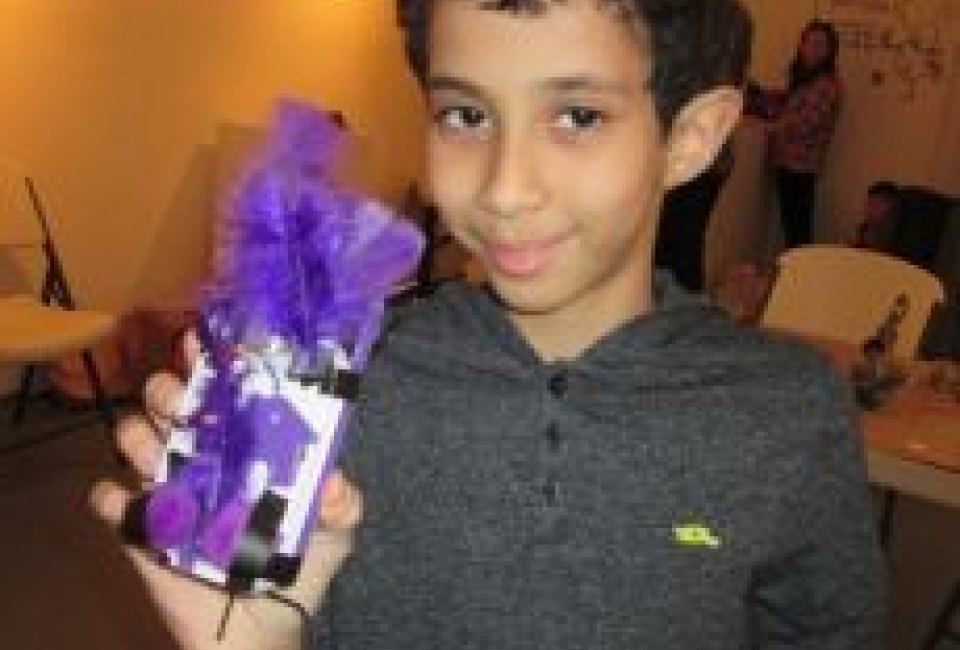 4/8/14
- By
Alina Adams
We've been raving about the cool robot-making workshops for kids at Brooklyn Robot Foundry ever since we discovered the program at Maker Faire in 2011. Apparently we're not alone: Its original Gowanus storefront has been such a hit with families, the owner, mechanical engineer and local mom, Jenny Young, decided to open a second location in Tribeca. Just like the Brooklyn outpost, the Manhattan studio offers hands-on sessions where kids learn how to build one-of-a-kind mechanical creations out of wires, circuits and everyday items like boxes, brushes and tin cans—not a prefab Lego Mindstorms or WeDo kit in sight.

Last weekend, my 10-year-old son (a robot-making novice) and I went to check out the brand-new Brooklyn Robot Foundry Tribeca, located in a refurbished industrial space on Canal Street just a block from Hudson River Park. As we approached, he asked, "If I make a robot to take over the world, do you think it'll turn on me?" Clearly he was very excited about our visit. I'm happy to report that, while his custom-made creation can't dominate mankind, it's still pretty awesome (and useful, too).
Brooklyn Robot Foundry Tribeca just opened in March and currently offers after-school sessions a few days a week, one-off weekend workshops that require preregistration but no long-term commitment, school holiday camps (including the upcoming spring break) and summer camp. Most of the programs offered are aimed at children ages 6 to 13, though there are some low-tech projects like toy parachutes or robot-themed crafts for younger children.

My son took the Build a Robot from Scratch (with soldering) class for ages 10 to 13 and it was everything a fourth grader who dreams of building a domineering robot could wish for.

As a parent, I really appreciated how calm and encouraging the instructor was, even when, one by one, each of the kids in the class threw up their hands in frustration and insisted, "I can't do this," or "It's too hard," or "This is impossible!" The fact is, the kids were asked to do some pretty sophisticated tasks like learning to solder, a painstaking activity that requires strong fine-motor skills, precise hand-eye coordination and lots of patience—and tweens aren't exactly known for that last one.

Soldering didn't come easily to anyone, and everybody made mistakes and needed to start over again several times. But, through it all, the teacher never lost it. She kept encouraging each child, helped when it was warranted and hung back when it wasn't. Ultimately, every student was able to able to complete the assigned task.

Soldering, however, was only part of it. In order to make the robots ambulatory, the kids also had to screw in a series of gears and washers in a tough formation dubbed "the leg sandwich." Then, they needed to connect intricate wires (without crossing them) and, finally, decorate their creations.

For all his talk of building a killer robot, my son ended up walking out with a robot... to clean the floor. He tested it and it seemed to get the job done so, who knows, maybe he invented the new Roomba!

Did I say we walked out? I meant I dragged him out. After the class finished, the staff indulged him for another 20 minutes as he made adjustments to his creation, and I could barely tear him away from all the cool robot building kits they had for sale. .

If this sounds like the kind of creative activity your kid would love, take note: Brooklyn Robot Foundry Tribeca offers workshops for children as young as age 4, all of them drop off. Prices range from $40 for the hour-long preschool workshops (no soldering or wires required) to $80 for the Build a Robot From Scratch session my son attended.

Brooklyn Robot Foundry Tribeca is located at 528 Canal Street between Washington and West Streets. Note: It's a bit tricky to find. Canal Street abruptly swerves left around Washington Street and the numbers on the right side of the block don't match the ones on the left. Basically, if you think you've passed it already, you haven't—just keep going.

Need a place to run around or grab a bite afterward? Our Tribeca Kids Guide includes posts about the best places to play and eat in the neighborhood.

Find out about other cool high-tech classes for kids in our Geek Guide.
Places featured in this article:
---
Brooklyn Robot Foundry in Tribeca