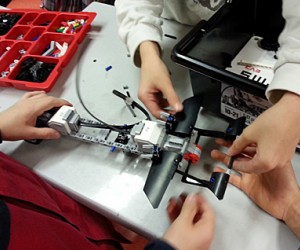 10 Robotics Classes and Camps in New York City
When I was a kid, I dreamed I'd grow up to have a robot maid like on The Jetsons. So far, no such luck. However, there have been some amazing advancements in the robotics field. Thanks to easy-to-use Lego Mindstorms and WeDo robot building sets, my 9-year-old son is constantly making simple automated machines like Lego brick vehicles or motorized coffee cans. He loves figuring out how to put all the pieces together, and I'm always amazed at what he comes up with—perhaps he'll build me that robot maid yet!
If you also have a young robot fan at home, there are some really exciting robotics classes, camps, and events your little tinkerer will want to know about.
Here are 10 classes and camps fit for beginners and beyond, as well as a pair of leagues for advanced robotics builders, and an event sure to inspire builders of all ages and experience. You can find more high-tech entertainment in our Geek Guide.
Find more NYC classes in our Classes Guide and Directory Listings.
Hands-on Robotics Classes and Camps
BK Bots – Brooklyn
Visit the website for locations.
Ages 8-13
Created by former NYC public school physics teacher Sean Spillane, this small—but intense—program teaches kids how to use Lego Mindstorms EV3 robotics kits to solve a series of challenges. In addition to building the robots, participants will learn how to program them, too.
Brooklyn Robot Foundry – Multiple locations
Visit the website for locations.
Ages 4-12
After two years of hosting super-popular high-tech workshops at its Gowanus studio, Brooklyn Robot Foundry brought its popular programming to Manhattan in 2014 and has since opened a pair of locations in the borough. The Brooklyn Robot Foundry offers after-school and weekend classes, camps, drop-in workshops, and parties at each location. Unlike most other robotics programs, the folks at the Foundry don't use Mindstorms or any other building set. Instead, kids create mechanical robots out of everyday items like boxes, brushes, and tin cans.
Dazzling Discoveries – Upper West Side
971 Columbus Avenue near 108th Street
Ages 6 & older
This brand-new STEM learning center offers year-round engineering, coding, and game design classes for tweens and teens, using the latest technology and programming languages. It also has a STEM-based summer camp and hosts birthday parties for little smarties. If you've got older kids or are interested in picking up some new skills yourself, check out its sister shop, Skill Mill NYC, which offers workshops for teens and adults, as well as access to its laser cutters, sewing machines, and 3D printers to make your projects come to life.
Engineering for Kids – City wide
Visit the website for locations.
Ages 4-14
At this engineering program, kids can build robots using Lego Mindstorms and WeDo sets in after-school classes and summer camp. Engineering for Kids is a national program and there are city locations in Queens, the Bronx, Brooklyn and Manhattan. Visit their respective websites for more info.
Geek Forest – Williamsburg, Brooklyn
329 Grand Street
Ages 5-12
Geek Forest just celebrated its first anniversary and offers STEM education in its Williamsburg 'hood and beyond. The hybrid store and makerspace offers a robust after-school schedule and plenty of summer camp options. They've tipped us off that they'll even offer a FREE girls-only one week camp this summer. Check their site the week of February 20 for details on all the summer offerings and early-registration discounts.
i2 Camps – Manhattan
Visit the website for locations.
Ages 8-13
This national program offers STEM-based summer camps across the country. Classes are offered in a variety of topics like Building an Interactive, Friendly Monster, Kinetic Sculpture, 3D printing, and more.
iD Tech Camps – City wide
Visit the website for locations.
Ages 7-17
This national computer coding summer camp has multiple outposts in the city. Camps are broken down by age (7-9, 10-12, 13-17) and provide a wide range of options to cater to a variety of interests with classes like Adventures in Coding & Game Design With Tynker for the youngest campers, to Mobile Game Design for iPhone & Android for tweens, and DIY: Build Your Own Laptop & Code With Python for teens.
Launch Math & Science Centers – Upper West Side
173 West 81st Street
Ages 5-13
This popular STEM-focused learning center offers a wide range of classes from basic coding, to coding for apps, to movin' to the rhythm of math, and more. Register your resident robotics fan for Rockin' Robotics. Children in grades 1 through 3 will learn the beginnings of robotics building everything from wobbling robots to fully-functioning Lego WeDo creations. Students in grades 4 to 8 move beyond Legos to build and program an autonomous robot that can navigate around obstacles in your home—a major perk, since their creations are theirs to keep!
RoboFun – Upper West Side
2672 Broadway near 102nd Street
Ages 4-12
We've been writing about this awesome robotics program for years. This popular center offers Lego robotics after-school classes, camps, and parties, in addition to other tech fun like video game design and stop-motion animation. There are also frequent one-off workshops on the weekends if your kid wants to check it out before making a commitment.
Sylvan Learning Centers – Multiple locations
Visit the website for a location near you.
Ages 7-14
Sylvan has long been known for helping kids get up to speed academically, but the tutoring spot is new to the STEM game. We recently tried out its robotics class and really appreciated the hands-on learning and small-group approach. Robotics camps are also offered over the summer.
Robotics Events and Leagues
New York City FIRST Mega-Celebration of Science and Technology – Midtown West
Friday, April 7 to Sunday, April 9, 2017
The Armory Track & Field Center, 216 Fort Washington Avenue
Every spring, this FREE fest offers three days of high-tech activities including a robotics competition and a science and technology college and career expo. Watch as local and international middle- and high-school robotics teams show off their cool high-tech creations and compete in various competitions. If you've ever been to Maker Faire's Young Makers area, you've seen inspiring kids like these. Even though my son is too young to compete, he loves talking with these tween and teen inventors, and they're usually happy to answer all of his questions. Watching these creative kids in action is a great way to spark your kids' interest in STEM subjects.
Think your kid is already advanced enough to join a competitive robot league like the ones at FIRST? Most leagues are formed at schools, however, you can start your own with a group of like-minded kids, some funding and a few Lego Mindstorms kits. If that sounds too daunting and there are no robot leagues at your child's middle or high school, here are two other options:
Lego Robotics Team – Staten Island
Wagner College, 1 Campus Road
Ages 8-14
Register your kids for the Lego robotics team at Staten Island's Wagner College and they'll learn to build and program Lego Mindstorms robots. Adding to the fun is a bit of competition: at times, bots will battle head-to-head and children will be awarded points for building bots and using them to complete missions.
Forest Hills Robotic Lego League – Forest Hills
Ages 6-18
Organized like a Little League baseball team, this group of more than 100 kids meets weekly to practice, research, and hone their robot-building skills. Parental involvement is required.
And a few other ideas: Although it's not the primary focus, many science programs, like Curious Jane offer robotics as part of their curriculum. Also, NYC's kid-friendly makerspaces sometimes have robotics projects. Find more high-tech fun for NYC kids in our Geek Guide.
This post originally published in March 2014.