SPONSORED
STEM Camps and Classes for Robotics, Coding, and Engineering Fun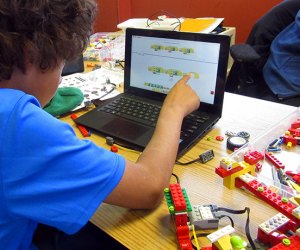 It's no secret that today's kids will need a robust education in STEM subjects to thrive in an economy exploding with science and technology careers. Both in and outside of schools, educators and parents are looking for ways to provide more science, technology, engineering, and math studies for children. There are many programs out there, but which ones really teach the skills that kids need? We checked out a Sylvan Learning EDGE class to see what Sylvan Learning, long-known for tutoring and test prep programs, offers with its Sylvan EDGE STEM programs.
Sylvan EDGE offers six week programs for kids from grades 1 to 6 in Robotics for Kids, Engineering, Coding for Kids, Math EDGE, plus Sylvan EDGE Camps. My 10-year-old son tried out a Robotics for Kids class, and it definitely stood apart from many of the other STEM activities we've tried.
During the robotics class, the kids built a LEGO® carousel and programmed it using LEGO®'s WeDo™ software, allowing them to bring their creations to life. From the get-go, the Sylvan EDGE class stood out to me, when it began with a discussion of vocabulary related to the day's project. The instructor went through each of the five terms—crown gear, spur gear, axle, tilt sensor, and load—and asked students to define them or provide examples of each piece from their building kits, or both. As a parent who sometimes wonders if kids really take that much away from so-called educational programs, I found it gratifying to see these concrete concepts and terms being introduced.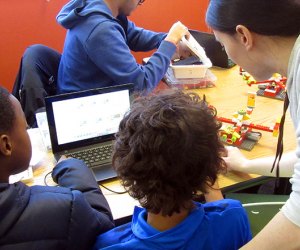 Once the terms were defined, the students paired up to begin building. Following 80 steps of instructions, the kids worked to build a carousel from the ground up. The instructors were mostly hands off, letting the kids problem solve and work through the steps on their own, but close enough to keep a watchful eye or help the builders find a piece they needed. As groups completed their carousels, they were able to program them per the WeDo™ instructions, and play with the coding, changing the way the carousel moved by speeding it up, adding music, and more.
The class session ended with students reviewing the work they had done and completing a worksheet in which they were asked to describe their robot and use the vocabulary learned at the beginning of class. Though the kids grumbled at this educational tool, the instructors looked over their work and made them think more deeply about the class and concepts, if they didn't take it seriously on the first go-round.
Class sizes are kept intentionally small. In this session there was one teacher and a teacher-in-training to the five students. The director of the center told me that, while there's no hard-and-fast rule, they try to keep the classes to eight students or fewer.
RELATED: Find kids' classes near you in our Directory
Sylvan Learning believes that it's critical for children to engage in STEM skills early, and their classes are geared for kids ages six and up. No prior robotics experience is required to dive right in. As students get more advanced, they graduate from step-by-step instructions and are simply given challenges to tackle as they invent their own machinery. A particular class might ask them to incorporate certain types of sensors or moving parts, but leave the creativity up to the builder, for example.
The Sylvan EDGE classes seem like a great balance of fun with real educational advantages that aren't dumbed down. My son agreed that he would love to go back and do more!
Sylvan EDGE programs are offered at Sylvan Learning Centers nationwide. You can sign up now for winter classes or holiday break camps. Find the location nearest you.
All photos by the author.